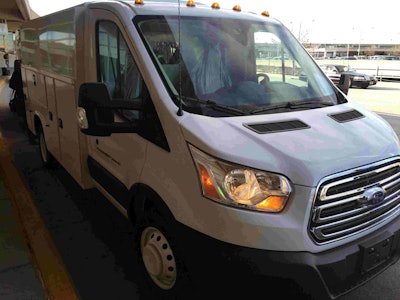 Ford's Transit commercial van spent barely five months on dealer lots before seizing the crown of America's best selling van in November of last year.
The van that will eventually replace Ford's work van stalwart E-Series, Transit made its debut with the 2015 model year and the company has sold 105,030 units to-date, outpacing E-Series sales by more than 2:1.
Model year 2016 saw only a handul for updates from the year prior, mostly a handful of technology upgrades, like the addition of a standard rearview camera and trailer hitch assist, which automatically engages when the vehicle is shifted into reverse and displays a graphical overlay on the screen that helps guide drivers to line up a hitch with a trailer. Ford's Sync 3 infotainment system is also made available to Transit this model year as an option.
Dual sliding cargo doors also will debut on 2016 Ford Transit medium- and high-roof vans, and Ford is rolling out four new paint colors: Shadow Black, Caribou (dark brown), Magnetic (dark grey) and Race Red.
Front dome lamps with map lights and theater dimming are now standard on all Transit variants, and the USB port has been moved above the cupholder in the center console for easier access in 2016 models.
My test unit, a 2016 Transit 350 HD cutaway, was equipped with the standard 3.7-liter V6 engine and upfit with a Knapheide KUV body. A 3.5-liter EcoBoost V6 and a 3.2-liter I5 diesel are available engine options.
With 275 hp and 260 lb.-ft. of torque, the dual rear wheels did a nice job pushing the more than 1-ton galvanneal steel work body around the Kansas City interstate and nearby surface roads. Transit's fleet customers can add an available speed limiter that caps top speed at 70 mph. For the 2015 model years, speeds could be held to 65 mph and 75 mph.
All Transit engines are matched with a 6-speed SelectShift transmission designed for low-end acceleration and efficiency and feature two modes of operation. Progressive Range Select lets the driver toggle on the bulbous dash-mounted shift lever to reduce the range of available gears while the van is in drive. A full-manual function lets the driver put the shift lever into "M" and use the toggle switch to select the desired gear.
I let the transmission and computer make its own decisions, and shifting was quiet and seamless.
The standard rearview camera came in handy parking the nearly 150-inch wheelbase workhorse in spaces not designed for work vans. Cutaway and chassis cab models have the option of moving the backup display from the dash-mounted screen to the rearview mirror.
Transit's unibody construction and Knapheide's KUV made for a fairly tight marriage. Even unloaded, squeaks and creaks were minimal if not nonexistent.
A holdover from the 2015 model year, Transit maintains a good road presence. Its responsive steering handles more like an SUV than a work van and features great visibility from the driver's seat. It offers a respectable turning radius for a vehicle its size.
The storage configration of Knapheide KUV was just as impressive as Ford's powertrain and performance. Taking up nearly two-thirds of the van's overall length, the KUV features two adjustable divider shelves, street and curb side front vertical compartments; one adjustable divider shelf, street and curb side rear vertical compartments; one adjustable divider shelf, curb side horizontal compartment; and two full length shelves each side, interior of body.
Not a single inch of the work body went to waste.
Mandar Dighe, vice president of marketing for Knapheide, says that's because the units are designed in partnerships with technicians who actually use the units. The company may draft several different initial work body concepts, he says, before putting them in the hands of the people who are going to use them. That feedback is used to drive improvements and efficiency for production models.
In dual rear wheel configuation, the Class 3 Transit's payload capacity approaches just north of 4,500 pounds, and if you somehow need additional storage room, Knapheide offers optional overhead and side ladder racks for its KUV. Sortimo systems and other tools can help save inches occupied by organizational chaos. The KUV can be further customized to suit a variety of tradesman needs.
Transit is built in Kansas City where Ford's assembly plant casts its shadow over a dozen upfitters within 30 miles, allowing for quick turnaround from ship-through providers like Knapheide.
Steve Freimanis, general manager of Knapheide truck equipment, says his company, depending on vehicle spec and availability, can turn a fleet order around in about two weeks. Much of the credit for the fast turnaround is due to Transit's flat rails, which Dighe says allow for quick body installation.
Plumbing, HVAC and electrician fleets that require a reliable workhorse with ample storage that doesn't handle like a rampaging bull on crowded urban roads have a good partnership in Transit and Knapheide.