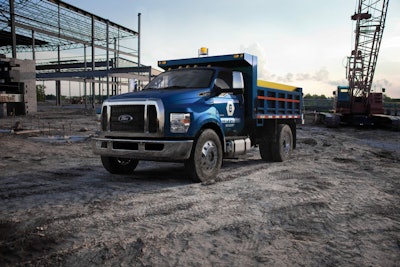 Ford closed 2015 as the largest commercial vehicle maker in the U.S. with 26.6 percent market share.
Ford's F-150 has been the best-selling pickup for a generation, and the company's barely two year old Transit commercial van has been a best-seller since shortly after its launch – helping Ford surpass dedicated commercial vehicle producers like International and Freightliner and achieving double-digit share leadership over Ram, Chevrolet, GMC and Mercedes-Benz, according to IHS Automotive new registration data.
Erich Merkle, Ford Sales Analyst, says strong demand for Transit, E-Series and Transit Connect made Ford the best-selling brand of commercial vans in all 50 states and Washington, D.C., in 2015, based on Ford analysis of IHS Automotive total vehicle registration data and Ford custom segmentation for commercial vans.
"All three of our vans still hold the top three spots for [the first two months of 2016]," he adds.
Ford, the only manufacturer offering commercial vehicles in Classes 1-7, is especially strong in Classes 3-5 with F-Series Super Duty trucks and Transit commercial vans.
Ford's commercial vans outsold all other competitors combined in 2015 and the transition from E-Series to Transit has only grown Ford's 36 year reign as America's full-size commercial van leader.
For the first two months of this year, Ford sold 21,127 Transit vans. In a distant second place, with 6,832 units, is the company's E-Series.
"From an economic perspective, we're seeing strong growth for commercial vehicles across the board," Merkle says. "Right now commercial vehicle sales are the best they have been since 2006."
Through February this year, Transit's standard 3.7 liter engine made up 65 percent of orders. The 3.5 EcoBoost followed with about 25 percent and the 3.2 liter diesel came in with 6 percent.
In fleet orders, the diesel model picked up a point (7 percent). The 3.5 liter EcoBoost slid to 11 percent, while the standard 3.7 liter made up 85 percent of orders.
For the first 60 days this year, Ford sold 2,392 of its heaviest trucks – a 48 percent increase over the same period a year ago – and is on pace to best the 10,080 units sold last year.
"The F-650/750 is all new … and we've got our own brand new diesel in that truck," he says. "We think we've hit the nail on the head with product."