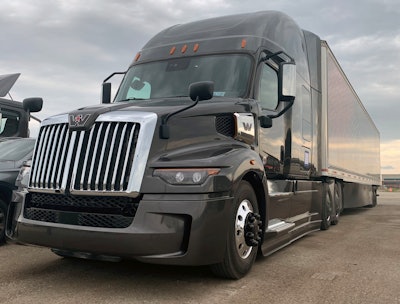 5700XE, we hardly knew ye.
Western Star last year shelved its aero tractor 5700XE after just a six-year run – following a debut that included a stint as Autobot leader Optimus Prime, no less – and will turn to a new model in its quest to carve out a niche among small fleets and owner-operators.
That new model, the 57X, comes with heavy doses of technology – something seemingly at odds with the business models of the two groups Western Star hopes to capture. Small trucking companies and independents are the principal buyers of used equipment and often shun newer technologies, largely writing them off as gimmicky expensive gadgets for "steering wheel holders."
But, with its 57X, Western Star is going all-in, recognizing that attitudes around technology can be shaped (or reshaped) by how it performs and what it does for the operator.
"Features that make a driver's life better, they are more likely to adopt," Detroit Product Marketing Manager Len Copeland said, noting that complaints about technology most often come when drivers haven't been properly trained in how to use it, or leave one fleet for another that uses a similar but different solution. "Safety systems are more important to owner-operators than maybe any other customer. You see billboards everywhere wanting to hear from you if you've been in an accident with a truck. Technology in some cases can eliminate the accident, or at least lessen the impact and the expense."
[Related: Western Star debuts new on-highway truck, 57X]
Western Star has put its safety tech stack – the Detroit Assurance platform – front and center of 57X.
Equipped with the standard DD15 (505 hp and 1,750 lb-ft torque), I took a 57X around the Detroit Metro area, dragging around just under 80,000 pounds gross. The DD13 Gen 5 and DD16 are also available, all matched to a Detroit DT12 Direct or Overdrive automated manual transmission.
Detroit is the powertrain of choice on about 90% of all Freightliner and Western Star on-highway models and is the only powertrain offered on the 57X. The take rate of Detroit Assurance, too, is about 90% or "pretty much 1:1," Copeland said, meaning that almost every customer who specs Detroit bumper-to-bumper specs Assurance too.
There's really no good reason to delete it, I don't care how good of a driver you are.
Eliminate 25% truck accidents?
About 10% of all accidents involving heavy trucks are a rig rear-ending a passenger car. One in five truck fatalities are linked to unintended lane departure. A recent study conducted by Bosch shows that driver safety systems that include lane-keeping features generally offer a payback in two years or less via either eliminating incidents entirely or decreasing the amount property damage caused in a wreck.
57X comes standard with the Detroit Assurance 5.0 safety system with Active Brake Assist 5 – an always-on system that fuses camera and radar technology to detect moving objects in front of the truck and can deploy full braking. With Detroit Assurance also comes Adaptive Cruise Control (ACC to 0 mph), which keeps the truck at a safe following distance relative to its set speed and the speed of the vehicle in front of it.
Detroit Assurance 5.0 also offers optional Active Lane Assist (ALA) – a suite that includes Lane Keep Assist, Auto Stop, Lane Departure Protection and Steer Assist. Additionally, 57X debuts Active Side Guard Assist (ASGA), which is designed to mitigate blind-side issues during right-hand turns, potentially saving the lives of inattentive cyclists or pedestrians that find themselves in the blind spot along the passenger side of the tractor.
ACC to 0 mph might be my favorite feature of the product suite. It paces the vehicle in front of you, slowing and speeding up at will to maintain a safe following distance. You can adjust following distance at highway speeds to a distance of just more than three seconds or down to just more than two seconds, but when you hit traffic, that's when the "to 0 mph" really shines.
I was snarled in stop-and-go traffic on Interstate 94 for a solid 45 minutes, and my feet barely touched the pedals. If the truck sits still for more than two seconds, the driver has to bump the throttle to re-engage ACC (it will continue to hold the brake), but as long as traffic is plodding along, there's not a lot to do other than monitor surrounding traffic for stupid behavior. The truck will stop and start based on the flow of traffic. Lane Keep Assist will keep the rig in its lane to the driver's preferred bias: centered, left-of-center or right-of-center. The tech combo makes being stuck in major metro traffic feel much less like the circle of hell that it really is.
The system reliably detected vehicles traveling alongside my rig, tracking them all the way to the ICC bumper. When it detects a vehicle, a yellow triangle appears in the pillar on that side of the truck and in the driver display. If I activate the blinker to the side that the system recognizes there's a vehicle (or person) in my path, the display goes from yellow to red and you get a bonus audible buzzer warning. It's actually harder to hit the car than it is to miss it with the feedback and support you get from Detroit Assurance.
We all like driving, but nobody likes fighting traffic. Being able to farm out one of the worst parts of the job was welcomed.
Comfort aside, all this bundled safety technology is repellant for ambulance chasing TV lawyers in search of a big, easy pay day. Accident avoidance will keep you out of the courtroom every time.
The life of luxury on the open road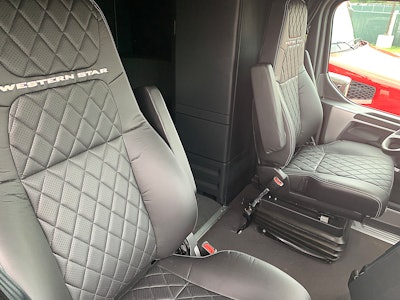 The two-piece windshield has been replaced with a massive single piece of glass, and the driver and passenger windows are similarly large. Bundled with a nose that's about 2 inches lower than the 5700XE and large C-bracket mounted breakaway mirrors, visibility from the plush captain's seat is panoramic. Sadly, the area just above the windshield on my pre-production model was absent one visor – a wrong that will be righted on all production models. Is it really a Western Star if it's not rocking a visor? Of course not, which is why it's standard.
For ease of maintenance, the electrical system has been tidied up into an "E-vault," which is tucked smartly behind the passenger-side dash. It's fairly simple to pop off the cover and replace a fuse when the need arrises.
The cab is reinforced. It's not a gussied up Cascadia cab, and the diamond stitched seat inlays and the incorporation of premium materials give it a luxurious feel.
The interior is not just premium. It's opulent; a level of premium so premium you can't even really describe it. Western Star only offers two trim options on the 57X – a premium and premium plus, if you will. You can't cheap out on how you spec this truck. Western Star has positioned the 57X as a premium model with some uncuttable corners.
Gone is the 82-inch sleeper. The 57X is available in Day Cab, 60-inch Mid Roof, 72-inch Mid Roof or 72-inch Stratosphere. The big 72-inch sleeper is actually 22% larger by volume than the 82-inch was thanks in part to moving the front seats and bulkhead further forward. And the added space doesn't come with the subtraction of storage. There's plenty of room for a TV, fridge, microwave, cabinets and shelves and dinette (depending on how you spec it). Even nicely appointed, the bunk area feels pretty spacious.
In the bunk you'll find more controls for the Dual Battery Powered HVAC, which replaces the ParkSmart system. The unit's dual evaporator system allows the engine to cool the truck while running over the road or optimize idle. Using the engine will improve life of the electrical system. The old electrical center has been replaced with a solid state electrical center that is integrated into the unit, and the system no longer requires additional space in the baggage compartment. The integrated solid state electrical center will be more reliable than the previous generation that used fuses, circuit breakers and relays. The electrical and engine powered compressors run at a lower amperage (35amps vs 45amps electrical and 16amps vs 57amps engine powered), and lower use of amps leads to longer life of the compressor. A new mount position is available on the lower left side for the backwall condenser, allowing the trailer gap to be closed in further.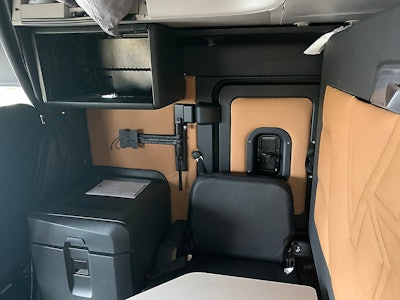 A 12-inch digital dash display – all new for Western Star – replaces the dial cluster. A smaller 10-inch display on the B-panel serves as a kind of overflow for system information and is also the entertainment hub for Apple CarPlay and Android Auto, which can be accessed with a smartphone. You navigate both screens via integrated steering wheel controls, but the 10-inch is also touchscreen or can be controlled via integrated shortcut buttons.
Steering wheel controls are another tech-enabled safety feature because the driver doesn't have to take their hands off the steering wheel to change radio stations, adjust the volume or make phone calls, assuming your phone is plugged in, among numerous other things. CarPlay will even read your text messages to you, allowing you to reply via voice.
I joke that it's cliche to point out how automotive tractors have become, and while the 57X certainly has the kind of fit, finish and ride quality that you're looking for in a premium car, there's a lot more to it than that.
The wraparound dual digital display and excellent side and forward visibility have an almost aircraft feel to it. Maybe that's my new standard; how does the driving experience compare to a 747? But the comparisons don't end there. The ADAS suite is essentially a co-pilot, taking over the important yet mundane details that facilitate safe driving. Up to 600 hp (in the available DD16) isn't going to launch you into a different atmospheric layer, but it's more than enough to tug around 80,000 pounds or more.
Safety improvements aside, the 57X makes another strong business case: fuel efficiency.
The 57X – 1,000 pounds lighter than the 5700XE – is the most fuel-efficient truck Western Star has ever built; 5.8% more fuel-efficient than its predecessor. Traffic killed my fuel economy. Over the course of the trip my rig registered 7.6 mpg. It reached 7.8 mpg before I dropped off the highway and headed back to the garage. I was slightly disappointed in the number because this is an 8 to 9 mpg tractor all day long – higher if you're a finely tuned hyper-miler. But I was stuck in traffic for 45 minutes, never getting more than 4 mpg over that time. The lifetime average of the tractor was 8.0 mpg and it barely had 800 miles on it, so it's not even broken in yet. I'm confident with a little more time and more miles to wash out the barely-above-idle in traffic, I would have surpassed 8 mpg, possibly approached 9 mpg. But, traffic – like disappointment – is part of life.
How is Western Star going to turn buyers of basic, bare-bones used trucks into buyers of the all-new, super-premium and tech-forward 57X? Just get them into the seat and let the case make itself. This is very much a "there's no turning back now" driving experience.
While the 57X might miss out on leading a big-screen civil war between the Autobots and Decepticons, it is an elegant and sophisticated truck that underneath still lies the gritty workhorse that has always been a hallmark of Western Star (and Optimus Prime).