Peterbilt has been building medium duty trucks since 1995 and, astoundingly, 95% are still in service.
"Some of these trucks are going into their fourth lifecycle," said Phil Hall, Peterbilt's medium duty product manager.
Durability and longevity are important in a work truck, but a lot of important changes in technology have been made over 26 years that both appeal to driver tastes and enable smarter workflows.
Peterbilt took those changes into account during the last five years it spent working on revamping its medium duty truck lineup and this month debuted four new models that span Class 5 through Class 8.
The new Model 535 and Model 536 trucks are designed for the Class 5 and 6 non-CDL lease and rental market – a segment that makes up almost 40% of the entire medium duty market. In fact, two segments – lease and rental and pickup and delivery (32%) – make up the lion's share of the overall market, prompting Peterbilt to rethink how these trucks can better service end users.
The old 1.9 meter cab, while fine for the construction segment, wasn't quite wide enough to cover all the needs of the market's two biggest segments, and there are plenty of ergonomics in play, too. Many medium duty drivers climb in and out of the cab between 50 and 60 times a day.
Hall noted the new 2.1 meter cab was built with a Human Centered Design process, which focuses on customer needs to build empathy-driven innovations.
"We went to the main source of where the information would be, and that is the drivers," he said, adding that drivers in the medium duty don't see themselves as drivers. "They're salesmen. 'The truck is our tool'," Hall said.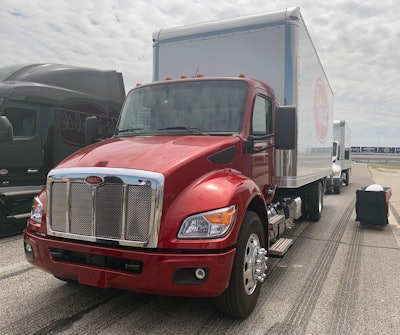 A tool of comfort
I took several of Pete's revamped models for a spin around the road course at Texas Motor Speedway in Fort Worth. The course design does a good job replicating the kind of environment these trucks will see on most days: some S-curves, some straightaways and a few deep left and right turns that require relatively short burst of power and torque. The Amazon delivery person is generally stopping several times per mile, and the track replicates a neighborhood layout.
The cab was designed to sit three inches lower to improve ingress and egress while stair-style steps and knurled grab handles boost safety – boons to the men and women hopping in and out 50-plus times per day.
The trucks' robotically-assembled aluminum cab is 8-inches wider than the previous generation cab and when equipped with a bench-style seat has room for three adults to sit. It's not just three person seating simply because you can cram three people on the bench. It's actually a comfortable fit.
The interior is designed for durability and simplicity. Injection molded body panels are scratch/scuff and glare resistant, and they resist warping in the summer heat and over multiple lifecycles of use. Even if you're the person getting this truck 20 years after it first rolled down the assembly line, you're not looking for a rattling trim panel.
Hall said designers put a lot of attention to detail on the interior, eliminating seams and junction points that only serve to trap dust and dirt, and the flat floor makes clean up easy.
For the passenger, there's plenty of leg room. There's almost always something in the way for the person riding shotgun (like a RAM mount or a cup holder), but Peterbilt solved this by moving them more centered with the dash and away from the passenger's knee. The co-pilot doesn't have to sit angled toward their door anymore.
When Peterbilt redesigned it's flagship Model 579 earlier this year, a 15-inch digital driver display was a prominent feature. The work truck Petes get a similar, albeit smaller, treatment. Centered in front of the driver between a discrete speedometer and tachometer is a high-resolution 7-inch digital display. It allows drivers to toggle through pre-loaded menu cards and customize preferences utilizing a multi-function steering wheel and display navigation knob. The digital display is integrated with the trucks ADAS system (collision mitigation, lane departure warning) as well as the TPMS system. Other functions include a system check and trip summary.
I like the integration of the screen. It's simply a more concise package of information.
The trucks powered through the course effortlessly. Steering was light and the powertrain was responsive. If something that weighs up to 26,000 pounds can be nimble, then these trucks were that. They're also quiet. The air intake has been mounted to the top of the engine, not the firewall, which makes for a quieter ride.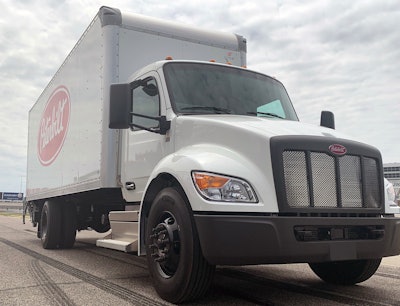 New MD power and torque
Along for the ride in the new models is the new Paccar TX-8 fully automatic transmission. Enabling up to 5% better fuel economy, I found the shifting sequence to be smooth and intuitive. Startability was of automotive quality. There's no lag from the truck slogging its way up from first gear thanks to a Twin Torsional Damper that enables early first gear lock-up for smoother shifts and faster acceleration.
The new gearbox also features an Auto Park Lock system, a safety feature that automatically engages the park lock should the driver forget.
The PX-7 and PX-8 engines for the new models get longer oil and fuel filter service intervals and fuel economy improvements.
The rest of the market
Pickup and delivery and lease and rental might account for 69% of the medium duty market but Peterbilt didn't ignore the remaining 31% with its update.
On the heavier end of the refurbished line up is an all-new Class 7 Model 537 and "Baby 8" Model 548. Each were built on a new customizable chassis with a multiplex electrical architecture that enables better body builder integration. Two hood options are available – a vocational three-piece Metton hood featuring a stationary grille with full through rail, and a three-piece SMC aero hood for maximum visibility. Both hood options can use a variety of vocational and front-engine power takeoff (FEPTO) bumpers to accommodate various applications. The bumper is front-mounted to the chassis with a drop-and-go feature for self-locating. Bumper options include chrome or painted finish, three bumper light mounted options (headlight, daytime running lights or fog), two radar options, two tow options (two tow loops or center tow), and two license plate mounting locations (center or offset).
Ergonomic improvements – like the same ingress and egress as the smaller trucks – are featured in the Class 7 and Class 8 models, along with the same 4.6 cubic feet of storage space and dash and instrumentation capabilities.
The updated PX-9 engine gets higher torque ratings in the 260, 350 and 360 horsepower versions, as well as a lower torque drop-off speed.
The updates to Peterbilt's medium duty line are straightforward and practical. It's a no-frills overhaul that boosts driver comfort – which is important to the people that drive them – yet it offers the same versatility and capability as the generation that precedes it, which is important to the people who buy them.