The last two vehicles I've bought for myself have been red. The next one will probably be red, too.
I really can't explain it. Something about a big red truck just hits me the right way, and it draws me into the dealership's finance department.
My first two vehicles were black – a 1989 Chevrolet S-10 and a 1998 Camaro. Just before I turned 30, I outgrew that phase. Honestly, I got tired of the around the clock task of keeping a black vehicle looking clean.
I'm not alone – at least in being drawn in by color.
Axalta, a leading global supplier of liquid and powder coatings, released its Automotive Color Preferences 2021 Consumer Survey aimed at analyzing the relationship between color and vehicle purchasing decisions among consumers. More than 4,000 participants aged 25 to 60 in four of the largest vehicle-producing countries – China, Germany, Mexico and the U.S., responded that color was a key factor in 88% of vehicle purchasing decisions.
Axalta Global Mobility Coatings Color Manager Nancy Lockhart said the psychology of color is a powerful influencing factor in automotive purchasing decisions and that "frequently, color reflects the personality of the vehicle owner."
I don't know what red says about me, but I think black says, "I love washing and waxing my vehicle every 45 minutes!"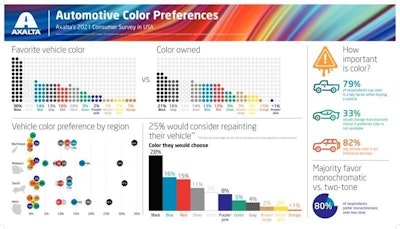 The Axalta survey analyzed the colors consumers wanted on their vehicles to understand potential future trends. Axalta designs colors to meet the needs of automotive consumers around the world, and the changing dynamics in color preferences between countries and vehicle types are studied to best forecast for future models.
"It is exciting to see how bolder colors are becoming more and more popular in the minds of consumers," said Lockhart. "Reds and blues are clearly rising in preference. It's possible we'll see more colors on the road with brilliant effects in the not too distant future."
Axalta's color survey revealed that color is an important factor when purchasing a vehicle for 79% of American respondents; nearly half of all respondents (46%) state color is very or extremely important. Of those surveyed, 82% of respondents in the United States said vehicle color is an individual decision and 53% of households have more than one vehicle. Although black is an overall trend, pickup owners are choosing more colorful versions of blue (No. 2) and red (No. 3). Blue reflects positivity, according to Axalta, and red represents a sense of adventure in the minds of survey respondents in the U.S. I guess that pretty much sums me up. "Mr. Adventurous."
Color trends on heavy trucks are a lot different than passenger cars, but so are buying intentions. Unless you're a carrier like Red Classic or U.S. Xpress, red trucks might not be your thing because there's corporate branding and resale to consider.
"White saves fuel," added North American Council for Freight Efficiency Executive Director Mike Roeth, citing a report from the National Renewable Energy Laboratory. "It takes 17% more fuel to cool a black versus a white cab when parked in the sun."
I was curious to see what the color trends were for commercial trucks, and I can't say I was too surprised to see that white was by far the market leader. It is, after all, a blank canvas for company badge kits and it is the easiest color to facelift when you sell it to the second user.
Fred Ligouri, communications manager for Daimler Trucks North America, told me that about 68% of the trucks DTNA has cranked out for the last 12 months at its Cleveland truck plant have been white. Red was a far distant second with 10%; 6% blue; 3% yellow (I'm looking at you Penske); 3% black; and 2% green.
Jeff Parietti at Kenworth offers a similar breakdown for the trucks the company rolls out of Chillicothe, Ohio and Renton, Washington, although the spread from white to second place is a lot tighter: White, 58%; Red, 12%; Green, 9%; Blue, 7%; Black, 4%; Gray, 3%; Yellow, 1%; Orange, 1%; and "other", 5%.
[Related: What your truck's color says about you]
Stu Russoli, Mack highway product manager, said – based on Mack's 2019 figures, which was a more typical year than 2020 – 61.3% of conventional trucks that Mack built were white; 12.5% were red; 7.6% were blue; and 2.8% were black.
Volvo is a little tricky, as the company's three most popular colors are a shade of white. P3029 White is 31%; P9188 White is 13%; and L0006 White makes up 6.2% of the trucks coming out of the New River Valley truck plant. Second place, at 5.8%, is black, followed by blue at 2.6% and red is 2.2%.
International Truck has more than 2,500 active colors but 64% of its LT and RH Series trucks are, you guessed it, white. Sliding into the second spot is red with 12%, then blue (11%), yellow (4%) and green (3%). Black, gray and tan tied at 2% each.
Peterbilt, at 43%, was the lone truck maker to paint fewer than half of its trucks white the last 12 months. Next most-popular was red at more than 14%, followed by blue (11%), and black (9%). Green rounds out Peterbilt's top five with almost 6%, beating out yellow by less than one-tenth of a percent.