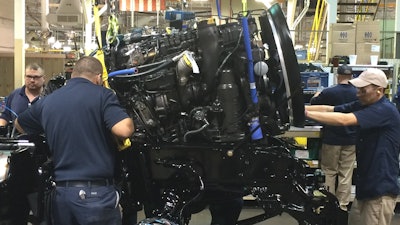 The top fleets in trucking and logistics have reported earnings for the calendar year 2021, and while that chapter should go down in history as an all-time great for revenue, future generations may also remember it as the time when just about nobody could buy a truck.
With the semi-conductor shortage exacerbated by supply chain delays and consumer demand at an all-time high for automobiles, the pandemic-era has introduced a perfect storm of factors that have sent used truck prices skyrocketing, forced difficult pricing decisions on suppliers, and delayed deliveries of Class 8 trucks to just about every fleet.
But even in the face of severe shortages constraining freight capacity, almost every single fleet posted a strong quarter with revenue growth, likely due to pandemic-related disruptions pushing more freight onto the spot market, where rates have soared and put upward pressure on contract rates.
Here's a quick rundown of how some fleets are doing in the hunt for new equipment, according to their 2021 earnings reports.
2021's equipment successes
J.B. Hunt, one of the biggest intermodal carriers, relies heavily on not just tractors, but trailers and chassis, which carry much of their containerized freight. The chassis shortage did appear to ding the company's bottom line, but somehow they pulled ahead on tractor count.
J.B. Hunt's 26% jump in intermodal revenue had to contest with "ongoing network fluidity challenges driven by rail restrictions and customer detention of equipment," as well as "weather, derailments and COVID-related labor shortages and disruptions."
But, despite the setback on chassis and trailers, the company ended the "current period ended with 11,172 trailers and 2,235 tractors, compared to 8,567 and 1,769 respectively for the prior year period." Notably, J.B. Hunt didn't acquire any other fleets, so acquiring nearly 500 tractors in 2021 marked an impressive feat.
Schneider National's earnings report didn't spend much time talking about tractor counts, but a look at the books shows that they picked up nearly $200 million in new equipment and assets. While that number doesn't reflect only spending on trailers and tractors, it bodes better than other companies that suffered worse.
Perhaps Yellow posted the biggest visible gain of trailers however. "In Q4, we wrapped up one of the largest capital expenditure plans in our company's nearly 100-year history. Starting with the fourth quarter 2020 through the end of 2021, we have invested nearly $600 million. Those investments include tractors, trailers, technology, box trucks, containers, lift gates and other assets," the company's CEO said in its earnings call.
"The number of tractors acquired over this time frame was more than 2,400, which is around 17% of the fleet and the number of trailers added is more than 3,600, which was roughly 9% of the fleet. The additions have lowered the average age of the tractor fleet by approximately 2 years and are expected to mitigate maintenance expense and help our sustainability efforts through enhanced safety and improved fuel efficiency."
2021's equipment woes
U.S. Xpress, one of the only major public carriers to report a loss of any kind in Q4 2021, said that it fell short of its equipment spending goal by upwards of $40 million.
"Capital expenditures, net of proceeds, related primarily to tractors and trailers were $97.0 million for 2021, excluding equipment financed under operating leases. This was below the Company's previous guidance range of $130.0 million to $150.0 million, primarily due to delays in anticipated fourth quarter equipment deliveries," the company's earnings report said.
The following quote from Covenant's earnings call pretty much sums up the business world's sentiments:
"In the fourth quarter we experienced the continuation of an exceptionally strong freight market resulting from growing economic activity, low inventories, and supply chain disruptions, accompanied by constrained capacity due to a national driver and equipment shortage. These conditions have continued into the first quarter of 2022."
"During 2021, we received approximately 85% of our equipment order for the year and anticipate the remaining deliveries to occur in early 2022," the statement continued.
At P.A.M Transport, things appeared even worse. "During 2021, we received approximately 60% of our 2021 equipment order and expect the remaining deliveries to occur in early 2022," an earnings release read.
Creative strategies for fighting equipment shortages
Since nobody knows when exactly they'll be getting all their equipment, when rates might dip, or when more drivers can come online, some fleets have started actively pursuing strategies to secure more equipment and drivers against a backdrop of uncertainty.
XPO Logistics, for example, took it upon itself to up its driver training program and actually start manufacturing some trailers itself. In January, the company added a second production line at its Searcy, Arkansas, trailer manufacturing facility and expects to double the number of units produced in 2022 year-over-year. The company also plans to double its production in training schools, where it graduated 900 drivers in 2021.
For Werner Enterprises, this moment proved a profitable time to offload some used trucks. "Gains on sales of equipment in fourth quarter 2021 were $21.2 million... compared to $4.0 million" in Q4 2020, the company's earnings statement said. "Year-over-year, we sold fewer trucks and trailers and realized substantially higher average gains per truck and trailer due to the significantly improved pricing market for our used equipment."
Finally, USA Truck set an example of how to do more with less. Without buying a significant number of new trucks, or acquiring another small fleet, USA Truck actually saw its deadhead percentage increase 10 basis points, loaded miles per available tractor drop 106 miles (7%) and a .8% decrease in seated tractors in Q4 2021. The company, however, reported that base revenue per loaded mile increased $0.502, or 19.8% and a record quarter for revenue.
Overall, the equipment snares have made expanding a business more complicated, but on average big carriers seem to be doing just fine. In a year of record revenues, the equipment shortage seems one of the few limiting factors for an industry that's on a winning streak, but still can't quite seem to win them all.