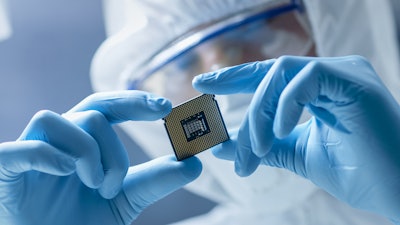 A global shortage of semiconductor chips has thrown vehicle production plans for some of the world's largest automakers into question.
Ford and GM are among the major players to already announce production limitations that could last into the spring. The chip shortage was spurred by COVID-related vehicle assembly plant shutdowns. With production lines stopped, semiconductor manufacturers pivoted capacity to consumer electronics – sales of which were surging on stay-at-home orders and prodded by a new remote workforce.
Semiconductor chips require assembly lead times as long as several weeks – if not months – and the demand for new vehicles was not expected to be so strong coming out of a pandemic-depressed economy.
About 217,000 Class 8 trucks were ordered in 2020, and forecasts call for between 250,000 to 280,000 orders this year.
"We feel that we're on the higher end of that," said Kenworth General Manager Kevin Baney. "Fleet activity is up, strong vocational market and used truck prices are increasing. Everything is really coming together. We really feel like '21 is going to be a robust year."
Semiconductor availability thus far hasn't impacted heavy truck builds to the extent it has automotive builds, but FTR Vice President of Commercial Vehicles Don Ake noted "the computer chip shortage is limiting production."
Daimler Trucks North America said in a statement provided to CCJ that the shortage of chips "is a situation we continue to monitor very closely, but [has had] no direct impact to our production plan to-date."
Volvo Group Vice President of Public Relations and Corporate Affairs Mary Beth Halprin said the Mack and Volvo Trucks parent is "navigating our way through a number of supply constraints, including those involving semiconductors, due to the steep ramp-up of production across the globe," noting the company uses semiconductors in a number of components, including, for example, engine and transmission controls.
"We've been able thus far to work our way through the issues without interrupting production," she said. "The situation is fluid, and we're continuing to do everything we can to minimize the impact on customers."
Despite "strength in key freight generating economic sectors, carrier profitability that is expected to rise to record levels this year, strong orders and rapidly-filling backlogs," ACT Research President and Senior Analyst Kenny Vieth said the shortage of semiconductor chips is only one headwind facing 2021 truck production.
"While demand is strong, supply chain impediments are accumulating, from steel production constraints created by global economic reengagement during a pandemic, to silicon chip shortages, and in late January the Mexican government ordering oxygen producers to give medical demand precedence over industrial supplies," he said.
Ake added the semiconductor shortage is "not even the biggest problem at some OEMs."
Numerous components and parts, he said, are in short supply due to a host of factors. "The most critical part can vary from day-to-day based on what gets delivered," Ake added. "Trailer production may be in even worse shape than trucks. So, if you had an adequate supply of chips, it would help some, but it would not solve the problem."