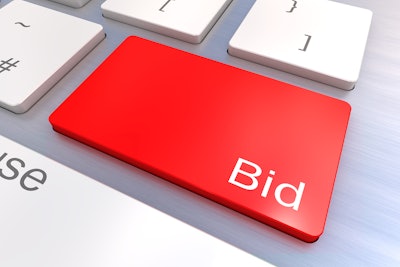 Shutterstock image
Among the many changes brought on by the COVID-19 pandemic was the halt of most in-person events, which can be problematic when you're in the business of auctioning commercial trucks.
Capability to bid remotely has been commonplace for many years, but the onset of the coronavirus – coupled with government restrictions on gathering in one place – forced a full transition for many auction houses coast-to-coast.
"Buying online, or sight-unseen, had already been popular for many years pre-pandemic, so it probably wasn't a sea change," said J.D. Power Commercial Vehicles Senior Analyst and Product Manager Chris Visser. "Fundamentally, truckers will buy trucks if the freight environment is healthy and predicted to remain that way. Based on the number of trucks sold, combined with prices paid in 2020, buyers are at least as motivated and active as they always have been."
Work (and bid) from home
Taylor and Martin National Sales Director Steve Oliver said the company sold approximately 30% of all its equipment online, pre-pandemic. It now broadcasts auctions live from its corporate office. Equipment locations are staffed by representatives and open daily for equipment inspection only, starting seven days prior to the auction. But all sales happen remotely.
"It is not 100% online now. It is 100% remote. We still do everything that we can to accommodate people who want to bid over the phone," he said. "The number sold online post-pandemic is well over 90%, but there is a percentage of phone bidding for people who feel more comfortable with that method of bidding."
Similarly, buyers can still visit Ritchie Bros. auction sites to test and compare items in the yard prior to bidding, but have to trade waving auction paddles for clicking a "submit bid" button.
"We still welcome hundreds of buyers onsite, who come to inspect in person, then leave to bid from their home, office or mobile app," said Senior Valuation Analyst Rob Slavin.
Prior to the pandemic, upwards of 80% of Ritchie Bros. bidders were participating online and Slavin said his company saw record demand last year, with online registrations growing 74% year-over-year.
Since moving fully remote, Oliver said "we have more than doubled the average attendance at our auctions, and the attendance is higher with bidders who went through the process to be approved to bid online."
Attendees willing to go through the registration process to bid are not just tire kicking, Oliver added. "They are there tying to get equipment purchased to put to work right away. So we doubled in serious buyers not attendees."
While the amount of increase varies by auction event and site, Slavin said Ritchie Bros. has also seen an overall uptick in bidder registrations, and its application received 400,000 new downloads last year.
Most auction companies have long provided remote inspections and guarantees along with additional services are available via third-parties, easing some of the trepidation that tends to follow casting bids that can total tens of thousands of dollars on equipment the bidder has never seen up close.
"Buying online in 2020 has become more accepted than ever before," he said. "We've seen auctions where registrations have increased more than 100% year over year."
Non-auction options like a 24/7 daily online marketplace, which provides a more retail-like purchasing experience with 'Buy Now' and 'Make Offer' options, have also drawn more digital buyers while increasing seller control over the price and process.
Pandemic heats up the used truck market
"In terms of pricing, I'd say trends in 2020 were dependent almost entirely on the traditional relationship between supply of trucks on the ground versus demand for freight, as opposed to a greater number of customers buying online," Visser said.
Due to COVID-19, all of Ritchie Bros. equipment auctions conducted in the back half of last year were held online, a transition that was met with U.S. truck tractor prices that increased 8% over the same time period (three months ending December) in 2019.
The increase in values, Oliver said, really began in the second half of the year as shipping rates increased and businesses adapted to the new normal.
"Values were also likely affected by the OEM shut downs that led to fleets holding onto equipment longer, because they were waiting for replacements, causing a shortage of late model used trucks and trailers on the market," he added. "There were more online bidders and more equipment buyers at home focused on the online auction market, but I truly believe the values were driven by a simple case of supply and demand."
In terms of numbers, Visser noted that late-model trucks brought roughly 20% more money in the second half of 2020 compared to the same period of 2019. Granted, that's an easy comparison, but auction pricing right now is only about 10% off the last peak in mid-2018, he added.
"Going forward, the consumer will continue to drive the freight market. If economic and employment conditions remain stable, so should the freight environment and used truck pricing," Visser said.
December's auction results continued the strong run of the second half of 2020, with average pricing better than any time since the first quarter of 2019, and tractors are expected to be in in high demand in the near term as heavy trucks lead inventory searches on Ritchie Bros.'s website through Jan. 4; are the top auction item added to would-be bidders watchlist; and the No. 1 piece of equipment receiving pre-approval financing inquiries.
"Auction pricing really heated up in the second half of 2020. The dry van and reefer freight markets paused only briefly in March, then took off when stores needed to restock, goods shifted from offices to stores, and industries increased their inventories on hand. So truckers got back into the game and/or upgraded their old iron," Visser said.
Are truck auctions the new e-commerce?
Even though remote bidding has brought more bidders and more quality buyers to the table, Oliver said he will be glad to re-start in-person auctions "as soon as it is safe and local jurisdictions are allowing gatherings."
"We believe that there will be people who come back to the on-site auctions for the event, and the ability to observe so much equipment in one place, and because they like to make their purchases in that format," he said. "We also believe that the online purchasing will not go away, and we will bring a larger pool of buyers to the auctions both live and online, now that so many new buyers have been exposed to the auction market. The pandemic forced the online move and probably changed the overall equipment auction business forever. We believe it's positive for buyers and sellers."
Slavin said Ritchie Bros. was ready to get back to in-person business even if there's no indication of when that might be.
"Due to COVID, to keep our customers and employees safe, we have chosen to conduct 100% online auctions right now, but I wouldn't say it's permanent," he said. "This is what we can do now to ensure our customers can still buy and sell equipment safely."
Before the pandemic, , now it's 100%. Still, if our customers want live auctions back after the pandemic, we will be ready to go.