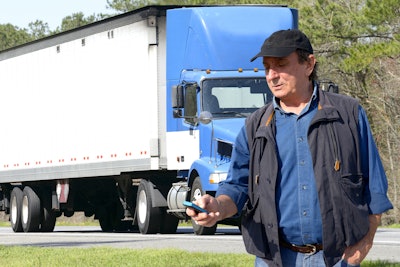 Driver recruiters face a complex problem. There's a lot of competition for qualified CDL drivers and an overwhelming network of tools and technology available to manage the recruiting and hiring process. However, with poor planning or sloppy execution, desirable applicants are likely to pass on even the best and most technologically advanced carriers.
Jeremy Reymer, founder and CEO of DriverReach, said the process of attracting drivers starts at the most basic step: making clear the benefits of joining your company, and making the application process simple and straightforward. 
"What separates you? Is it better home time? Better equipment? You really want to hone that down," he said. "This is your brand. This is your story."
To share the story, Reymer said fleets must have a modern web presence, a mobile-responsive website and a lively social media presence.
"If drivers are trying to find you and there's no web presence, or it's not current, you're out," he said. "Trust me. They're looking."
The goal of a good web presence is to drive traffic to a carrier's website, allowing them to collect prospective drivers' information.
"Better recruiting begins with a better applicant experience," Reymer said. "It's critical to always consider your recruiting process from the driver perspective. What sort of experience are you providing for them?"
The application portion of a fleet's website should also be front and center, not listed under various pages. Carriers that ask applicants to complete an online form should make the form simple and fillable from a mobile device. Being able to fill out the form on a mobile device, Reymer said, "is a must." 
"Whether it's digging around [on the website for a link] or having them download a PDF," Reymer said, "that's not a good experience. The easier we make it and the easier they get in to your funnel, the more likely it is you'll be successful."
Fleets shouldn't discount an application just because the driver didn't fill out every field, as not all drivers want to send their personal information across the Internet. For this reason, a polished inbound call process is just as important as an organized web presence. 
Inbound calls should be picked up immediately. Never send applicants to voicemail when that can be avoided. Reymer suggested answering each call with enthusiasm, getting the driver's contact information early in the call, building rapport with the caller, showing empathy and asking open-ended questions.
"Be friendly. Cordial," he said. "Ask them to talk about themselves. Don't make that driver feel like he's just another call that you get all day long." 
The next steps in the hiring process should be clearly communicated to the applicant, and a DOT application link should immediately be sent to the caller either via email or text. "Make it easy and be quick," Reymer said. "Never tell a driver to go your website and click the 'apply now' button. You've got them on the phone. [Don't] hang up and have them do an errand for you, basically. You can't just direct them somewhere."
Fleets that have the ability to complete the form for the applicant should offer to do so while on the phone and send it to the driver to confirm.
In the event a follow up is necessary and a carrier's call goes to voicemail, Reymer suggested sending a follow up text asking to schedule a call, noting drivers generally will respond to a text in minutes but are unlikely to ever return a voicemail. 
"You'd be surprised how few people are doing something so simple," he said. 
Candidate relationship management (CRM) platforms can help keep carriers top of mind with applicants in the fleet's database by sending monthly newsletters to prospects and emails and/or texts blasts based on a fleets' needs. 
"Keep an open dialog with them electronically," Reymer suggested, noting that a CRM platform allows carriers to track email open rates. Open rates can be a sign of a warm lead, and as the database grows carriers can reduce their marketing spend and focus on re-marketing to the database. 
"If we know when most drivers are looking for a new job that they apply to at least a few [fleets], your ability to move faster – to be more efficient – is going to be the difference in them working for you versus someone else," Reymer said. 
Effectively managing a database of prospects can help maximize a return on marketing dollars, not eliminate it. Reymer noted it's tough to attract drivers without a marketing spend.
"It's really hard to stand out. I don't know anybody who isn't spending something," he said, noting that it's more important to monitor and track marketing effectiveness "and if it seems to not be working, don't do more of it. Not having a budget for it is not realistic." 
"Facebook is free," added WorkHound CEO Max Farrell, "but some times you've got to pay to play."
Using free social media as a recruitment tool is a viable strategy, but Reymer noted carriers often reap what they sow. 
"You've got to be consistent. Posting once every other month or so isn't going to cut it," he said. If you're not going to manage a social media page, "don't even bother," he added. 
Farrell also recommended to resist the temptation to use social media as the sole outlet for job openings just because there's population density on the platform. He said driver-centric recruiting sites are likely to yield better results than shotgunning posts across platforms like Indeed or LinkedIn because the majority of drivers in the job market don't seek out those platforms for openings. 
Recruiting is only half the battle. The majority of inbound driver applicants already have a driving job somewhere else, putting a spotlight on retention. 
Farrell noted that onboarding and training must be intentional yet ongoing. New drivers without a formal support system rely on veteran drivers who feel burdened by the added responsibility. 
"This starts to create an us-versus-them mentality in the rumor mill," he said. 
Increasing touch points between drivers and support staff can help formalize training and ease communication. Farrell suggested initiating a plan that builds familiarity and empathy between drivers and their support team.
"More communication and time together results in more trust and mutual respect," he said, noting this could include things like ride alongs and having dispatch check in on drivers to ask about things outside of work.
Peer-to-peer training sessions, social media channels, live town halls via Zoom or Facebook Live, and recorded videos from leadership are all effective communication tools, and Farrell suggested fleets host virtual meetings between both the front office and among drivers to "establish a feedback and referral loop."
"Asking for feedback lets drivers know you value their feedback and perspective," he said. "By simply raising their voice you're letting them know they provide more value than just being a utility player behind the wheel." Also, there's the added benefit of potentially finding out whether or not management's perceived reality is an actual reality. "There's a world of difference from what you see from far away and what drivers see on the job," Farrell said. 
Getting driver feedback is only one step. Actually doing something with that feedback is the critical step. While not all feedback can lead to an actionable change, Farrell suggested in those cases "closing the feedback loop" by simply clarifying why a process works the way it does. He noted an example of 41% of comments that cycle through WorkHound's platform about pay were questions. "More often, drivers simply wanted to know why something worked the way it did," he said. 
Letting drivers know they are heard, Farrell said, is a major part of retention and recruiting, noting more positive reviews means more referral opportunities. 
"Your divers have great testimonials to share if you create the opportunity for them to share. Happy drivers are the best recruiters," Farrell added, noting that 85% of job seekers rely on reviews to decide whether or not to even apply to a company.