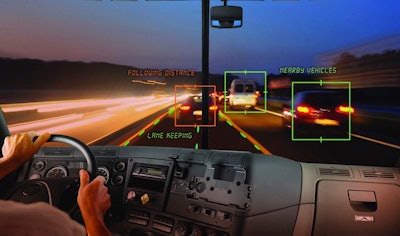 Advanced driver assist systems (ADAS) such as collision mitigation, anti-rollover and lane keeping systems are required on new passenger vehicles. While not mandated on heavy-duty trucks, motor carriers are spec'ing them voluntarily at an estimated 50% rate.
A growing number of video telematics providers also have ADAS features that utilize both forward and driver-facing cameras. The cameras are powered by advanced software algorithms that instantly detect and alert drivers to risky behaviors such as fatigue, distraction, lane keeping and following distance.
Despite the widespread use of ADAS technology, some areas in the country will always be inherently riskier than others. Technology can also help mitigate risks by giving fleets and drivers information about safety hotspots.
Carriers are using new services from weigh station bypass providers to give their drivers a heads-up notification on their routes for safety risks.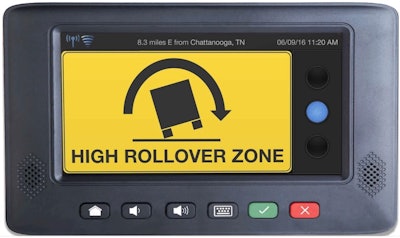 PrePass Safety Alliance with its PrePass program and Drivewyze with PreClear, for example, have extensive relationships with government agencies to collect road and traffic data and to supply location-based safety information to drivers through applications that reside on fleets' ELD systems.
Another resource for safety hotspots is the annual "State of Data" report from Lytx. The 2020 report was created using data captured from fleets of all sizes and types within the trucking industry.
Lytx's 2020 report reveals the riskiest states, cities and roadways in the United States along with the riskiest days and times and trends in risky driving behaviors.
"We use our dataset – the largest and most accurate of its kind – to identify and address top areas of driving risk, and to provide trucking fleets with insights they can put into action quickly to improve their safety," said Dave Riordan, executive vice president of Lytx enterprise business.
Lytx captured over 10 million risky driving incidents among trucking fleets in 2020. From all those incidents, Lytx examined single-square-mile road segments using its proprietary risk scoring system and found the following areas in the U.S. had the highest concentration of risk:
Allentown, Pa.: Interstate 78, East of W. Emaus Avenue
Lambsburg, Va.: Interstate 77, near Old Pipers Gap Road
Albuquerque, N.M.: Interstate 40, near Coyote Springs Road SE
Durham, N.C.: Interstate 85, near University Station Road
Lebanon, N.J.: Interstate 78, near Cokesbury Road
As in past years, most of the identified riskiest road segments are near interchanges, construction zones, or on/off ramps, which increase driving risk. According to Lytx's risk score system, these five road segments, on average, are 152 times riskier than the average road segment in Lytx's trucking-industry database.
"We know sudden lane changes and shifts in driving speed surrounding interchanges can create a more volatile driving environment and more opportunity for dangerous incidents," said Del Lisk, Lytx's vice president of safety services.
Areas of Pennsylvania, and Allentown in particular, have been featured on the list in past years, with the top two riskiest roads in 2019 and top three riskiest roads in 2018.
Despite having some of the riskiest stretches of road, Pennsylvania improved in the overall state rankings in 2020. The riskiest states for trucking fleets in in 2020 were:
California
Washington
Texas
Oregon
Georgia
These states overall were three times riskier than the 45 other states in Lytx's nationwide footprint.
Lytx also examined its data in 60-by-60-square-mile areas and, for the second year in a row, identified Chicago as the riskiest U.S. city for trucking. Compared to the next riskiest city, Dallas, Chicago was 23% more risky, likely related to its role as a major transportation hub for routes in all directions.
"While we know trucking routes may not always be flexible, we encourage managers and coaches to consider these areas of concentrated risk in supporting their drivers to approach every situation with a proactive, safety-oriented mindset," Lisk said.
Riskiest Days and Times
Lytx found slight shifts in the days of the week and times with the highest prevalence of collisions and near-collisions. From 2018 to 2020, Lytx identified:

The shift in collisions by day of the week and time of day is likely due to 24/7 demand for deliveries necessitated by the pandemic, explained Lisk.
"Compared to past years, fleets may have more routes and deliveries early in the week, rather than starting the week slowly. This could be a factor in Sunday having the fewest collisions and Tuesday having the most collisions," he said.
Trends in Risky Behavior
Even with increased demand in 2020, Lytx trucking clients showed strong improvements in high-risk behaviors. Lytx has proprietary machine vision and artificial intelligence (MV+AI) technology to detect and alert drivers to patterns of distracted or unwanted driving behaviors.

Lytx data shows that its trucking clients showed strengths in several areas compared to other fleet types in waste, distribution, transit, government, construction, concrete, utilities and field services:

Lytx's data also found these risky behaviors increasing among truck fleets:

"We share this information as an opportunity to shed light on the areas where drivers, managers and coaches should pay special attention in order to approach safe driving proactively," said Riordan.