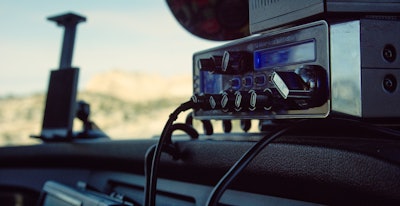 Since COVID-19, the entire face of fleet communications has changed, all but eradicating in-person interactions and accelerating the digital transformation of the commercial trucking industry.
Though some face-to-face contact will remain, companies must find a hybrid solution for communicating with teams internally, as well as remotely, with mobile workforces.
Driving the employee journey
Managing the employee journey has become more important than ever. Since the pandemic, commercial fleets have adopted communication trends that have been used outside the industry for years. From implementing virtual orientation programs for new drivers, to using video conferencing tools for connecting with current employees, the industry has felt pressure to find creative ways to stay synced in a socially distant world.
To this end, there are platforms that serve as remote communications hubs for fleet owners, providing fully online processes for recruiting and onboarding new drivers with virtual training videos and digital hiring packets/paperwork.
Programs like these go one step further to provide current drivers with digital engagement tools like surveys and reward programs, ensuring satisfaction and engagement among the workforce.
In-cab companion applications
Team communication applications are fast becoming "companions" to existing in-cab mobile computing platforms, untethering drivers from trucks. In-app features are more comprehensive than ever with text chats, audio calls, video conferencing, file sharing, discussion threads, forums and more, all combined into one communications hub on a dedicated channel.
Another example is a driver connection program that provides important information like electronic logging data (ELD), routing details and miles traveled, all within the app on a smartphone. Drivers can also access office memos and communicate with dispatch from any location.
Apps like these remove the traditional "in-cab" boundaries, giving drivers access to data from telematics platforms on a personal device.
While applications provide meaningful information, nothing compares to live voice messaging in real time, either one-to-one with individuals or one-to-many with groups.
Team apps with a Walkie Talkie feature enable push-to-talk (PTT) to transmit instant voice messages without risk of cross-talk or eavesdropping. Feature-rich versions also allow dispatchers to track driver locations and send broadcasted alerts in emergency situations. In addition, they give drivers an immediate connection to a dispatcher without having to search or continually redial until a dispatcher is on the line.
Nationwide push-to-talk networks
In the past, traditional private radio and land mobile radio (LMR) networks often required significant up-front capital expenditures. However, the spike in mobile workforces is now driving explosive growth in push-to-talk over cellular (PoC) for wide-area communications.
With the push of a PTT button, PoC provides the same capabilities as traditional two-way radio systems and enables instant group calls to multiple users. Because PoC leverages existing LTE cellular and ubiquitous Wi-Fi networks, systems can be deployed quickly with no infrastructure and very little startup cost.
Driver-centric devices and accessories
PoC devices such as radios and smartphones are purpose-built for professional communications as compact, rugged, easy-to-operate devices.
For example, Digital Mobile Radios (DMR) with advanced features can now support PoC functions, including instant group calling, location tracking and emergency notifications. Meanwhile, newer enterprise smartphones with a PTT button make it easier to respond to messages than using a radio, even when wearing gloves.
With PTT enabled devices, fleet managers can pre-set priority communication contacts and create talk groups that meet workforce needs. Some smartphones even offer programmable buttons, which drivers can enable package scanning at drop-off points.
Many team communication apps and devices are compatible with hands-free PTT accessories, including headsets and Bluetooth adaptors, which not only keep drivers from being distracted, but allow freedom of movement when loading and unloading or a host of other physical tasks. A single button connects drivers with dispatch, which is a particularly valuable function in the commercial trucking fleet business.
An array of accessories are available that augment audio and voice quality, from waterproof headsets to throat mics and earmuffs for noisy environments like warehouses or loading docks. However, few accessory manufacturers specialize in making affordable professional-grade products that far surpass most low-cost alternatives.
With hygiene being a primary concern these days, more experienced makers offer swappable accessories specifically designed for individual or one-time use.
In today's COVID world, commercial trucking companies are striving to raise communications to a higher level while also keeping costs as low as possible. They are demanding simpler, more cost-efficient ways to fill the communication gaps between on-site and remote personnel. Ultimately, it is these needs that are reshaping the future of communications for commercial truck fleets.
Dave George is chief technologist and president of Pryme Radio, a premier provider of communications accessories. An RF engineer for over 40 years, he holds 29 patents and is the inventor of multiple award-winning products.