Trucking news and briefs for Wednesday, Aug. 25, 2021:
Pottle's Transportation driver named Virtual Truck Driving Championships Grand Champion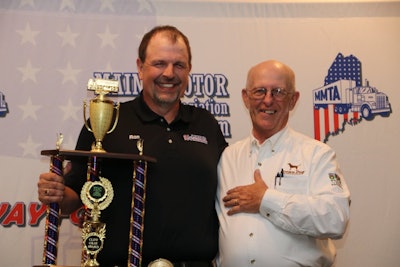 Ron Round, a Maine-based truck driver for Pottle's Transportation, was crowned the winner of the Bendix-sponsored American Trucking Associations 2021 National Battle of the States: Virtual Truck Driving Championships.
Round, who has 2.7 million accident-free driving miles in his career, has been a professional driver for 33 years. For the last 22 years, he has driven for Pottle's Transportation, where he also serves as a driver trainer.
Vice president of the Maine Professional Drivers Association, and the association's Driver of the Year in 2019, Round has also earned multiple awards in the Maine Professional Truck Driving Championships, including seven-time state champion, twice grand champion, and top rookie in 2001.
Additionally, Round was named the 2018 Maine Motor Transport Association's Driver of the Year, and in 2019 served as a driver in the Wreaths Across America convoy.
Due to the pandemic, this year's event took place entirely online, beginning July 31 with state-level trivia contests based on Facts for Drivers, federal and state laws, and state trucking history and culture. These contests sent state winners to the national competition on Aug. 14. To qualify for both the state and national competitions, drivers needed to remain accident-free – regardless of fault – and be continuously employed by the same motor carrier since Aug. 23, 2020.
In 2019 and earlier years, the NTDC featured professional truck drivers from across the United States competing in both written and behind-the-wheel challenges. The 2022 National Truck Driving Championships are expected to be in person in Indianapolis. The last ATA in-person competition was held in 2019, with Middletown, Ohio-based professional driver Scott Woodrome earning his second consecutive Grand Champion trophy.
FTR hosting 14 webinars in lieu of in-person event
After canceling its in-person 2021 Transportation Conference due to COVID concerns, FTR announced it will host 14 webinars throughout September for those who registered to attend the event.
The firm will host a trucking outlook and a truck equipment outlook on Sept. 2 and Sept. 9, respectively, before hosting 10 webinars featuring guest speakers during the week of Sept. 13-17. The webinars will cover a range of topics, including commercial vehicles and equipment, truck freight, rail and intermodal freight, rail equipment, and the economy. The final two outlooks will focus on rail and rail equipment on Sept. 23 and Sept. 30, respectively.
FTR clients or registered 2021 FTR Transportation Conference attendees can register to attend any of the virtual sessions for free.