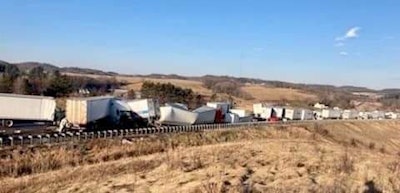 Wisconsin State Patrol
I've previously written about the Motor Carrier Exemption to the Fair Labor Standards Act (FLSA) and why its elimination was necessary, but a recent event on Dec. 23 exemplifies why its elimination is both necessary and warranted. 
Jeff Clark, a seasoned veteran driver for De Pere, Wisconsin-based Paper Transport (CCJ Top 250, No. 105), was on eastbound Interstate-94 near Osseo. Jeff felt his tractor break traction at the 80-mile marker. With that warning premonition, Jeff heeded the hint and parked his rig at the 88-mile marker.
Another driver about five minutes later asked Jeff whether he saw the pile up just behind him at the 80-mile marker. Later, Jeff heard about 100-plus vehicle pile-up at the 96-mile marker – just seven miles further ahead – due to freezing rain. Had Jeff not heeded his experiential training, he, too, would have joined the carnage.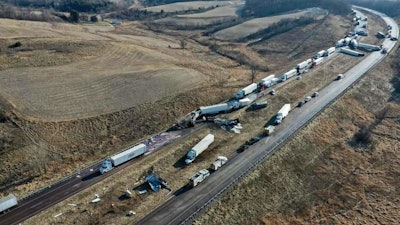 To Paper Transport's credit, this is a prime example of how important it is to have a supportive company that encourages its drivers to shut down for safety.
Why was Jeff so lucky, when so many failed to safely park their rig?
When drivers are paid by the mile but regulated by the hour, safety will necessarily be demoted to a secondary consideration. Period.  
When inclement weather appears, as it so often does at this time of year, drivers will push onward to preserve their paychecks. It's simply a matter of motivation. It's only when you're a veteran like Jeff that you know it's better to call it a day and profitably drive another day. Sadly, so many others lacked the discipline, experience and training that comes with years of driving.
This is not a new phenomenon. We see this nearly each year in Wyoming, Pennsylvania, Texas and other states. As drivers, we curse the DOT for closing the highways. Let me say this: Frankly, it's because many of us are too stupid and lack Jeff's training and experience, so the DOT steps in to fill the void.  
It's not entirely our fault.
Our motivation gets compromised between preserving a paycheck versus earning nothing while safely parked. The exemption to the FLSA; the disconnect between pay by mile versus regulated by hour; the lack of a tiered CDL-based on experience; zealous but inexperienced desk-based dispatchers overruling the captain of the ship and urging continued progress; and the notion that "if the wheels ain't turning, you ain't earning" are all culpable.
Unless the FMCSA and Congress step in to remedy these vulnerabilities, these events will continue several times every year with potentially tragic outcomes.
Alec Costerus is President of Colorado-based Aerodyne Transportation, LLC, an over-the-road long-haul trucking company hauling freight throughout North America; and is co-founder of Alpha Drivers Testing & Consulting, a consulting firm specializing in optimizing drivetrains for owner-operators and fleets. He is the immediate past-Chairman of the Trucking Solutions Group, a peer-to-peer group of owner-operators who collaborate on trucking business and regulatory matters. He can be reached at alec@aerodynetrans.com.