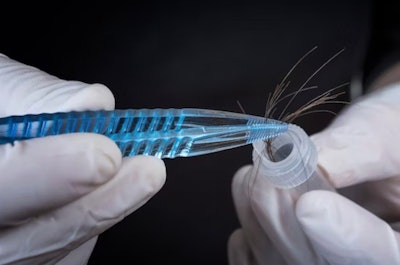 Just because cannabidiol (CBD) gummies are selling at major retailers around the country doesn't mean drivers should use them. In fact those and other sweet and benign-looking edibles could get them fired following a drug test.
In an Aim Transportation Solutions (CCJ Top 250, No. 144) webinar this week addressing CBD use, safety manager John Rugarber explained that companies need to educate drivers as the multi-billion dollar marijuana industry continues to gain legal acceptance and more shelf space at stores across the U.S.
CBD is extracted from marijuana plants and according to WebMD is marketed to treat pain, inflammation, migraines, epilepsy, autoimmune diseases, depression and anxiety. CBD gummies are especially popular and have gotten plenty of media coverage. Forbes' recent story "10 Best CBD Gummies of July 2023" offers shopping advice based on their research of over 100 gummy products.
CBD has caught the attention of major healthcare icons including the Mayo Clinic, which recognizes CBD oil as "an effective anti-seizure medication." The online report goes on to say that "further research is needed to determine CBD's other benefits and safety" and that CBD "doesn't contain tetrahydrocannabinol (THC), the psychoactive ingredient found in marijuana that produces a high."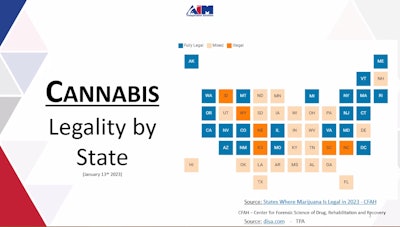 However, Rugarber pointed out that some CBD products do contain THC. In fact, they can legally contain as much .3% THC. The problem, Rugarber said, is that there's no guarantee that those products, even when bought from a trusted retailer, won't contain more than the legal limit, which can show up on a drug test.
In fact, Aim's whitepaper CBD Usage Among CDL Holders points how the Food and Drug Administration "does not currently certify the levels of THC in CBD products, so there is no federal oversight to ensure that the labels are accurate."
[Related: Most drug tests rendering inaccurate results]
Nonetheless the FDA has been taking a closer look at CBD products and announced earlier this month that it had sent warning letters to six companies for selling CBD food products that exceeded the legal limit of THC. Warning letters were issued to Delta Munchies, Dr. Smoke LLC (also known as Dr. S LLC), Exclusive Hemp Farms/Oshipt, Nikte's Wholesale LLC, North Carolina Hemp Exchange LLC and The Haunted Vapor Room.
The FDA too has warned about food products containing THC. During the first half of 2022, the agency received over 125 complaints regarding adverse effects from edibles containing THC.
While edibles may not impact a driver's behavior, if the product contains more than the legal limit of THC and it shows up on a drug test, it could very well mean the end of that driver's career.
In its CBD notice, the DOT takes a firm stance against marijuana use among safety-sensitive employees such as commercial drivers and warns about the use of CBD products.
"It remains unacceptable for any safety-sensitive employee subject to the Department of Transportation's drug testing regulations to use marijuana," the DOT states. "Since the use of CBD products could lead to a positive drug test result, Department of Transportation-regulated safety-sensitive employees should exercise caution when considering whether to use CBD products."
Drug test failure can prove to be a tough conversation for HR managers to have, especially if it's a driver that's been with the company for several years and has had a safe and productive record. But at a time when a massive lawsuit can cost a company tens of millions of dollars, it's best to have a zero tolerance policy, Rugarber said, and let that driver go.
"The liability for not doing it would be too great were something to happen later on and it's found out that you kept someone who tested positive previously," Rugarber said. "The liability is huge, so termination is a given."
Rugarber advised telling drivers to steer clear of all CBD edibles.
"Tell the drivers, or anyone in this industry, that CBD usage is very dangerous," he said. "You don't know if you're getting legal CBD or not at this point in time. It's not worth the risk."
Topical CBD products, according to the National Institutes for Health, did not impact a THC test following clinical trials.