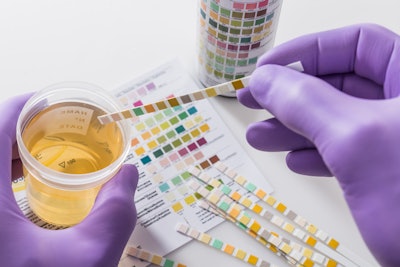 Researchers at the University of Central Arkansas concluded that urinalysis, the primary means of Department of Transportation (DOT) truck driver drug screenings, misses about 90% of actual drug use.
The university analyzed more than 936,000 licensed commercial truck driver pre-employment urine and hair drug screens from between 2017 and 2022 submitted by members of the Trucking Alliance, a coalition of freight transportation companies that seeks to advance federal safety reforms that can eliminate large truck crash fatalities. UCA researcher Dr. Doug Voss said carriers provided researchers with data indicating the number of passed/failed urine and hair tests and if drivers failed either test, carriers provided data on the drug detected. Researchers analyzed this data to compare urine and hair test results.
Hair testing uncovered use of opioids at a rate greater than 25-times than what was caught in urine-based drug screening; 23 times more cocaine; 13 times more amphetamines/methamphetamines; 5 times more Marijuana; 65 times more ecstasy; and 3 times more PCP. Results indicate hair testing produced a positivity rate 9 times higher than urinalysis and hair testing uncovered more positive drug tests across every illegal drug, every examined age group and every U.S. state. Hair testing uncovered 10 times more drug positives in 2022 alone.
"I don't see how anyone can reasonably argue with these drug test results, given the large disparity in positivity rates between hair and urine testing for every drug, and a sample of almost 1 million drug tests," said Voss. "At some point it's like arguing whether the sun will rise tomorrow."
The Trucking Alliance has long advocated in favor DOT-recognized hair follicle drug testing, yet DOT in May elected to add oral fluid testing to its list of approved methods.
"Oral swabs will be an excellent way for law enforcement to test for drug and alcohol impairment at the scene of an accident. No longer will truck drivers have the opportunity to skirt the system and never show up for a post-accident drug test, as many likely do now," said Trucking Alliance Managing Director Lane Kidd, noting that NHTSA can only account for one-third of truck drivers involved in fatal accidents in 2021 who actually took a drug test after, and that FMCSA does not audit whether each truck driver in a fatal accident actually submits to a post-accident drug test.
"So, while oral swabs are great for identifying immediate past alcohol or drug use, FMCSA's regulations are more about regular alcohol or drug use in pre-employment hiring practice and that's different. Otherwise, FMCSA would just require drivers to take a breathalyzer test when applying for a job," he added. "Only a real stupid person would show up to apply for a job either drunk or high. That's why hair drug testing is so useful. A hair drug test has a long detection window and the results can show not only if the person took a drug but how frequently the driver took a drug, like heroin or cocaine, in the previous 90 days. That's what employers want to know and to avoid in hiring. There is not a more accurate method to test for regular illegal drug use than a hair test."
The FAST Act transportation bill, signed into law by President Obama in December 2015, allows for hair follicle drug testing as a DOT-approved method, but not until HHS establishes guidelines for testing. The FAST Act mandated that those guidelines be developed within a year of the FAST Act becoming law, but HHS did not publish proposed guidelines until September 2020.
HHS has not yet issued a final version of those guidelines, but Kidd said nothing in the 2015 federal code prevents Transportation Secretary Pete Buttigieg from recognizing hair test results. "If done by an accredited lab," he said, "the Secretary should submit those results to the Clearinghouse. Further delay would be incredible and inexcusable."
FMCSA in December denied a request from the Trucking Alliance to "amend the definition of actual knowledge to include the employer's knowledge of a driver's positive hair test, which would require such results be reported to the FMCSA Drug and Alcohol Clearinghouse and to inquiring carriers."
Previous research from the University of Central Arkansas demonstrated that if the national truck driver population submitted to hair drug tests and results were submitted to the Federal Motor Carrier Safety Administration's (FMCSA) Drug and Alcohol Clearinghouse, an additional 276,500 truck drivers would be prohibited from driving. As of May, 135,682 drivers were listed in Prohibited Status with the Clearinghouse with 102,805 not having begun the Return to Duty process.