Trucking news and briefs for Wednesday, Sept. 27, 2023:
Navistar honoring diesel techs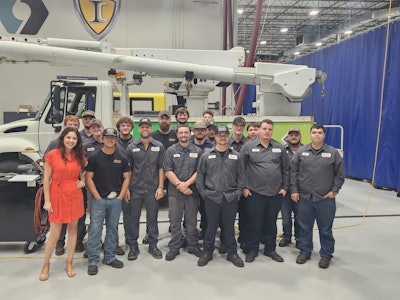 In honor of National Technician Appreciation Week from Sept. 24-30, Navistar is recognizing the hardworking technicians across its dealer network and has announced the graduation of its second Uptime Academy class.
Navistar's dealer network employs more than 6,000 technicians, and Navistar is dedicated to the recruitment, education and success of the vast technician network. As part of that commitment, Navistar has donated equipment to various educational institutions.
"From our Uptime Academy program to simply connecting with our technicians through continuing education, there is no shortage of passion and heart in our dealer service network," said Ana Salcido, technician recruitment manager. "Our technicians are the men and women getting their hands dirty with our vehicles on a daily basis, and their enthusiasm inspires us."
Navistar recently graduated the 2022-2023 Uptime Academy class, which consisted of 18 apprentices. Officially launched in 2021, Uptime Academy is a 12-month apprenticeship program for high school graduates that offers hands-on training to prepare for a career as technician. The apprenticeship includes 3,200 hours of real-world experience along with 800 hours of classroom time and lab work.
CarriersEdge launches new program aimed at improving managerial skills
Online truck driver training provider CarriersEdge has introduced a new series of courses to help managers and supervisors evaluate and improve their leadership and teamwork skills.
The first title in the series, Emotional Intelligence, is focused on ways that managers and supervisors can be perceptive to emotional states (theirs and others'), and how they can use that knowledge to be more effective leaders.
According to Harvard Business School, emotionally mature workplaces function better, and leaders with better-developed skills like empathy perform 40% higher in decision-making, coaching and engaging others. Additionally, Forbes suggests that "increasing your emotional intelligence is probably one of the best investments you can make for yourself and for your organization." With this in mind, the "Emotional Intelligence" course is aimed at building out this skill set and supporting the development of strong, emotionally perceptive leadership teams.
"Over the years in our Best Fleets program, we've seen how companies invest in ways to boost the leadership skills of their management teams," said Jane Jazrawy, CEO of CarriersEdge. "There are a lot of managers and supervisors out there who know their business very well, but managing people might be a very new experience for them. We're releasing this course as the first in a series to help managers and supervisors do the less technical parts of their jobs better."
The interactive module outlines the different aspects of emotional intelligence, the dangers of misunderstanding the non-verbal signals employees are sending, and strategies for improving a manager's own emotional intelligence.
"Emotional Intelligence" is available to customers now at no extra charge, as part of the CarriersEdge subscription service. There are over 100 titles in the CarriersEdge monthly subscription package, with new and updated titles added regularly. Courses are offered as full-length orientation, short refresher and remedial titles, and as standalone knowledge tests.
[Related: Nomination period for annual 'Best Fleets' program opens]
Bridgestone adds fleet management offering to AWS Marketplace
Bridgestone Americas' Azuga Fleet Management Software is now available for purchase in AWS Marketplace, a digital catalog with thousands of software listings from independent software vendors that make it easy to find, test, buy, and deploy software that runs on Amazon Web Services (AWS).
It marks the first Bridgestone product launch in AWS Marketplace since the company became part of the AWS Partner Network (APN) in an effort to build new solutions, co-market offerings, and reach new customers.
Azuga Fleet Management Solutions leverages GPS fleet tracking and dual-facing dashcam offerings to help keep vehicles, assets and drivers safe. Through AWS Marketplace, fleet customers will be able to find, research, purchase and launch the fleet management software directly from their AWS accounts. Additional benefits include a streamlined billing and deployment process and incentives for buyers to accelerate deals, Bridgestone said.
"The addition of Azuga to AWS Marketplace is a significant milestone in our company's journey to co-create with industry leaders in a way that delivers more end-to-end value to our customers," said Jeremy Collins, chief executive officer, Azuga, Inc. "With availability in AWS Marketplace, our cutting-edge fleet solutions are now at the fingertips of existing and new customers in an easily accessible, simplified, and sustainable way."
As an APN member, Bridgestone is working with AWS to enhance existing fleet solutions, such as Azuga, and create new, digitally enabled solutions for fleet customers. Bridgestone plans to further develop its offerings and provide its fleet customers with a comprehensive selection of services and solutions that proactively assess fleet needs and help reduce vehicle downtime.