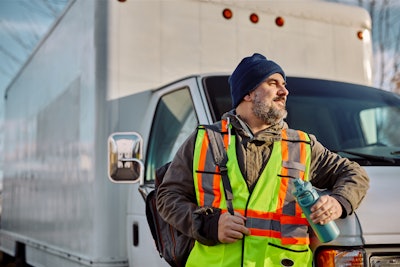 This is the second in a four part series on truck driver health and wellness, and part of CCJ's What Drivers Want series. Other parts in the series are "Keeping drivers means offering more than health insurance coverage", "Easing drivers' access to healthcare", and "The big picture of driver wellness includes mental health".
Mississippi-based carrier Gulf Relay has implemented a safety program for its drivers that includes Fit to Pass, a program by Espyr that provides professionally trained CDL coaches who understand the driver lifestyle challenges and related health impacts. Fit to Pass, co-created by Perry, works with companies to identify drivers who need intervention and helps them implement strategies to improve driver health like tips on food choices, exercising, etc. and offers a health coach to check in on drivers and keep them accountable.
"Not getting enough exercise and diet has been bad," one driver commented in the CCJ What Drivers Want survey.
Multiple comments addressed poor options for food over the road. According to a poll of nearly 300 Trucker Path users on food purchasing habits at truck stops, only 25% said they look for healthy pre-made food for purchase, and only 31.5% said they shop for healthy food when buying groceries at a truck stop. The majority said they eat at truck stop restaurants when available, followed by those who grab something to go on the road. Only 23.4% said they shop for groceries.
Gulf Relay COO Andy Vanzant said it's obviously easier for drivers who have more home time to shop for groceries and prep their food for their time on the road, compared to those who are out weeks at a time.
"What we have to do as a company is guide those folks and give them the best assistance to maintain a at least a discipline, not necessarily a diet, but a discipline as to preparation and options," he said.
You can download the full results of our What Drivers Want report here.
Vanzant said Gulf Relay realized many of its drivers were experiencing health issues, and it was impacting health insurance premiums. The company tried multiple options, including contests, but the most sustainable programs have been backed by compensation.
The company offers a $100 bonus to drivers who maintain their two-year DOT medical card and a $100 bonus to drivers who, for the first time, move from a one-year card to a two-year card, meaning they got healthier. A dedicated person within the company reaches out to drivers 90 days before their next DOT physical, and a Fit to Pass coach will step in to help any driver who wants to improve.
"It's sad but it's real that the majority of our population has a less than one-year card, which means they've already been diagnosed with pre-diabetes, blood pressure problems and sleep deprivation, and blood pressure usually is the number one thing that takes them out of service," said Bob Perry, a health advocate for truck drivers. "If you have a driving population of say 200 drivers, most likely 55% of those drivers have a one-year card or less."
Perry's company Health in Transportation, alongside NuraLogix, an AI solution for instant health and wellness data, created the CDL Health Scanner app, a smartphone-based tool that delivers transdermal optical imaging through an ordinary smartphone camera and generates the personalized health data that truck drivers need to protect their health and license. It allows drivers to measure their blood pressure, body mass index (BMI), heart rate and respiration. When combined with the user's BMI data, the risk factors for hypertension, type-2 diabetes, and even obstructive sleep apnea are revealed to the individual user through an easy-to-interpret results page.
[RELATED: What Drivers Want: How fleets show respect with custom apps]
As many as 47% of truckers are at risk for sleep apnea due to long hours on the road and irregular sleep patterns, among other factors such as obesity and lack of exercise, according to the Virginia Tech Transportation Institute. The study said if sleep apnea is untreated, it can lead to more serious health problems, not to mention the risk of falling asleep behind the wheel, endangering themselves and other drivers on the road.