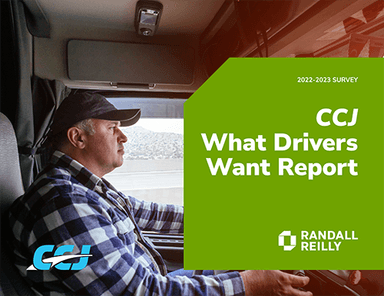 What do drivers want? Find out with this comprehensive research from the editors at CCJ.
Download to access insights on driver pay, why they switch fleets, family life/home time and more.
This is one of three installments in CCJ's What Drivers Want series. Two other articles in the series are "The truck and equipment specs drivers prefer" and "Pay and respect top influences on why drivers leave a carrier". You can download the full results of our What Drivers Want report here.
The American Trucking Associations estimates the average age of over-the-road truck drivers is 46; however, the results of CCJ's most recent What Drivers Want survey – a poll of more than 800 leased owner-operators and company drivers – suggests a 46-year-old driver might be the spring chicken among his or her peer group.
Nearly 70% of survey respondents had more than 20 years of experience (69%). No other experience group (16-20 years, 11-15 years, 6-10 years and 5 years or less) reached 10%. This translated to an average age of 60 years old among survey respondents, a mean age of 58 and a mode of 62.
Drivers 55 and older ranked saving for retirement their no. 2 concern. Topping the list at 25% each was paying bills each month and health. Retirement savings was the no. 3 concern for the 35-54 age group, but the youngest group (up to 34 years old) assigned it no priority to the tune of 0%.
From 2020 through 2022, 52% of respondents said their fleet had raised pay at least twice, which solves a money now problem. The money later problem, retirement, still looms large.
Nearly a quarter of all respondents (23%) to CCJ's most recent What Drivers Want survey of company drivers and leased owner-operators said they would raise pay if they were in charge of a fleet and could do one thing to attract and retain drivers. Another 18% said they would guarantee pay, loads or mileage to make take-home pay more predictable. Rounding out the top three with 14% was offering "excellent" health benefits and a 401(k).
"We need to go back to employer-provided pensions," suggested company driver William Kolar.
Among company drivers, just 42% said their employer offered some kind of retirement program, and 85% of leased drivers said the same.
Almost 30% of driver respondents (28%) said they are not saving for retirement. Company drivers (25%, no) are doing marginally better at preparing for retirement than leased drivers (35%, no).
"I don't have the word retire in my vocabulary, and I don't save money," said 53-year-old leased owner-operator Mark Howell. "I borrow as much as they will give me, then create equity and cash flow. There is no reason to use the word retirement if you have a lifestyle that is as fun as possible doing whatever you want. Retirement is not fun-sounding at all. It's a depressing word for people that are slaves and don't know it."
Only 23% of respondents plan to retire by the time they turn 67 years old, fewer than the number that plan to drive as long as their health holds out (26%) and drivers who haven't decided (32%). Only 8% plan to retire this calendar year. Interestingly enough, the oldest respondent group (drivers 55 years and older) plan to drive the longest, with 13% claiming they plan to drive until the age of 70.
"At 70 I would consider driving part time," Kolar said.
Download CCJ's 2022-2023 What Drivers Want survey results here.
Among the drivers who don't plan on retiring anytime soon, 34% said it's because they need the money. The good news is 37% said they're not looking to retire because they like their job, and another 28% said it's because they simply don't want to not be working.
"Retire," asked 65-year-old company driver Cliff Sees. "What would I do with my time?"
After 39 years OTR, 58-year-old leased owner-operator Scott Erickson said he still loves his job and would drive for as long as he's healthy. "I look forward to the next day on the road," he said.
"My truck is a recreational vehicle that pays me to drive it, and I'm getting paid to be on a permanent vacation," Howell added.
Nearly two-thirds of all respondents (63%) to CCJ's most recent What Drivers Want survey said they haven't saved enough money to retire. Another 15% said they didn't know. Alarmingly, 58% of the oldest respondent group said they don't have the money saved for retirement. In some cases, drivers might have had retirement funds at one time or another but used it to reinvest in their business.
"(I had a) 401(k), but I used it to buy a truck," said 63-year-old leased owner-operator Orion Sebastian.
In other cases, divers too face market swings, financial misfortune, family emergencies and day-to-day life like everyone else.
"Raising three kids, putting them through college so they would have a better life, owning a home, and being an owner-operator and responsible for every breakdown has prevented us from building a comfortable retirement," said 67-year-old leased owner-operator Lawrence Sigwald.
Why do fleets struggle to recruit and retain drivers? Actual drivers weigh-in.