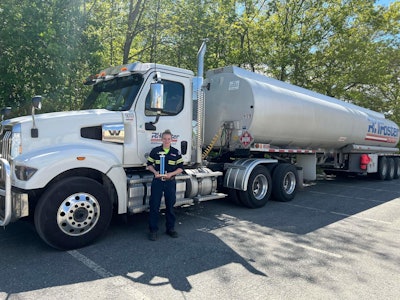 Haleigh Fickett
With multiple family members in the trucking industry at some point in time, Haleigh Fickett has been climbing in and out of trucks from a young age.
Fickett's brother, also a truck driver, competed in the Maine Motor Transport Association Maine State Truck Driving Championship in 2018 ahead of Covid-19 and has been urging her to compete ever since.
And during her first time ever to compete back in May, she placed first among 11 drivers in the tanker truck division.
To win, the 24-year-old had to pass a written test based on the annual Facts for Drivers book that includes information on safety regulations and laws, among other things; a pre-trip inspection portion where she had to identify simulated defects, which "can be the trickiest part," she said; and a driving portion on an obstacle course where she had to judge distances appropriately around cones and painted lines and perform a backing maneuver, among other tasks.
She will now move ahead to compete alongside eight other division winners from Maine at the National Truck Driving Championships in Indianapolis Aug. 16-19. She is the first woman from Maine to qualify to compete nationally.
"Haleigh is an impressive young professional truck driver, winning her class in only her first year competing," said Brian Parke, president and CEO of the Maine Motor Transport Association. "Not only that, but she has been a great trucking ambassador on social media, especially with our workforce development campaign, to show women that they can succeed in what is typically known as a male-dominated industry. She's helping to change that."
Fickett earned her Class A CDL at 17, not knowing the direction her life would take or if she even wanted to be a truck driver, but she had a basic knowledge of the industry and understood that having a CDL meant she would always have a job, she said.
When she got in the driver's seat, she fell in love.
She got her "first real driving job" at 20 years old working on the road maintenance crew and driving a plow truck in the winter for the Maine State Department of Transportation after years of going through the lengthy and tedious process of applying to driving job after driving job just to be told she wasn't old enough.
Fickett, now a driver for RH Foster Energy, was one of only two women to participate in the truck driving competition – the other twice her age who had recently decided to pursue a career in truck driving after her kids were grown and out of the house.
To say it's a man's world is an understatement with under 14% of professional drivers being women, according to Women in Trucking.
With this win Fickett said she hopes she can inspire other young women to become professional drivers.
"I'm just excited to be able to do something that puts me in the spotlight enough to show other women that this is possible, that this is an industry that if they have interest in it, they should pursue it," she said. "I do think I have an impact that way, in general, just existing in my truck and in my uniform every day. We do need more women in the industry, and I just love to see women excel in anything that interests them and not feel like they have to be held back because there aren't many women doing that certain thing, whatever it is."
Fickett said she thinks the reason more women aren't in the industry is because most aren't presented with it as an option early on like she was.
Most of her female peers from high school who have found success in her rural town of Corinth, Maine, are those who entered the certified nursing assistant program, she said, but those with no desire to work in the healthcare field don't have many other options outside of minimum-wage-type jobs.
Fickett said she was recently approached by a woman who works at a store she regularly delivers gas to. Seeing Fickett, the woman was inspired, saying "I really want to be like you. I want to do that."
Fickett said she wants other women to know that, despite some fears like personal safety over the road or being away from home for extended periods of time, truck driving is an option – and there are many options outside of driving cross country and sleeping in a truck for weeks. Fickett makes local deliveries and is home nightly.
"I guess it's just a matter of people seeing and understanding the opportunity. Women in trucking is not something the public eye sees as much, so I think it's not necessarily brought to their attention as a possibility," she said. "I think my biggest piece of advice would be not to let the anxieties hold you back and not to underestimate your abilities.
Fickett, who is five inches short of 6 feet tall, said despite having an average height for a woman, she sometimes still has trouble reaching the pedals and seeing over the steering wheel, but she regularly lifts 20-foot hoses full of diesel that weigh more than she does.
"I was so nervous that I wasn't going to be able to do it or was going to make a fool of myself trying," she said. "The biggest danger to somebody that's interested in going into something like this is (the mindset of) I don't know if I can do it. Just do it. You will surprise yourself every step of the way."