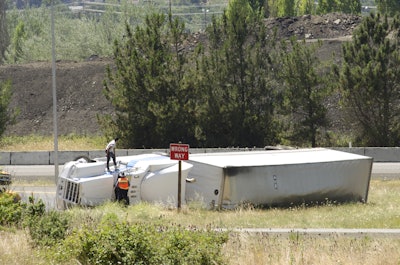 Shutterstock image
The transportation industry remains one of the deadliest in the United States, according to the U.S. fatal injuries count released last month. In fact, 2019 was the deadliest year for each industry since 2003.
This data must be a wake-up call. We can do better. Much better. We can no longer accept injuries and fatalities as part of "the cost of doing business."
Admittedly, some incidents are completely non-preventable. For example, consider a professional driver who is performing perfectly but is struck by a distracted driver. That said, most incidents are preventable. Individual and company behaviors are at the root of most safety failures.
Honest mistake or deliberate decision?
Professional drivers must govern their own behavior. Regardless of laws requiring seatbelts or prohibiting handheld phone use, an individual employee may decide to do otherwise. The employee knows better, and his/her decision is unacceptable. There is no rule or SOP that will correct misaligned behavior.
When I deal with a behavior-based safety issue, my first inquiry is whether the employee made an honest mistake or engaged in deliberate behavior. You can coach employees who make honest mistakes.
However, employees who flagrantly violate safety rules must be escorted out of our organizations immediately. Speeding, following too closely, using handheld devices, and not wearing seatbelts are examples of unacceptable, deliberate behaviors. It is no coincidence that they are also important reasons for preventable deaths and injuries. If employees care so little about their own safety, how can we expect them to care about their co-workers or the public?
Our industry faces an unprecedented demand for drivers. We want our trucks full so that we may serve our clients. That said, business pressures must not cause us to retain employees who are incapable of governing their own behavior. If you look the other way long enough, your luck will run out. Years of hard work could be wiped out in the blink of an eye. Our responsibility is not simply to keep trucks full. It's to staff them with professionals who value safety and govern their behavior.
Your company can cause a crash
Company behavior is at the foundation of many incidents. It is our responsibility as employers to build robust safety cultures. Blaming the individual driver for a crash is easy. Many root cause inquiries stop there. Often, that is a cop-out that ignores the organizational factors that contribute to injuries and fatalities. As company leaders, we must look in the mirror to identify organizational contributors to crashes.
We must not allow production pressures to compromise safety. World-class companies are safe and productive. They understand that it is not an either-or proposition. They understand that safety is not a priority. Rather, it is a nonnegotiable core value. Priorities shift. Values are immutable.
Regardless of how hard a customer pushes us for an aggressive delivery timetable, we cannot permit shortcuts or unduly pressure drivers. We must always have our drivers' backs, allowing them to focus on safe transport.
Safe outcomes require a culture of continuous improvement. Employee education must occur regularly. It's critical to start the day (or week) with a safety briefing. Everyone needs frequent reminders. Do not hide incidents or close calls. Use them as learning experiences for the entire company, even if they result in uncomfortable conversations. Safety technology (like dash cams) is among the lowest cost/highest return investments that a company can make to improve performance and outcomes.
We also must guard against complacency. Many employees perform repetitive tasks without incident for decades. If you are accident free long enough, you might develop a sense of invincibility. That is the point at which you let your guard down and bad things happen. Safety has no memory. It does not care if a driver has logged 2 million incident-free miles or if your company won a prestigious award for past performance. Safety cares only about today.
It is the responsibility of the employee and employer to fight complacency. Ideas include skill development programs, new routes/responsibilities, mentoring programs and a system of rewards and recognition for safety excellence.
Candid conversations with customers are required to protect our drivers. For example, drivers may spend an excessive amount of time waiting to be loaded. If a driver is detained through no fault of his/her own, he/she cannot be pressured to make up the lost time on the road. Customers must help us avoid distractions by contacting our dispatch or customer service teams — not our drivers — with questions or concerns.
The motoring public must be part of the solution, too. Professional drivers encounter distracted drivers multiple times per day. Many passenger vehicle drivers have no idea that trucks cannot maneuver as fast as a car. Passenger vehicle drivers must learn to operate more carefully around large trucks.
It's time for all states to enact distracted driving laws with teeth. Professional drivers face significant penalties for using a handheld device while driving. Penalties can be up to $2,750 for a professional driver and $11,000 for companies. All drivers must face consequences for careless decisions. After all, driving is a privilege, not a right.
The continued climb in transportation worker deaths is unacceptable. Our employees must govern their own behaviors. They must do the right thing when nobody is looking. As employers, we must commit to safety as a nonnegotiable core value. Production pressure must never be prioritized above safety. Together we can achieve safety excellence, ensuring that our employees and the public return home to their families at the end of every day.
Brian Fielkow is CEO of Houston-based Jetco Delivery and Executive Vice President of Montreal-based The GTI Group. He is co-author of Leading People Safely; How to Win on the Business Battlefield. Fielkow received the National Safety Council's Distinguished Service to Safety Award, the council's highest-level individual recognition. Jetco Delivery was named a 2021 Best Fleet to Drive For