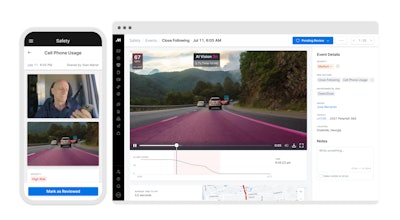 Motive
If you ask a fleet owner what their top priority is, the most common answer is safety. But a recent survey of more than 1,000 fleets across industries including trucking and logistics, construction, oil and gas, agriculture and delivery shows that while it is a top priority, it's not the top priority.
According to Motive's 2023 State of Safety Report, improving safety ranks third behind increasing revenue and minimizing expenses. The report says 95% of those surveyed said driver safety performance is a priority, but 40% said their fleets are underinvested in driver safety initiatives and technology (8% drastically underinvested).
Abhishek Gupta, head of product for fleet management at Motive, said that's what stood out to him in the survey: that improving safety was not the No. 1 priority.
"I think everyone realizes the cost savings and the fact that (safety) can be a profit center for their fleet, but they're not able to drive that as the highest priority – they're not able to put their dollars as much towards it," Gupta said.
That's understandable when considering the challenges fleets face today. The top three, according to the survey, are fuel costs, increased insurance premiums and the driver shortage. But Gupta contends that investing in technology to improve safety can defeat those challenges while helping fleets secure their top priorities of increasing revenue and minimizing expenses.
Safety isn't a cost center but a cost saver and revenue driver, he said.
Research shows that running a modern, best-in-class safety program addresses those challenges. By identifying and coaching drivers who speed, hard accelerate or hard brake, fleets can correct driving behaviors that negatively affect fuel economy. Reducing accidents and safety incidents can lower insurance costs. And recognizing and rewarding top-performing drivers and those who are improving can help with driver retention and recruitment.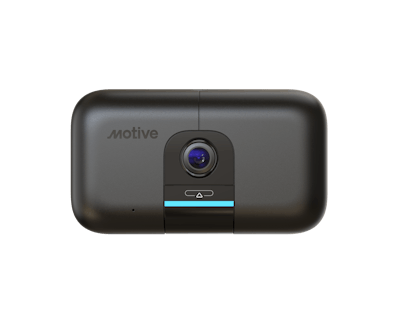 He said the fleets that have adopted Motive's fleet management tools have experienced reduced costs in fuel and insurance premiums as a result of using the AI-powered dashcams that coach drivers to improve unsafe behaviors and habits that reduce fuel economy.
[Related: Eco-driving coaching can improve driver safety performance]
The survey shows that companies that have implemented a driver coaching program have seen safety improvements, including fewer unsafe driving behaviors (56% of respondents), fewer accidents (53% of respondents), and insurance savings (44% of respondents).
"What we've seen typically is for fleets that adopt the technology, where they're coaching their drivers and they're turning on the in-cab alerts, they're seeing a 50% reduction in accidents within the first year of adopting the technology," he said. "That's a real clear benefit. If you're reducing accidents, you're paying less in costs; you could take that money and put it toward retaining your drivers; you can put it toward driver bonus programs. You also save on the fuel aspect of it. The other big win is on the insurance side."
Road safety is getting worse. Recent data from the National Highway Traffic Safety Administration (NHTSA) shows traffic deaths reached a 16-year high in 2021, with truck crash deaths jumping 13%, year-over-year. FMCSA data about fatal accidents in large commercial vehicles show financial impacts can be as high as $7 million per incident. These stats have insurance rates skyrocketing.
Gupta said outside of distracted driving, whether among professional drivers or drivers of passenger vehicles, there are several macro trends driving these accidents: increased demand for goods increasing the number of trucks on the road (and therefore the likelihood of a crash), and the driver shortage that's forced fleets to hire drivers that may not have the best profile for the job.
But the advancements in AI and advanced computer vision would help improve those areas if fleets only invest in the technology. Motive recently launched multiple improved AI capabilities to improve road safety. Those improvements include the ability to detect stop-sign violations, unsafe lane changes and driver distraction.
"Some of the capabilities the AI dash cam offers is to prevent accidents that are typically caused by others on the road. So things like our ability to tape collisions, our ability to alert drivers when they're tailgating too closely – those are the kinds of capabilities that we believe technology can help prevent," Gupta said. "There are going to be things that truck drivers are going to do that is going to be dependent on others on the road. That's really why we invested in so much AI … These new AI capabilities that we released are really meant to prevent accidents from happening … that are typically due to others on the road."
[Related: How AI can help drivers by predicting and preventing collisions]
The trucking industry is having to use good technology to combat the negative effects of using technology like cellphones. According to the survey, 52% of respondents reported they invested in tools to improve safety in 2022, and 71% of respondents plan to invest in new tools to improve safety this year. While fleets must overcome near-term challenges such as driver pushback and budgetary concerns to gain the long-term benefits, Gupta said they can't afford not to invest in this cost-saving and potentially life-saving technology.
"Our view here – and I think what the data here shows from the report – is if you invest in safety and you do make it your top priority, you will see that sort of trickle-down effect, but the trickle-down effect isn't going to hurt you from achieving those other priorities. If you invest in safety, the cost savings that you get can be used in so many different ways. It already is minimizing expenses, but it can actually be used to invest in your growth," he said. "They're not diametrically opposed; they're actually quite symbiotic, and if a fleet does invest in safety, they're going to see the benefit of this quite dramatically. That's what we've seen with customers that adopt our dash cams is they're experiencing almost a 10 times ROI within that first year, and that ROI is so valuable because now you can use it to do the stuff that matters for your business to grow it."