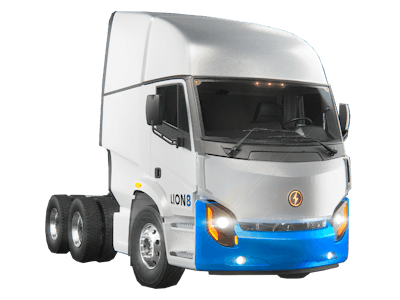 Trucking news and briefs for Monday, May 10, 2021:
Lion Electric announces U.S. manufacturing facility
The Lion Electric Company, a manufacturer of all-electric medium and heavy-duty urban vehicles, selected Joliet, Illinois, for its U.S. manufacturing facility. The new facility will represent the largest dedicated production site for zero-emission medium and heavy-duty vehicles in the U.S. and is Lion's biggest footprint in the market.
As part of its agreement with the government of Illinois, Lion has committed to an initial investment of at least U.S. $70 million over a 3-year period. The 900,000 sq-ft facility, for which building ramp up is anticipated in the second half of 2021, is expected to add a minimum of 745 clean energy direct jobs to the region over the next three years, with an annual production capacity of up to 20,000 all-electric buses and trucks. Lion said the additional production capacity will allow it to scale electric bus production as the U.S. market moves to electrify a large portion of its school bus fleet, as well as to produce a larger number of heavy-duty zero-emission trucks as governments and operators throughout the U.S. look to decarbonize freight and transportation fleets.
Lion anticipates that the first vehicles will roll off the production line in the second half of 2022.
The Lion6 and Lion8 trucks have ranges of 180 and 165 miles respectively, and target regional shipping operations. 
PacLease intros new fuel program
PacLease has announced a new fuel program partnership for its full-service lease and contract maintenance customers. PacLease has partnered with Multi Service Fuel Card for its Co-branded fuel card, called PacFuel.
With Multi Service Fuel Card as the PacLease fuel card partner, PacFuel customers are provided custom one-on-one consulting to map out the best fuel strategies, and potential savings. The enhanced fuel card itself is available in two versions: OTR for use with more than 8,000 commercial truck stop locations – major chains and independents -- and local, which provides mixed fleets the ability to fuel at street level gas stations and is accepted at more than 330,000 fuel and maintenance locations.
The new PacFuel card and corresponding app, gives PacLease customers route planning capabilities, plus cash prices at all locations in the network, and added discounts at more than 1,200 truck stops throughout the United States and Canada. "That adds up quickly," said Harry. "And, if one of our customers has an existing relationship with a major fuel chain, we can go in and build off that relationship and bring potentially more benefits to the fleet."
There are no enrollment fees nor transaction fees (or swipe fees) at in-network locations. 
Heniff Transportation awards scholarships
Heniff Transportation (CCJ Top 250, No. 67) and its affiliates recently announced 10 new $3,000 annual scholarship awards for the 2021-2022 academic year. The recipients are dependents of Heniff employees and all are high school seniors who have demonstrated outstanding leadership potential through a combination of academic achievement and community involvement.
These scholarships can be used toward earning a degree at any accredited college, university or trade school. The awards are eligible for renewable for up to three additional years of secondary education for a total of up to $12,000 in scholarship value for each recipient. Scholarship applications were submitted to an independent panel which reviewed and then selected the award winners.
Bob Heniff, Founder and CEO of Heniff, said his company and its affiliates have provided more than $200,000 in scholarship assistance to dependent children of its employees since the inception of this program in 2018.