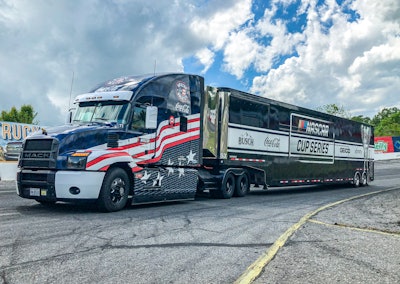 Lion Electric tapped for EV program
The Lion Electric Company, a manufacturer of all-electric medium and heavy-duty urban vehicles, has been selected to participate in the Heritage-Romeo Power Fleet Electrification Program, a collaboration between Heritage – a leader in environmental, sustainability and recycling services – and Romeo Power, an energy technology company delivering advanced electrification solutions for complex commercial vehicle applications.
Heritage will initially purchase five Lion Electric battery-electric trucks for the 2021 fleet electrification validation program consisting of Class 6 and/or Class 8 vehicles. Subject to the validation program's success to target specifications with operational excellence experienced, Heritage anticipates purchasing an additional 100 Lion Electric production trucks equipped with Romeo Power battery packs over a four-year period.
The production mix is expected to include 80 Lion8 vehicles and 20 Lion6 vehicles. Upon a successful validation program, production is expected to commence in 2022 with completion in 2025.
Autocar launches EV terminal tractor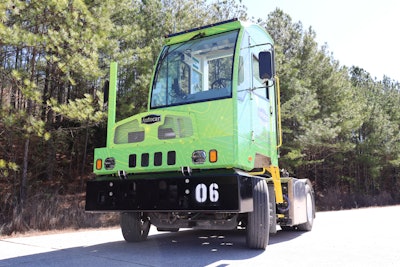 Autocar introduced Thursday an emissions-free, all-electric version of its ACTT terminal tractor, the E-ACTT, which will be available in late 2021.
The purpose-built E-ACTT terminal tractor helps meet regulatory mandates for the vocational truck industry to reduce fuel consumption by 24% by model year 2027 and, in California, to transition diesel trucks to zero-emission trucks.
"The E-ACTT is the same reliable, heavy duty Autocar ACTT but is all electric," said Mark Aubry, general manager, Terminal Tractor division for Autocar Truck. "Autocar Truck has been a key innovator in the EV truck market dating back to 1923 when we designed our first two EV trucks, Autocar Truck E1 and E2."
The Autocar E-ACTT electric powertrain with telemetry/diagnostic systems were designed specifically for severe-duty application by Vorza. Vorza's electric fleet vehicle development team worked directly with Autocar to create a 24/7 powertrain capable of handling the demands of semi-trailer yard spotting and container handling.
Autocar's temperature-controlled lithium-ion battery technology and onboard charging system in the E-ACTT are designed to meet demanding duty cycles with minimal operational disruptions, similar operationally to their current diesel counterparts. With the Autocar E-ACTT, operators now have a much quieter and lower vibration zero-emissions, the company says.
Mack unveils military-themed NASCAR hauler
A Mack Anthem featuring a custom-designed military-themed wrap recently debuted as part of the 2021 edition of NASCAR Salutes Together with Coca-Cola.
The annual #NASCARSalutes campaign expresses gratitude and respect for the men and women who serve in the U.S. Armed Forces and their families, as well as honors those who died defending freedom.
"It's an honor for Mack to once again be a part of NASCAR's recognition of military heroes and their families," said John Walsh, Mack Trucks vice president of marketing. "This year's custom design is made even more special by the fact that it was chosen by NASCAR and Mack fans through a social media vote."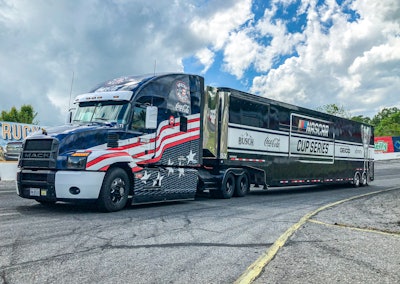 The winning design, featuring the five branches of the U.S. Armed Forces, captured 46% of the more than 3,300 votes.
This is the fourth consecutive year Mack has wrapped one of NASCAR's 10 Anthem models in support of NASCAR Salutes, and the second consecutive year Mack and NASCAR fans had the opportunity to choose the final wrap design.
As the "Official Hauler of NASCAR," Mack Trucks provides a fleet of 10 custom-designed Mack Anthem 70-inch stand-up sleeper models spec'd to meet the challenges of NASCAR's schedule.