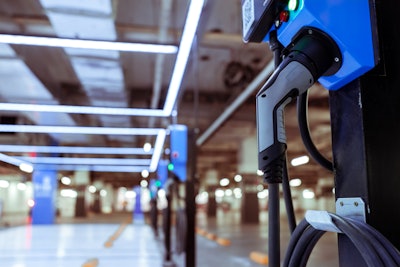 I've been doing some thinking about the upcoming evolution of electrified commercial vehicles over the past few weeks. I have especially been thinking about how they might impact end-user customers and their ability to both operate and maintain these electric vehicles. 
It strikes me that the level of activity in the industry toward setting standards that are relevant and useful is lagging behind the progress on getting vehicles ready to sell to the marketplace.
SAE International has some 70 standards in process to help manage the interfaces of vehicle components to other vehicle systems and to the outside world of charging equipment, service tools, communication systems and the like. Of course, these currently are mostly targeted at automobiles rather than commercial vehicles.
They are broken up into areas like battery/EV/fuel cell safety; EV charging and grid communications; economy, range/power; battery performance and power; and terminology
There is no doubt that many other organizations like CharIN, Institute of Electrical and Electronics Engineers, Technology & Maintenance Council, and many others have some efforts in these areas going on as well. Yet, with all of this activity, it is possible — even probable — that a commercial vehicle could pull into a public charging station, be able to successfully plug the vehicle in, and still not be able to charge the batteries because of some interface details or commercial agreements that have not been set up to allow the customer to purchase the electrical power.
Another all too familiar example of this would be that when a vehicle comes in for service and the off-board service tool can either plug in or connect wirelessly, but it is not allowed access to even the most basic information about the vehicle and the status of its health. This particular situation happened frequently to me and others many years ago as electronic engines were taking over, and the required service tool had to be one that was sold through the particular OEM that supplied the engine. Basic diagnostics and the decision on how to proceed when a particular fault occurs needs to be as easy as possible for the fleet personnel that need to make those decisions quickly, regardless of vehicle manufacturer.
The end result of these situations is that the end-user of the vehicle has to adjust their operation to get the power or service they need, frequently at a higher price and with less availability. Sufficiently detailed standards and compliance by manufacturers can help improve these situations and possibly prevent them from occurring. At the very least, they can minimize the expense fleets incur in order to deal with the variety of electrified vehicles they will ultimately have to deal with — everything from yard tractors to local delivery vehicles to regional and long-haul tractors from multiple suppliers.
Fleets should encourage their prospective suppliers to participate — and even lead — industry efforts to standardize on the key interfaces that will ultimately affect their daily operations and their ability to service electric vehicles. 
These standards are vitally important to the smooth introduction of electrified vehicles over the next few years. So, let's get working together on making them a reality. The time to act is now
Kevin Otto is senior engineer, North American Council for Freight Efficiency where he provides consulting services and has authored a number of Confidence Reports and Guidance Reports. Otto spent 40-years at Cummins where he held a number of key positions in Technical Service, Engineering, Quality and Program Leadership in several of the Business Units. Otto has a B.S.in Mechanical Engineering from Rose-Hulman Institute of Technology. He is involved in the Technology & Maintenance Council and was awarded the Silver Spark Plug in 1999.