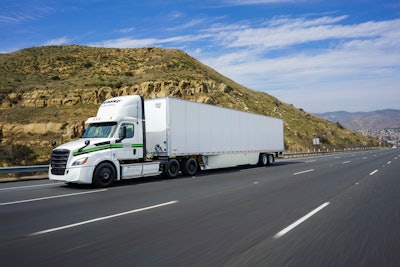 Penske
All-electric continues to beat out hydrogen fuel cell in the emerging zero-emission powertrain market, according to an annual alt fuel report released this week by energy consulting firm Gladstein, Neandross & Associates (GNA).
The California-based think-tank which concentrates on clean transportation technologies and showcases new advancements during the annual Advanced Clean Transportation Expo, gave a promising forecast for all-electric in its report, The State of Sustainable Fleets 2021.
"Despite its early stage of commercial development, satisfaction from early users is high in our fleet survey and actual BEVs [battery electric vehicles] orders by fleets is already three times its deliveries," GNA states in the 55-page report. "If current order growth continues rising steeply and production capacity expands, BEVs are on track to become a leading clean fleet technology."
[Related: Fleets see electric trucks as driver retention tool]
With these findings, compressed natural gas (CNG) and liquified propane gas (LPG), which for years have been two fuels dominating clean transportation, are put on notice. Clean vehicle technologies are categorized into four groups in the report: BEV, CNG, LPG and fuel cell electric vehicle (FCEV). Of those four, only battery electric and fuel-cell are zero emission while the remaining two are near-zero emission with NOx levels no higher than .02 grams per brake horsepower-hour (g/bhp-hr).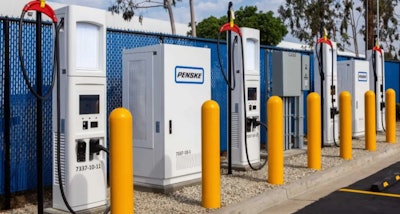 It's an important distinction since California has gradually increased its zero-emission vehicle requirements through the years. In its latest emissions edict, which came by way of an executive order from Governor Gavin Newsom in September, new passenger cars and light-duty pickups sold in the state will have to be all zero-emission by 2035.
Medium- and heavy-duty vehicles operating in the state will have to be zero emission "by 2045 where feasible," the governor's office states, "with the mandate going into effect by 2035 for drayage trucks."
Manufacturers of all vehicle classes have taken notice, according to GNA. After all, California, the nation's most populated state, has more vehicles by far than any other state and has the nation's most productive ports that continue to attract trucking fleets from around the country.
"In many ways, 2020 was transformative for BEVs due to the number and breadth of announcements by global OEMs targeting commercialization of BEVs in their product lines," GNA states. "From passenger vehicles to Class 8 tractors, the growing number of available options has garnered interest from fleets in every sector, leading to numerous ongoing or planned BEV pilot projects. It is one of two clean vehicle technologies, along with FCEVs, that are both developing and zero-emission. Fleets are now deploying several hundred MD and HD BEVs per year."
'We've got to get the power'
During a State of Sustainability webinar hosted by GNA on Wednesday, the company's CEO Erik Neandross said battery electric vehicles are set to emerge as frontrunners in the growing alt fuel market.
"It's hard to put an exact year on that but in looking at the research and the data, it looks like the next three to five years are going to be a really critical ramp up period for battery-electric commercial vehicles," Neandross said.
In addition to cleaning up a fleet's emissions profile, Neandross said that fleets are intrigued with the much lower cost of ownership from BEVs.
"Battery electric vehicles are still fairly expensive but there is still lot of interest in anticipation of the [total cost of ownership] savings, much like we see in CNG, which can justify the higher capital investment required upfront since it will be offset by the lower operating capital requirements over the long-term," he said.
Drew Cullen, senior vice president of fuels and facility services at Penske Transportation Solutions and a panelist on the GNA webinar, said his company has learned a lot while piloting 20 BEVs in its Innovation Fleet. The electric Daimler eM2 medium-duty and heavy-duty eCascadias have traveled over 300,000 miles in California and the Pacific Northwest.
[Related: No range concerns for Mack's first electric truck]
"We've delivered over half a megawatt of power in charging to be able to get those trucks down the road and I can't tell you how much we've learned through doing this," he said.
Some of those lessons have stemmed from computer-related issues.
"From the infrastructure side, for example, one of the things that was an interesting challenge was just getting that communication between the battery management system on the vehicle and the charging system to be repeatable and reliable," Cullen said.
"Once we got it together and we had it working, next thing we knew there was a software update that we put on it and even though it didn't have anything to do with the charging or anything to do with the communication, it stopped working."
Other computer-related issues have cropped up.
"We would put in new software to be able to capture a critical piece of data and next thing we know, no one's able to charge anymore," said Cullen.
"So there's this change management that you almost have to think through as you're getting these things to work," Cullen continued. "Now, I will say the team has done a great job in getting it to this repeatable and reliable point, but I think that illustrates the beginnings of where we're at with battery electric vehicles."
Other GNA panelists from Shell, Daimler and Waste Management all agreed that OEMs, customers and utilities would have to work more closely together to better meet the duty-cycle demands waiting for all-electric commercial vehicles. Charging infrastructure, in particular, is a big concern.
"We've got to figure that piece out," Cullen said. "It's not just [Shell and their] team building these stations, it's utility players. We've got to get the power. It's a lot of power to be able to keep these vehicles running. We'll figure all of that stuff out. The good news is that everybody is kind of working on it. There is a tremendous amount of effort in it and there's a real want to make it work."