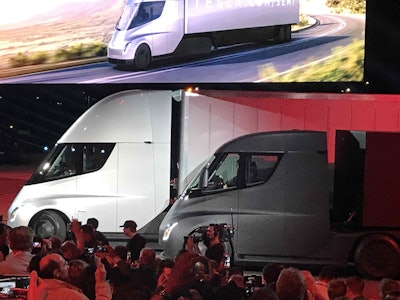 Jerome Guillen, president of Tesla's Heavy Duty Trucking division, departed the company June 3, the company confirmed via 8-K filing with the Securities and Exchange Commission Monday.
"We thank him for his many contributions and wish him well in his future career," the company penned on the form.
Guillen joined Tesla in 2012, departing Daimler where he served in a key leadership role in the development of a new generation Freightliner Cascadia in the early 2000s, and was later named Daimler AG's director of business development.
Guillen, who by 2016 was leading Tesla's electric Semi program, was promoted in 2018 to Tesla President of Automotive, reporting directly to CEO and founder Elon Musk. In March of this year he was appointed leader of Tesla's Heavy Duty Trucking division.
His involvement in Tesla's commercial trucking aspirations has long been seen as vital to the program's success. Even while serving as the company's automotive boss, ongoing development of Tesla's electric Semi remained under Guillen's responsibilities.
Tesla's oft-delayed Semi is still set for 2021 production, according to Tesla, although a shortage of battery cells continues to complicate matters for the electric big rig that debuted in late 2017. When the sleek zero-emission tractor was unveiled in Hawthorne, California – the home of Tesla Motors' design center and company founder Elon Musk's SpaceX rocket factory – production was penciled in for 2019, and orders began to trickle in from the likes of UPS, FedEx, PepsiCo, Anheuser-Busch, J.B. Hunt and Walmart.
Meanwhile, the electric-heavy truck market has gotten crowded. Freightliner opened order books for its electric rig – eCascadia – in April with handfuls of customer trials already underway.
Peterbilt's Model 579EV has been available for order since November, also with many customer demos having already taken place and deliveries of production units expected to commence by late summer. Kenworth in February delivered two prototype Kenworth T680 tractors – equipped with a series hybrid-electric propulsion system – to Total Transportation Systems Inc. (TTSI) in Southern California. Its electric T680E has been available for order since October, with production slated for this year.
Volvo is deploying VNR Electric trucks as part of the Volvo LIGHTS (Low Impact Green Heavy Transport Solutions) project – a collaboration with the South Coast Air Quality Management District (AQMD) and 12 other organizations to develop a blueprint to successfully introduce battery-electric trucks and equipment into the market at scale. Mack is testing electric mobility in the refuse segment with production set to kickoff this year.
Navistar has said that an electric truck will be the first vehicle to roll out of its new production facility in San Antonio when it opens early next year.
Formal updates on Tesla's 300 to 500 mile range electric commercial truck have been scarce as consumer products like Cybertruck and Model Y steal headlines and sap production capacity.