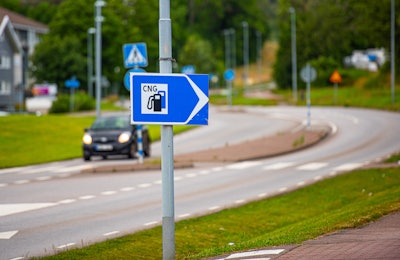 Despite growing interest in electrification, interest in natural gas trucks has seen an uptick this year.
U.S. and Canadian Class 8 natural gas truck retail sales through the first five months of the year climbed 19% year-to-date against a COVID-impacted 2020, according to ACT Research's quarterly report Alternative Fuels Quarterly. Total U.S. Class 8 sales were up 32% for the same period.
Sales of natural gas-powered vehicles as reported by the six major truck OEMs – who account for approximately 60% of the heavy-duty natural gas market, were mixed in the March to May 2021 time period, said ACT Research Vice President Steve Tam, who added that March experienced a sizable sequential gain and even more impressive year-over-year growth.
"Counter to COVID-influenced expectations, April natural gas vehicle sales volumes dropped month-over-month and year-over-year, also reducing the year-to-date increase," he said. "Activity in May appears to have shrugged off whatever afflicted April, returning to solid, across-the-board improvement, with sales jumping 23% sequentially and 206% higher than the year-ago level."
[Related: Renewable nat gas firing up interest for nat gas trucks]
The Alternative Fuels Quarterly also analyzes changes in existing and planned alternative fuel/power infrastructure and equipment developments, and Tam noted there's a shift taking place.
"We're seeing an overall increase in electric charging stations, but a continuing decline of total natural gas stations," he said. "That said, we continue to see articles about natural gas use in transportation, as well as discussions about hydrogen fuel cells and investments in electric commercial vehicle development, making trade-industry headlines."
Equipment utilization 'about as good as we have ever seen'
Natural gas powertrains or otherwise, new trucks are entering a freight market that's as healthy as it's been in generations.
"Indicators we track for the economy, for freight, and for equipment utilization are about as good as we have ever seen," said Kenny Vieth, ACT's president and senior analyst. "U.S. economic activity continues positive and robust, and we expect real GDP growth in 2021 to sprint ahead by 6.5% and by 5.9% in 2022. In the out-years, real GDP is projected to return to its longer-run pace of approximately 2%. Transportation and freight will shine in this environment."
With the economy reopening and a semblance of normalcy returning, Vieth said the near-term outlook is particularly robust. However, even if all goes well, pockets of the economy will still be hobbled by the unique circumstances of this recession and recovery cycle.
"Some factors may slow the economy's forward momentum temporarily, but are not likely to cause a reversal in direction," he said. "That said, we've been reporting for some time that the commercial vehicle market situation is not one of customer demand, but rather of OEM production constraints. Semiconductor, steel, resins, and port bottlenecks represent just some of the constraints impacting the commercial vehicle supply chain. Dislocations should ease in coming months as the industry adjusts and supply channels improve, but we note that supply constraints in 2021 have been especially sticky."