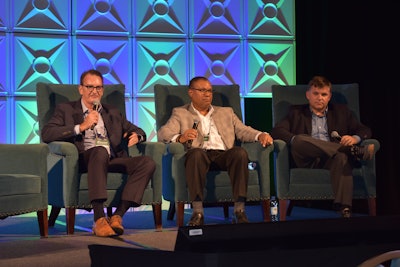 Aaron Huff for CCJ
If you had to build a freight depot or a truck stop today to use for the next 20 years, what type of fuels would you offer? Would you include electric chargers? And if so, what voltage?
At the CCJ Symposium in Birmingham, Alabama, John Thomas, senior vice president of alternative energy at TravelCenters of America and Cedric Daniels, the electric transportation manager at the Alabama Power Company, spoke with CCJ Editor Jason Cannon to answer the question: Who will fuel the future?
Daniels and Thomas bring real-world perspectives to the often hypothetical conversations about the future of trucking and alternative fuels. No matter how rapidly states mandate decarbonization or OEMs work to produce viable alternative power options, these vehicles will only truly succeed when the infrastructure to refuel and recharge them hits the road as well.
In that respect, Daniels and Thomas spoke about how freight depots and truck stops can ready themselves for building future proof facilities.
And while Daniels works at Alabama Power Company, he stressed that his company belongs to a large network across all 50 states "in some capacity."
Future-proofing freight facilities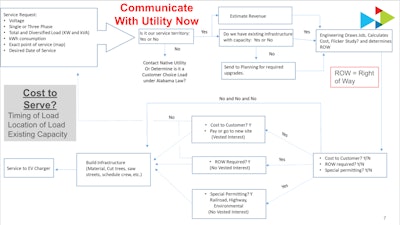 Daniels noted that it's never too early to start discussions with a power utility when it comes to integrating electric trucks into an operation. According to Daniels, "if you're going to be turning dirt and building a new building, that's the time to engage with us on the possibilities [of changing electrification needs]."
At a minimum, Daniels said it's a good idea to lay extra conduit – even if there's nothing in it – anytime new construction starts, because it's easier to put it down before the building goes up than after.
Just like no one fuel type or technology holds all the answers for the next evolutionary step in trucking, no one expert or consultant can address all the possible needs of a forward-looking freight facility. Daniels said that each site will have different needs, and that major investments deserve input from a diverse field of professionals, and that the best projects consult early and often with utility providers and other key players.
"What's worked well across the country – where I've traveled and listened and observed successes – were those times when folks engage as many people as possible in what they might consider," said Daniels. "Electrical, engineers, manufacturers or anyone else who might have a better idea about what to do about not just today, but maybe later on. When folks did not do that, it was not as successful, or down the road they realized they made some very costly mistakes."
Instead, Daniels wants businesses to work with utility companies and other stakeholders on a site by site basis and also a fleet by fleet basis.
"It helps to give you advice on possible infrastructure to give you an optimal advantage, we're here to help our customers make money," said Daniels.
Fleets should consider its duty cycles and how and when they need to charge batteries. "At any given time do you want a garden hose or do you want a whole three or four foot pipe that's gonna come in?" he asked.
Truck stops of tomorrow?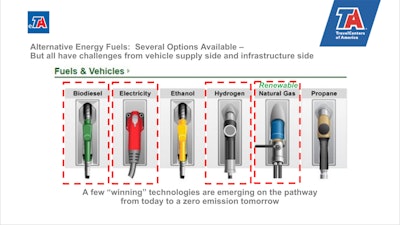 As the recipient of $4 million in grants from the California Energy Commission, Thomas calls TA "patient number one" for troubleshooting and implementing electric charging stations at traditional truck stops. Following Daniels' advice, perhaps, Thomas said he contacted his local utility about a week into the project to determine what his company could achieve.
"They gave us a surprise and said 'Can you future the site for 20 years? If we're gonna trench we want to trench once and we want a lot of conduit even if it's empty.'" Thomas said. According to Thomas, while utility companies may power electric trucks for free or at subsidized rates, sometimes installing the infrastructure can cost upwards of $80,000. These types of mistakes and misgivings Thomas called "roadkill" along the highway towards the future of trucking.
But at TA, Thomas can't simply just pick a winner in terms of alternative power trains.
"The mandate is to be fuel-agnostic and be driven by the ones that make sense and the ones the market is preselecting or self-selecting," said Thomas.
Unfortunately for TA, all these emerging alternate fuels each require their own special type of processing, handling, and billing solutions.
"The data – processing a sale – is a lot more complicated than one would think in this alt fuel world," said Thomas. "Not everyone is compliant and not everyone can fully complete a transaction." Sometimes, according to Thomas, a simple fueling transaction could require a partnership with four different firms. Software and licensing to enable these transactions "can cost you more than you'd ever imagine," he said.
Thomas, who served as the original head of Tesla's Model S program and several commercial electric and hybrid vehicle projects in the U.S. and China, also warned that battery electric vehicles would need to reach a critical mass before the numbers made sense. The below chart illustrates how what volume of electric trucks on the road would justify their investment.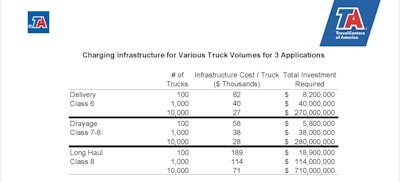 Ultimately, Thomas acknowledged that electric trucks will fundamentally change drivers' experiences at truck stops.
"We love it because it means generally more time at the station," Thomas said of potentially long charging times for EVs. "We make more money in the store than at the pump. We're elated, but we also want to change the customer experience. We want to be respective of people's time as they stay longer."
To achieve this, he hinted that truck stops would have to build technology platforms to create a "seamless digital experience where people can pre-arrange for their fuel dispenser in a parking spot ready for them, and even order food."
Despite the benefits to TA of having truckers onsite for longer, Thomas stressed that keeping down dwell time remained a top priority for the company. After all, truck parking is already scarce enough, and sitting electric vehicles on the lot would only hamper things further.
"Believe me, we're really solving for only fast charges," he said. "We see level one and level two EVs as not being relevant in our industry because of that turnaround time expected (extended charging times). With one of our grants in California, we're going from 500 kilowatts to 1,000 kilowatts and then we're going to be sharing with our partners to help educate the industry because we're very serious about keeping down dwell time."
Who fuels the future?
Overall, batteries are getting smaller and more efficient. States and governments are getting more aggressive with zero-emissions mandates. Just like nobody had cell phones 30 years ago, future decades of trucking may appear unrecognizable to us today.
There's a ratio of essentially fueling nozzles to vehicles," said Thomas. "That was based on a certain fuel economy and then a certain range that was capable for certain vehicles. We have to do the math on how that would apply to RNG, CNG, Hydrogen, and EVs, but there's something like 860,000 fuel dispensers existing in the country today. You can't just say 'Ok we need 860,000 chargers and we're done.' If we are to achieve the carbon emission reduction, greenhouse gas reduction goals and mandates, ultimately we'll have to carpet the country in alternative fuel sources."
As for the utility companies, Daniels said there's been a frenzy of activity getting ready for this point. As the industry sees big states like California and Texas struggle with their power grids, Daniels said utilities have woken up to the reality that infrastructure needs resilience.
Daniels said that in places like California with a heavy solar presence, power companies are actually "turning energy away" between noon and 4 p.m., but then having brown outs at 5 p.m. when demand spikes. He said that smart charging and infrastructure can mitigate these problems, and the best way to initiate that process is to reach out.
"He who talketh by the yard but doeth by the inch deserves to be kicketh by the foot," said Daniels. "We're going to be ready in trying to anticipate the long game in for quite some time. We're looking at 2050 and beyond, but if you have questions about that at any time, get in touch (with a local utility)."