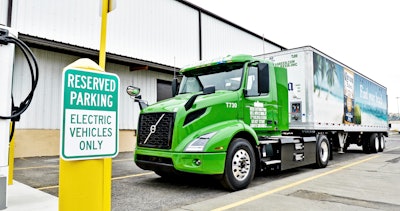 Volvo Trucks North America
Trucking news and briefs for Friday, Aug. 13, 2021:
Volvo rolls out first VNR Electric truck on the East Coast
Volvo Trucks North America today delivered its first Class 8, battery-electric regional hauling truck on the East Coast to its customer Manhattan Beer Distributors.
Four additional zero-emission Volvo VNR Electric trucks will join the New York City-based beer and beverage distributor which has over 400 delivery trucks servicing customers throughout New York City, Long Island and surrounding counties, the company said.
Manhattan Beer Distributors commemorated the delivery on August 12 with a press event co-hosted by the New York City Department of Transportation at its distribution warehouse in the Bronx.
[Related: DHE using solar-powered microgrid to power its facility and electric trucks]
The VNR Electrics come with a Volvo Gold Contract which paves the way for maintenance and service at local Volvo Trucks dealership Milea Truck Sales and Leasing.
"We take care of all the preventative maintenance, all the scheduled maintenance and take care of any repairs on the drivelines including the batteries," said Brett Pope, director of electric vehicles for Volvo Trucks North America. "That way Manhattan Beer will know what they spend on a cents per mile basis for the operation of that product."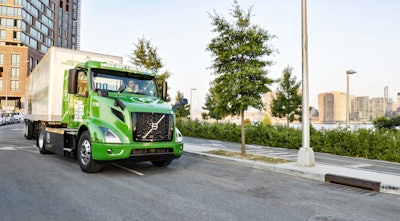 Manhattan Beer Distributors began building its low-emission fleet in the '90s. Today the fleet includes more than 160 Volvo VNR and VNL CNG Class 8 trucks, which will soon be joined by four more Volvo VNR Electrics in addition to the VNR Electric delivered today, according to the company.
Three Level 3 DC fast chargers installed at the distributor's Bronx facility will recharge the batteries up to 80% in 70 minutes. The trucks will be driven under a hundred miles daily with frequent stops which given the truck's regenerative braking capability makes the routes ideal for electric powertrain use.
Manhattan Beer Distributors' battery-electric trucks were the first Volvo VNR Electric models to enter full serial production at Volvo Trucks' New River Valley manufacturing plant in Dublin, Virginia, which assembles all Volvo trucks sold in North America.
The trucks were purchased through the New York City Clean Trucks Program, an initiative created last year and funded in part by the Volkswagen settlement which is intended to reduce air pollution in vulnerable communities as well as reduce greenhouse gas emissions.
"As one of the largest beverage distributors in the U.S., Manhattan Beer Distributors recognizes the broad sustainability impact that we can make by eliminating our fleet's tailpipe emissions," said Simon Bergson, founder, president & CEO of Manhattan Beer Distributors.
"Volvo Trucks has long supported our sustainability goals and demonstrated that their low- and zero-emission truck lineup provides the safety, performance, and reliability we've come to expect," Bergson continued. "We look forward to gaining hands-on experience with our first five VNR Electrics and working with Volvo Trucks and local Volvo Trucks dealership Milea Truck Sales and Leasing to continue expanding our zero-emission fleet."
Milea, which serves New York City and the tri-state area, is Volvo Trucks' first East Coast Volvo EV Certified Dealer and offers consulting for fleets in the region who are considering investing in the Volvo VNR Electric. The dealership installed heavy-duty-capable charging infrastructure onsite, and its service team has been fully trained and equipped to safely perform battery-electric truck maintenance and repairs.
With VNR Electrics now on both the East and West Coasts, it's anyone's guess, outside of Volvo, where their next VNR electric is headed.
"We've got a couple of things in the pipeline," Pope said. "We've got other announcements coming throughout the year."
Nikola procures $2M grant from Energy Dept.
Nikola Corporation has been awarded an approximately $2 million grant from the U.S. Department of Energy to advance its research into autonomous refueling technologies for future hydrogen fueling stations.
Autonomous fueling is part of the industry's effort to ensure fast, efficient, and safe fueling of a large onboard storage system to be less than 20 minutes for heavy-duty vehicles. This project is expected to address this goal by working to develop an autonomous fueling system that can rapidly refuel heavy-duty fuel-cell electric trucks, while minimizing labor and challenges relating to ergonomics and maintenance of equipment, as compared to an equivalent manual fueling process.
"This funding is essential to advance key hydrogen fueling technologies that can improve the overall efficiency of fuel-cell commercial vehicles, while maintaining the safety and reliability standards required," said Pablo Koziner, president, Energy and Commercial, Nikola. "The work we are doing with the Department of Energy and our partners on fueling technology is part of Nikola's wholistic approach to the hydrogen ecosystem; supplementary to our work on heavy-duty vehicles, infrastructure, and energy solutions."
The grant is funded by the Department of Energy's Energy Efficiency and Renewable Energy (EERE) Transportation Office under the recently announced Hydrogen and Fuel Cells R&D FY2021 FOA.
I-70 in Colorado set to partially reopen this weekend
The Colorado Department of Transportation said the portion of Interstate 70 through Glenwood Canyon will partially reopen the afternoon of Saturday, Aug. 14.
CDOT crews have worked around the clock to remove thousands of tons of debris that landed on the critical freight route following heavy rains July 31. CDOT said it expects at least one lane in each direction will be open to traffic Saturday afternoon.
Colorado Gov. Jared Polis and CDOT Executive Director Shoshana Lew visited the I-70 corridor in Glenwood Canyon Wednesday to survey the damage caused by mudslides in the surrounding area, as well as view progress made to clean up and reopen the canyon route.
"There is still extensive work to be accomplished over the next four days that includes completing material removal at westbound Mile Point 123.5," CDOT said.
The state has declared this portion of I-70 a disaster area and has requested $116 million from the federal Department of Transportation. The state asked for 10% of that amount to be sent as soon as possible.
Truckers are still cautioned to take I-80 through Wyoming to I-40 through New Mexico to avoid the closed section of I-70.
HOS regs waived for fuel haulers in some Colorado counties
As a result of the I-70 closure and other burn scar flooding, mudslides, and rockslides in Garfield, Larimer, Eagle, Grand, Routt, Rio Blanco, and Pitkin counties in Colorado, Gov. Jared Polis has declared a state of emergency, suspending hours of service regulations (49 CFR Part 395) for certain truck drivers in the affected counties.
The declaration suspends HOS regs for haulers of gasoline, diesel, aviation fuels, propane, natural gas and other home heating fuels, medical supplies, sanitation, food, paper products, other groceries, and supplies or equipment necessary for community safety.
The order is effective through Sept. 3.
Colorado joins a growing list of states with hours of service waivers in place due to emergency declaration. Montana, Oregon, Idaho, California, Iowa, Minnesota, Nebraska, Nevada, North Dakota, South Dakota, Washington state, and Wyoming also have waivers in place for certain haulers. A full list of emergency declarations can be found on the Federal Motor Carrier Safety Administration's website.