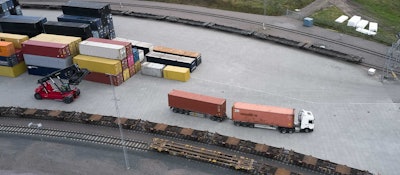 Electric trucks will never work due to weight. The more the truck weighs, the fewer miles it can travel.
I'm sure you've heard those claims as two strikes against the electrification of trucking. The math checks out. Batteries are for sure heavy. Just one standard vehicle battery can weigh up to 50 pounds. By comparison, a gallon of diesel fuel weighs about 7 pounds.
And the more you ask a battery to do, the shorter amount of time in which it can do it. Your cell phone is an example of that. Watching Netflix can burn down a full charge in a matter of hours.
Jula Logistics' 105-foot rig is powered by Scania truck and it drags two containers on each trip. European trucks are allowed to carry 40 metric tons and bring a 12 meter (about 40 feet) container. Since 2015, Jula Logistics uses a vehicle twice that size. With a total weight of more than 70 tons (including load and trailer) Jula Logistics might not be the bast candidate for electrification, right?
Not so fast. Jula Logistics, headquartered in Skara, Sweden, already saves 70% on energy and emissions per transported unit by simply doubling up loads, and the company is now looking to slash those emissions to zero by going electric early next year.
Jula Logistics' cargo arrives to the port in Gothenburg by boat where it is then stowed onto a train that goes to Falköping. From there, the cargo is carried by truck to a warehouse in Skara. Jula Logistics CEO Lennart Karlsson said the carrier would make the chain of transport even more sustainable by installing solar panels on the roof of its warehouse.
Intermodal work is one of the strongest business cases for electric since it's low-mileage and consistently near a terminal. But over 100 feet long and 140,000 pounds? Can't say I saw that coming.
Scania and Jula Logistics worked together to develop the extra-long and heavy vehicle to take the round-trip from where the train stops in Falköping to the warehouse in Skara a couple of times – a distance of a little less than 40 miles.
"The new, extremely long and heavy electrified truck is a great example of how a close dialogue with customers makes it possible for us to build a one-of-a-kind vehicle that meets that particular customer's demands at a very early stage, also for a model that is not in series production," said Fredrik Allard, Scania's head of e-mobility.
The two companies are now working up a detailed overview of energy consumption and an optimized route schedule while simulating the truck's charging needs to ensure the massive electric rig can do what the carrier needs done. A vital part of Scania's collaboration with Jula Logistics will be the optimization of the charging process and related infrastructure.
"Our partnership with Scania shows that this is technically possible, but we also need to create a long-term possibility to drive these longer vehicles that enable us to have a larger amount of cargo on the last part of our intermodal flow," said Karlsson. Scania and Jula Group are aiming for a long-term partnership with extensive electrification of the transport flows that Jula Logistics runs.
I have a fairly short bucket list of big trucks that I want to drive. I've already checked off a few, including Volvo's SuperTruck and International's CatalIST Super Truck. I'd still like to get behind the wheel of Walmart's WAVE truck, and I'd love to drag a road train through the middle-of-nowhere, Australia. Now, maybe even at the top of that list, rests Scania's extra-long electric heavy-hauler – a truck I probably never would have put money on ever coming into existence.