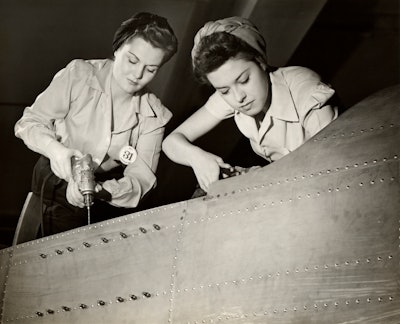 We are U.S.
Detroit. The name conjures images of industrial might – the American birthplace of the automotive industry. Detroit exemplifies industry showing the world what it can do when it matters.
When the future of the world was in the balance, Detroit and America completely switched gears from making cars and consumer goods to becoming the arsenal of democracy.
Completely retooling industry in a few short years from 1939 to 1942 to save the world was made possible by Americans, by American industry, by American organizations like SAE, IEEE, ASME and by American government at all levels. And, spoiler alert, we won.
Today we are facing global risks as challenging as World War II. Detroit and America are again being asked to completely retool to help save the planet — to electrify transportation.
While attending SAE World Congress, WCX 2022, I was struggling with why so many people doubt America's ability to electrify transportation to help save our world. SAE is helping bring the future to us.
Stop doubting. Doing big things is who we are.
Utilities will build out power capacity and grid delivery to meet the growing demand for electricity. Transportation manufacturers and suppliers will ramp up supply lines and production to fill demand for vehicles. Innovators will improve reliability and designs to make vehicles less costly and more efficient. Raw material solutions will be found to responsibly feed the factories. And those solutions will include sustainable recycling.
Stop doubting the capacity of America to save the world. Saving the world saves U.S. Get on with doing it.
It starts with clearly stating the mission, which is to win.
American's get that. We have been ingrained to understand that all competitions have a winner and a loser. We get that winning is better than losing.
Losing on electrification is not something we as a nation — as a people — can afford to do.
Time is not our friend. Just as in 1939, the clock favors the aggressor. Complacency means losing. Obstruction means losing. Our aggressor is trying to change the world for the worse.
Faith in the ability of the U.S. to get it done got us through the 1776 Revolution, the Civil War, the Great Depression and World War II. It got us through the scourge of polio. It built the transcontinental railroad and the national highway system. It electrified America. It put men on the moon and returned them safely to Earth in under a decade.
Stepping up to challenges is second nature to us. Look at building the Hoover Dam, building the airline industry, creating next day delivery services, the internet, the personal computer industry, smart phones, cellular networks, satellite communication systems and so many more examples of America thinking big and making things happen.
I have been around the diesel truck industry for more than 40 years. How many times have we heard that something was impossible, too costly and too complicated, only to find a few years later that this industry pulled it off?
Impossible is an opinion. Possible is a commitment.
Let's get past arguing about what can't be done and get on to doing it. Do what American industry has done so many times in the past — save the world. Win.
Rick Mihelic is NACFE's Director of Emerging Technologies. He has authored for NACFE four Guidance Reports on electric and alternative fuel medium- and heavy-duty trucks and several Confidence Reports on Determining Efficiency, Tractor and Trailer Aerodynamics, Two Truck Platooning, and authored special studies on Regional Haul, Defining Production and Intentional Pairing of tractor trailers.