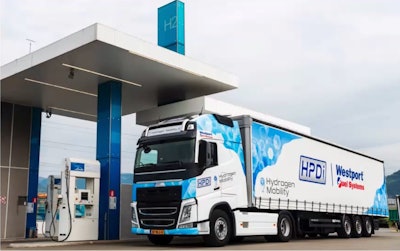 Westport Fuel Systems on Tuesday unveiled its hydrogen (H2) HPDI fuel system in a demonstrator truck, a spin on the company's HPDI fuel system that already enables heavy-duty trucks to operate on renewable natural gas and natural gas with comparable power, torque, efficiency and performance as diesel engines.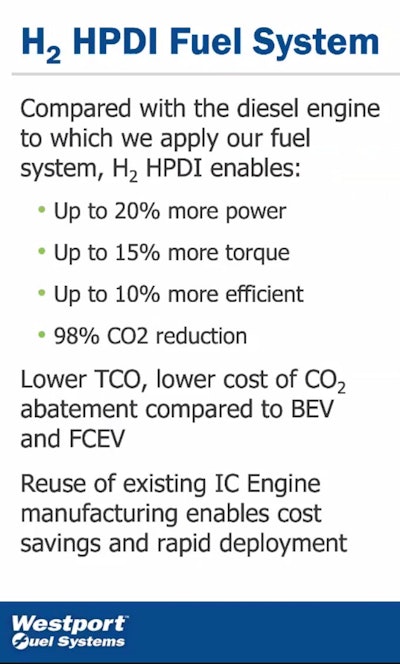 Scott Baker, Westport vice president of engineering, said those results are even better running on hydrogen, all while meeting global emissions regulations. Emissions (CO2) are reduced 95% and upwards of 98% with further refinements when compared to a base diesel engine. However, Baker said, diesel fuel is still used to facilitate combustion, thereby keeping the system from crossing the zero-emission threshold.
Westport Fuel Systems' Dave Johnson noted "an important part of meeting the challenge to decarbonizing trucking is bringing affordable options to market. We believe (H2) HPDI is compelling, with near-zero greenhouse gas emissions at a lower cost than fuel-cell vehicles or battery-electric vehicles, particularly for heavy-duty, long-haul trucking. Hydrogen is the zero-carbon fuel of the future for heavy goods transportation."
Baker said power and torque from the (H2) HPDI is 20% higher than the base diesel engine (turbocharged 13 liter, in-line six-cylinder engine) and features up to 10% better thermal efficiency. Baker added that fuel efficiency/range numbers have shown comparable to fuel-cell equipped trucks.
The HPDI fuel system technology uses compression ignition combustion with the majority of the energy derived from the combustion of a gaseous fuel. Combustion is initiated via late-cycle direct injection of a small quantity of pilot fuel (in this case diesel), followed by direct injection of the primary gaseous fuel; both fuels are injected via a proprietary dual concentric needle injector design. By utilizing diesel-cycle thermodynamics, the HPDI fuel system retains the thermal efficiency, power, torque and engine braking of the base diesel internal combustion engine.
The advantage of HPDI combustion is that it retains the high compression ratio of the base diesel engine and does not suffer from engine knocking, Baker said, as the H2 is injected near the end of the compression stroke, just after pilot ignition and combustion begins.
Westport Fuel Systems Vice President Heavy-Duty OEM Anders Johansson said the HPDI Fuel System technology has seen growth in global markets as OEMs and operators are looking for ways to meet environmental regulations without sacrificing their power density and range. There are thousands of HPDI trucks on the road today; growth of HPDI sales in Europe have averaged over 100% per year over the last three years, and other markets around the globe are taking notice as well, he said, adding that many of these European trucks are running on significant blends of biogas or renewable natural gas.