Trucking news and briefs for Wednesday, April 27, 2022:
PGF adds zero-emission reefers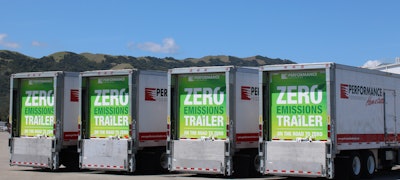 Performance Food Group Company has added 10 net-zero emission refrigeration trailers to its fleet at the company's Gilroy, California, distribution center. Through a partnership with Advanced Energy Machines (AEM), the Transport Refrigeration Units (TRUs) are solar-supported electric refrigeration solutions that are capable of supporting our foodservice distribution needs and have the capability of maintaining temperatures down to minus 20 degrees.
With this first wave of all-electric PFG TRUs, Performance Food Group President and Chief Operating Officer Craig Hoskins said the company is taking a step in cutting its greenhouse gas emissions from its trucks and trailers and achieving an ESG commitment of reducing power consumption intensity by 20% by 2030. "Operationally," he said, "adding new technologies to our fleet gives us the opportunity to take an extended look at how we run our business and to find added efficiencies, which will allow us to provide better value to our customers."
Since the introduction of the net zero-emission TRUs in June 2021, PFG estimates the use of more than 6,500 gallons of diesel fuel has been eliminated reducing the Gilroy distribution center's carbon footprint by 73 tons. The all-electric TRUs have accumulated more than 13,000 hours of run time, driven more than 100,000 miles and completed more than 1,000 routes with more than 12,000 deliveries. PFG plans to continue its carbon footprint reduction efforts by introducing more all-electric TRUs to its fleet over the next two years.
Love's graduates first Truck Care Academy class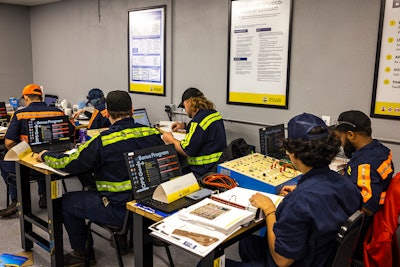 Love's Truck Care Academy recently launched in Amarillo, Texas, where it graduated its first class of level five diesel technicians. The five-week, in-residency training program grows the skill set of newly hired Love's Truck Care and Speedco diesel technicians.
Love's Truck Care Academy is a paid, accelerated training program to develop diesel technicians in seven heavy-duty systems with classroom and hands-on experience. Technicians learn how to diagnose, troubleshoot and repair issues commonly found in trucks. Upon graduation, technicians are placed at a Love's Truck Care or Speedco location as a level five diesel technician and given a tool set valued at $3,500 that's theirs to keep after a year on the job.
"Our team members are our number one asset, and Love's Truck Care Academy provides the tools and training needed to help those team members grow into the best in the industry," said Gary Price, executive vice president of total truck solutions for Love's. "The goal of the Academy is to best equip our team to get customers back on the road quickly and safely. This program is the first of its kind in the truck care industry and we look forward to expanding it in the future."
A second Love's Truck Care Academy is scheduled to open later this year in El Reno, Oklahoma.
Another training path Love's offers is its prestigious mechanic apprenticeship program, which allows apprentices to earn a competitive wage while working toward the designation of a diesel technician. Upon successful completion of the apprentice program, apprentices receive a tool kit which is theirs to keep after one year of employment as a technician. Newly hired diesel technicians can make between $22 - $27 an hour plus commission.
Propane hauler shut down after crash
The U.S. Department of Transportation's Federal Motor Carrier Safety Administration (FMCSA) has declared Pennsylvania-licensed commercial vehicle driver Elwood M. Roberson an "imminent hazard" to public safety and ordered him to immediately cease operating any commercial motor vehicle (CMV) in interstate commerce. Roberson was served the federal order Monday.
Roberson was transporting propane Feb. 11 in Manor Township, Pennsylvania, crossed the center line of the road, side-swiping an on-coming vehicle. Roberson was taken into custody with a blood alcohol level of 0.21 – more than five times the 0.04 legal limit for CMV drivers. Under the Federal Motor Carrier Safety Regulations, drivers with a commercial driver's license are subject to a variety of prohibitions on use of alcohol prior to and while driving CMVs, including a prohibition on using any alcohol within four hours of driving and a prohibition on driving with an alcohol concentration of .04 or greater.
Roberson is now listed as prohibited in FMCSA's Drug and Alcohol Clearinghouse and faces possible criminal charges in Pennsylvania.