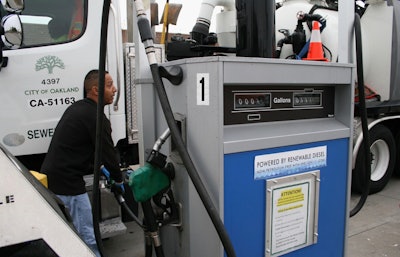 Tom Quimby
Renewable diesel, which over the past few years has attracted fleets on the West Coast for its cleaner profile and reduced maintenance impact, is now gaining attention for more competitive pricing versus conventional diesel.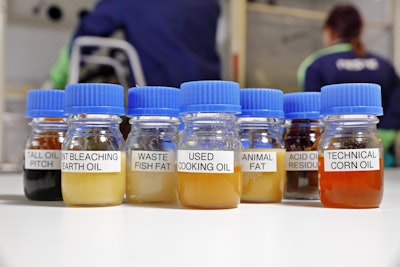 On Monday, renewable fuel vendor Propel advertised on its app Diesel HPR selling for $6.69 a gallon at its Wilmington station near the Port of Long Beach. The state's average for conventional diesel on Monday, according to AAA, was $6.97 a gallon, a 4% uptick over Propel's renewable diesel. Propel's Hemet location was even cheaper at $6.65 a gallon.
Tom Kloza, global head of energy analysis at Oil Price Information Service (OPIS), noted that Low Carbon Fuel Standard credits were now 41% above the $78/ton number seen earlier this month, and up to $110/ton on murmurs of CARB potentially discussing Carbon Index numbers at its July 7 meeting.
Propel's E85, which contains 85% ethanol, offers even greater savings for flex fuel users. A gallon of E85 at that same Wilmington station was priced at $4.09 a gallon compared to the state average for regular gas at $6.31, a 43% increase.
"Demand has never been stronger for Propel fuels," Propel Fuels CEO Rob Elam told CCJ. "Domestically-sourced, low carbon fuels can provide more value at the pump than imports, as well as higher performance in trucks that use them."
Neste, the world's largest producer of renewable diesel and the top supplier in California, pointed out that subsidies are key in helping renewable diesel compete with conventional.
"In the markets where a state-level clean fuel program is available, the cost of Neste's renewable diesel is competitive with conventional diesel," said Carrie Song, Neste's vice president of renewable fuel.
Neste's MY Renewable Diesel had been enjoying steady growth in West Coast states prior to historic inflation which helped renewable diesel become more competitive at the pump.
"The demand for Neste's renewable diesel has always been increasing, even when conventional diesel was cheaper," Song said. "The signals we hear from our customers are clear, they love our product and want more of it."
Performance driven results
Titan Freight
, a customer of Neste's in Portland, Oregon, told
CCJ
that though renewable diesel has driven down their fuel costs over the past few years, their bigger savings comes from reduced maintenance courtesy of renewable diesel's lower emissions. But admittedly, Titan Freight CEO Keith Wilson was skeptical at first.
"Because we did not have good luck with biodiesel in our vehicles, I was very concerned about renewable diesel," Wilson said. "I didn't know if it was just a different shade of the same product. And then once we started using it, we saw an immediate reduction in our injector swaps. We stopped an immediate reduction in our regens."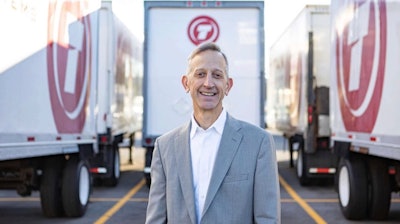 DPF repair cost savings are particularly impressive.
"We haven't had to change out a DPF—not one box since we've converted over to renewable diesel," Wilson said. "And one box is easily north of a $10,000 repair, and we haven't had to replace one where we had to maybe [repair] one every six months previous."
Wilson said renewable diesel's ability to reduce soot by roughly 30% also results in fewer oil changes. Eventually, he envisions oil becoming less of a consumable and more like any other component on the engine.
"We will not drop our oil. We will only sample it and when a sample is outside of normal, that's when we'll drop it because there's no reason to change oil," Wilson said. "It's already a million years old. It doesn't get old, it gets contaminated."
Emissions reductions with renewable diesel have led California, Oregon and, most recently, Washington State, to include the fuel in their clean fuel programs, which provide subsidies that help lower costs for the fuel and create bigger demand especially at a time when petroleum-based fuels have reached historic prices.
"Today, Neste is producing more than 1 billion gallons of renewable products annually and is on track to increase its production capacity to 1.9 billion in 2023," Song said. "We believe the demand for renewable diesel in North America will continue to grow, driven by state-level climate policies, and businesses and cities' commitment in fighting climate change."
Though Propel's Diesel HPR is currently only offered in California, the company sees plenty of growth ahead.
"We are looking closely at expanding into states implementing Low Carbon Fuel Standard policy, including Washington [State] and Oregon to start," Elam said. "Demand is clearly growing for fuel solutions that are higher performance and provide better value than what Big Oil is offering today."