Trucking news and briefs for Wednesday, June 22, 2022:
FedEx gets batch of new EVs
FedEx (
CCJ
Top 250
, No. 1) has received its first 150 electric delivery vehicles from BrightDrop, a technology startup from General Motors (GM) decarbonizing last-mile delivery.
FedEx is on a path to transform its entire parcel pickup and delivery (PUD) fleet to all-electric, zero-tailpipe emissions by 2040, and comes just months after BrightDrop's commercialization of the Zevo 600 as the fastest vehicle to market in GM's history.
"In just under six months, we've taken delivery of 150 BrightDrop Zevo 600s for our parcel pickup and delivery fleet," said Mitch Jackson, FedEx chief sustainability officer. "In today's climate of chip shortages and supply chain issues, that's no ordinary feat and a true testament to the collaboration between FedEx and BrightDrop."
The first 150 BrightDrop Zevo 600s were delivered throughout Southern California to FedEx Express. Powered by GM's Ultium Platform, the Zevo 600 is designed for last-mile deliveries, with an estimated range of up to 250 miles on a full charge. This is part of a larger agreement between FedEx and BrightDrop that will see FedEx incorporate 2,500 total Zevo 600s across FedEx operations over the next few years.
To support the new vehicle technology, FedEx is building charging infrastructure across its vast network of facilities, including more than 500 charging stations the company has already installed across California. FedEx is also actively working with utility companies to help evaluate and determine the capacity needed for electrical grids to support such charging infrastructure and is investing to expand on-site generation and procurement of renewable energy in its facilities.
Truck tonnage index nearly hits highest point since the dawn of the pandemic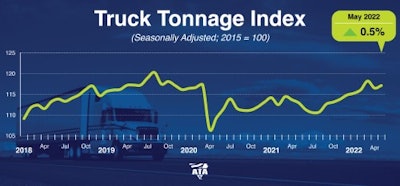 American Trucking Associations' advanced seasonally adjusted (SA) For-Hire Truck Tonnage Index increased 0.5% in May after falling 1.4% in April. In May, the index hit the second highest level since the pandemic started, equaling 117.1 (2015=100) versus 116.5 in April.
Compared with May 2021, the SA index increased 3.7%, which was the ninth straight year-over-year gain and the largest since April 2021. In April, the index was up 2.5% from a year earlier. In 2022, year-to-date and compared with same period in 2021, tonnage was up 2.7%.The not seasonally adjusted index, which represents the change in tonnage actually hauled by fleets before any seasonal adjustment, equaled 119.7 in May, 4.2% above the April level (114.8). In calculating the index, 100 represents 2015. ATA's For-Hire Truck Tonnage Index is dominated by contract freight as opposed to spot market freight.
ATA Chief Economist Bob Costello noted ATA's tonnage index is dominated by contract freight, adding "the traditional spot market has slowed as freight softens, but these contract carriers are backfilling any losses in freight with loads from shippers that is reducing spot market exposure," he said. "Essentially the market is transitioning back to pre-pandemic shares of contract versus spot market."
Overall, economic indicators that are important to trucking slowed in May, including retail sales, housing starts, and manufacturing output.
TruckPro acquires southwestern U.S. distributor
TruckPro has acquired of the assets related to the operations of WestFleet.
Founded in 1946 originally as a repair shop in Albuquerque, N.M., WestFleet expanded its operations with a second location in El Paso, Texas, becoming one of the area's largest specialty suppliers of truck and trailer parts and supplies. WestFleet, which is owned and operated by Mark Wilson, has a reputation for consistently providing exceptional service and quality products to its customers, according to TruckPro.