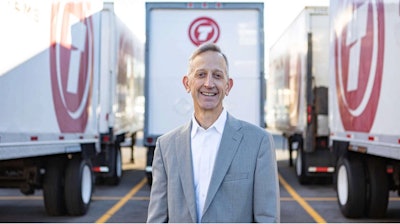 Titan Freight Systems in 2010 set an ambitious goal to reduce fleet emissions by 20% within a decade.
The Portland, Oregon-based company's Vision 2020 plan had metrics tied to fuel efficiency gains. To execute on those metrics, Titan replaced most of the 2007 EPA Tier 2 and older engine emission trucks in its fleet and invested hundreds of thousands in aftermarket products that included engine idle shut off devices, cab fairings, trailer side skirts, wheel covers and technology for monitoring driver speeds and behaviors.
By the first quarter of 2020, Titan Freight's fuel efficiency had increased by only 3% compared to the 2010 baselines, missing the 20% goal by a wide margin. President Keith Wilson didn't blame the shortfall on selecting the wrong engines, aerodynamics or technology. Paradoxically, the vehicles' emission control systems and diesel particulate filters (DPF) had been slowing fuel efficiency progress.
Wilson decided Titan Freight needed a better fuel alternative for its less-than-truckload operations in the Pacific Northwest. "We weren't looking at the right energy source," he said.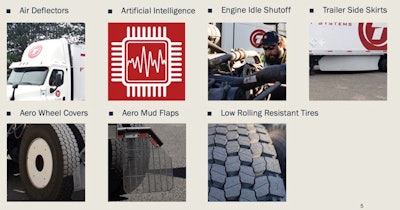 Electric trucks would take the fleet straight to zero emissions but the limited range and cost of approximately $220,000 for a Class 8 truck – and another $20,000 for a charger – were major barriers for adoption. Plus they are not expected to be available until 2022 and only in small quantities.
Cleaner-burning fuels, such as biodiesel and compressed natural gas, could lower emissions, but taking that path would require more capital and raise operating costs. Running a B99 blend of biodiesel in a truck, for example, would take a $15,000 add-on to keep the fuel warm, he said.
Finding renewable diesel
In the second quarter of 2020, Titan Freight began using a new fuel that significantly reduces emissions and creates a low-cost advantage.
The product, renewable diesel (RD, or R99), has been available in California and Oregon for a few years. Some municipal fleets in Oregon were using RD when Titan Freight came onboard as the first private carrier in the state, Wilson said.
Produced from feedstocks, like animal fats and vegetable oils, the low-carbon RD molecule is refined to the same standards and specifications as conventional diesel and uses the same fractional distillation process.
Titan Freight buys RD fuel locally at the same price per gallon as diesel from a supplier that delivers to its onsite tank in 10,000-gallon increments. The company over the last nine months has fueled trucks with RD for one million miles, amounting to 54% of the fleet's total fuel consumption and miles during this time.
Titan Freight's data show trucks running RD average 6.7 mpg, which is the same fuel economy as trucks that run conventional diesel.
Most importantly, RD produces 66% fewer lifecycle emissions than diesel, Wilson said, and he calculates the fleet has reduced carbon emissions by 1,217 metric tons. Lower-carbon emissions have also reduced maintenance costs.
Titan Freight has seen a $0.015 per-mile savings by eliminating exhaust system replacement parts and downtime from clogged DPFs. Trucks running RD have had zero regens or filter replacements, Wilson said. The company has also reduced oil costs by 75% from extending drain intervals on account of fewer contaminants entering the crankcase.
With a cetane value of 83 versus petroleum diesel at 48, RD is an ultra-clean burning fuel that has reduced oil soot in Titan's fleet by 39%, he said.
The oil savings come in at one-half cent on a per-mile basis. Finally, cleaner emissions has resulted in less diesel exhaust fluid needed. Titan estimates this savings to be $0.001 per mile. With the combined maintenance savings, the fleet has reduced its operating costs by $0.021 per mile. Over one million miles, the motor carrier has pocketed more than $21,000.
Employee health is another benefit. "My mechanics love it. There is no more smell," Wilson said. "Drivers also love it. If they spill fuel on their hands or clothes it has zero smell and washes off like water."
Equalizing the cost
The vast majority of RD being produced today flows to California and Oregon because these states have clean fuels programs that make the price competitive.
A gallon of RD costs about two times more than petroleum diesel to produce, Wilson said. However, fleets in Oregon and California pay much less. Two federal "blenders credits" reduces RD by $2.00 per gallon. California and Oregon also reduce the cost through a credit from their Low Carbon Fuel Standard and Clean Fuels Program (CFP), respectively.
Oregon's CFP lowers the cost of RD by an additional $1.30 to $1.50 per gallon, Wilson said. The credit for RD will increase each year as emissions limits increase to make RD prices even more competitive.
For 2019, Oregon's CFP added $0.03 to the retail price of diesel. To meet the state's emission goals, the CFP increased diesel by approximately $0.05 per gallon in 2020. This year diesel is expected to be $0.07 more and rise to $0.20 more per gallon in 2025.
A bridge to electrics
Titan Freight has already started down the path of zero emissions. Management has budgeted the purchase of four Freightliner eCascadias when they become available. When the trucks are built next year, the fleet expects to receive a one-time 75% credit from the state of Oregon to apply towards the purchase.
Wilson has no immediate plans to electrify the rest of Titan's 50-truck fleet, nor does he foresee motor carriers replacing their diesel-powered trucks with electrics and other zero-emission vehicles anytime soon. If motor carriers were to adopt electric vehicles at the same rate as consumers, EVs would only have 1% market share in heavy duty commercial transportation by 2032, he said.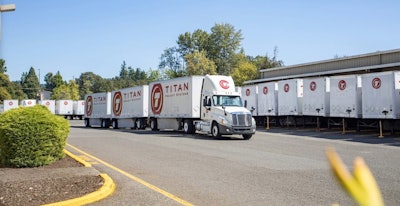 Fleets are buying diesel-powered trucks at a very high rate and the expected lifespan is 20 years. About 217,000 Class 8 trucks were ordered last year, and sales forecasts for 2021 are expected to be 250,000 to 280,000.
Wilson believes RD is the best route through the maze of regulations that will increase the price of petroleum diesel over the next 20 years and beyond. "[Renewable diesel] is the bridge to electric," he said.
California's Air Resources Board (CARB) in June last year set 2045 as the end for sales of Class 8 carbon trucks and vans. Half of all trucks sold in The Golden State must be zero-emissions by 2035. New Jersey has the same mandate.
In July 2020, an 11-state group of governors in the West signed a memorandum of understanding to work towards zero-emissions vehicle adoption. The states plan to require 100% of new medium and heavy-duty vehicles to be zero emissions by 2050.
Drafting legislation
After seeing the benefits of RD for Titan Freight, Wilson has a plan to make the fuel affordable to all fleets in Oregon while staying ahead of government regulations. He began considering the plan during his run for Portland City Council last year.
Traffic safety was his main area of emphasis for that campaign. Titan Freight had seen the benefits of advanced technology for reducing driver distraction, and Wilson pitched technology as a way to decrease traffic accidents on a local, statewide and national level.
He lost that council race but continued working to bring RD to fleets statewide at a lower cost than diesel.
The tri-county Portland area is the only place where RD fuel is price competitive now in Oregon. It is being imported into the state from several suppliers with the largest amounts arriving from Singapore by energy supplier Neste.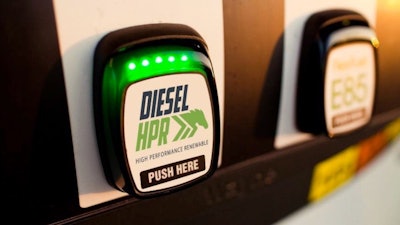 Wilson has met with CARB and legislative directors in California to formulate ideas on legislation that could bring more RD to Oregon and California. He also benchmarked RD with Environmental Protection Agency officials, and with directors of Oregon's Department of Energy, as well as state, county and city government leaders.
After extensive research, Wilson presented a plan in August of last year to the Joint Task Force on Supporting Businesses in Reducing Diesel Emissions. The legislative task force is appointed by the governor of Oregon and has 12 members that include county commissioners, Oregon legislators, and trade groups like the Oregon Trucking Association.
Wilson is currently interviewing with state senators and representatives to find the best sponsors for what he calls the Renewable Energy Now Act.
The bill would phase out petroleum diesel over six years. The first deadline in 2023 would end the sale of petroleum diesel in the tri-county Portland area for government fleets and those with government contracts first, and then for commercial operations in 2024 and consumers in 2025. Then, in 2026, the same roll out to the remaining 33 counties in Oregon would begin. Government fleets and those with government contracts would be first, and then commercial operations in 2027, and lastly consumers in 2028.
By 2026, the demand and supply of RD in Oregon from local, domestic and global refineries would increase significantly ensuring there is little burden on any rural communities, he explained.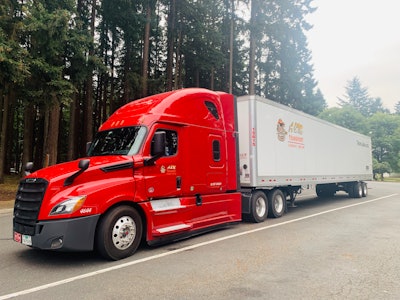 Once supply and demand reach a tipping point, distribution could utilize the pipeline for RD to flow from Portland to Eugene (the center of the state) and between other areas in the state economically. Every diesel engine user would then have access to RD at the same or lower cost than diesel, Wilson said.
"A bunch of carriers in Oregon are helping me with this. They want this product," he said.
A&M Transport Chief Executive Andy Owens wants to get four million gallons of RD to the Umpqua Valley in southwest Oregon. This would be enough to fuel his Glendale, Oregon-based fleet, which operates 130 trucks, and two other local trucking companies — a log hauler and wood chips transporter — for a year.
"I made up my mind when I talked to Keith that 'I'm going to go there.' It's just a matter of when. Without an affordable and dependable supply of RD, it's difficult to set a timeline," said Owens. "[Renewable diesel] solves a lot of issues with the emissions and environmental legislation that is coming down the road at us."
Oregon fleets already pay the highest road taxes in the nation. The state's weight-mile tax is $0.20 per mile, which is 40% higher than the closest state, Wilson added. "RD and its lower overall costs to operations helps us close this gap."
Moving the energy market
Wilson has done extensive research to help legislators convey the importance of the bill to the public.
Ninety percent of Oregonians live in areas where exposure to diesel particulate matter exceeds public health standards. His research shows the bill could save 108 lives in Oregon each year by getting the state back on track with emissions goals, and "show the world you do not have to wait for electric," he said.
As part of his research, Wilson accounts for the expansion plans of energy corporations for RD production. Currently proposed in Oregon is one of the world's largest RD production facilities scheduled to begin production in 2023 from NEXT Renewable Fuels, he said.
Oregon consumed 27 million gallons and California 617 million gallons of RD last year, and those numbers are expected to grow exponentially in the next few years, Wilson said.
"We can be energy independent. Oregon is going to be the center of the universe for RD," he said.
Wilson said the legislation makes sense to move energy markets that otherwise are reluctant and hesitant to change. As an example, Titan Freight has used electric forklifts for 10 years. Despite a fast return on investment of 1.5 years, electric forklifts have only a 60% market share versus forklifts that use other fossil fuel energy sources, yet have been widely available for 40 years.
"The market does not operate in a rational way, which is why we use the will of the people to legislate good policy that can help them out," he said. "There is near universal support from all communities for emissions reductions. The key is how do we deliver meaningful reductions without causing financial hardship on one community [rural] versus another [urban]? This legislation and its phased-in approach address that."