Trucking news and briefs for Wednesday, June 29, 2022:
Cummins, Hyliion working on BEV, natgas truck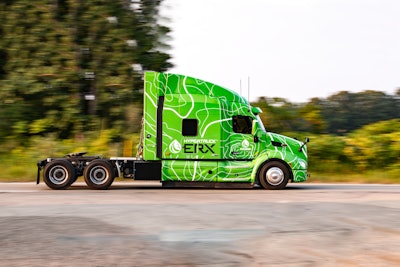 Hyliion, a developer of electrified powertrain solutions for Class 8 trucks, and Cummins on Tuesday announced the two companies would collaborate on an effort to optimize the Cummins ISX12N natural gas engine as the generator for the Hypertruck ERX powertrain.
Hyliion's Hypertruck ERX is an electric range extended powertrain that's recharged by an onboard natural gas generator. It offers 75-miles of electric range to qualify for credits under CARB's upcoming ZEV mandates and can achieve up to 1,000 miles of full range through the generator, greatly reducing range anxiety.
[Related: Test drive: Hyliion Hypertruck ERX is smooth, powerful and unproven]
Cummins' ISX12N will be optimized with the Hyliion Hypertruck ERX, so that it can use the existing 700 natural gas stations across North America for low cost refueling.
Start of production for the Hypertruck ERX with the ISX12N Cummins natural gas power is anticipated to begin in late 2023.
FMCSA removes ArionT ELD from device registry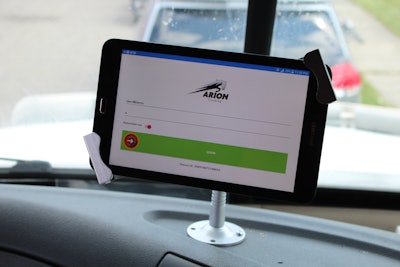 The Federal Motor Carrier Safety Administration (FMCSA) has removed the ArionT ELD from the list of registered Electronic Logging Devices (ELDs).
FMCSA has placed ArionT ELD on the Revoked Devices list due to the company's failure to meet the minimum requirements established in 49 CFR part 395, subpart B, appendix A, effective June 24, 2022. It's unclear what specifically about the device does not meet the minimum requirements. Attempts to reach ArionTech for clarification were unreturned.
The device is the first to appear on the list that was not self-revoked by the manufacturer.
Carriers using the ArionT ELD are advised by FMCSA to take the following steps:
Discontinue using the revoked devices and revert to paper logs or logging software to record required hours of service data.
Replace the revoked devices with compliant ELDs from the Registered Devices list before Aug. 24, 2022.
Trucking companies and operators have a grace period of up to 60 days to replace the revoked device with a compliant ELD. If ArionTech corrects the identified deficiencies, FMCSA will place the device back on the list of registered devices and inform the industry and the field.
During the grace period, law enforcement officers are encouraged not to cite drivers using ArionT ELD for 395.8(a)(1) – "No ELD" or 395.22(a) – "Failed to use a registered ELD." During this time, inspectors should request the driver's paper logs, logging software, or use the ArionT ELD display as a back-up method to review the hours of service data.
Beginning Aug. 24, carriers who continue to use the revoked device listed above would be considered to be operating without an ELD. Inspectors who encounter a driver using a revoked device on or after Aug. 24 should cite 395.8(a)(1), and place the driver out-of-service, FMCSA said.
FMCSA strongly encourages motor carriers to take the actions listed above as soon as possible to avoid compliance issues in case the deficiencies are not addressed in time.
Kentucky/Indiana bridge tolls jumping 8%
New toll rates for three bridges connecting Louisville and southern Indiana will begin Friday, July 1. Rates for five-axle and larger trucks will increase more than 8%.
RiverLink, which manages the tolls, says drivers with prepaid accounts in good standing and transponders pay the lowest toll rates and save more than $2 per crossing. The rates for trucks with prepaid accounts and transponders will increased from $11.04 to $11.98, while the rates for trucks paying by mail/plate will increase from $13.26 to $14.38.
Toll revenue is used to meet the financial obligations of the Ohio River Bridges Project and to pay for operations and maintenance of the bridges and roadways in the project area.
Tolling is in place on the I-65 Abraham Lincoln Bridge, I-65 Kennedy Bridge and SR 265/KY 841 Lewis and Clark Bridge connecting Prospect, Kentucky, and Utica, Indiana.
Toll rates increase annually by 2.5% unless the rate of inflation (as measured by the Consumer Price Index) is higher. The April 2022 CPI used to calculate the increase was 8.3%.
Additionally, the new rates include an adjustment of 0.1% that should have been reflected in the July 2021 rate increase. RiverLink says the adjustment was necessary because last year's rate increase was calculated using the 2.5% baseline rather than the March 2021 CPI of 2.6 percent.
The tolling of the bridges, a bi-state effort between Indiana and Kentucky, started Dec. 30, 2016.
Wayfair joins J.B. Hunt, Waymo autonomous truck test
J.B. Hunt Transport Services (CCJ Top 250, No. 3) is adding a customer, home goods retailer Wayfair, to its autonomous truck partnership with technology developer and Google sister-company Waymo.
The latest pilot will span six-plus weeks during July and August and take place along the I-45 corridor between Houston and Dallas, the location of J.B. Hunt and Waymo's original pilot nearly one year ago. It will be the first in-depth transportation of home furnishings retail freight between J.B. Hunt and Waymo Via, the company's autonomous Class 8 trucking unit powered by the Waymo Driver technology.
"Every supply chain is unique, so it's important that customers can work alongside J.B. Hunt and Waymo to ensure that advanced autonomous technology will create capacity that meets their needs," said Craig Harper, chief sustainability officer and executive vice president at J.B. Hunt.
Throughout the multi-week pilot, J.B. Hunt, Waymo and Wayfair will monitor and evaluate data relating to delivery logistics, loading and unloading freight, autonomous performance and factors influencing the overall driving and non-driving experience. The pilot will use J.B. Hunt 360° technology to automate several processes, such as check calls and transactions to improve driving efficiency. Autonomous specialists – a commercially licensed driver and a software technician – will be in the cab for the duration of each trip to monitor the Waymo Driver's operations.
In a successful pilot in 2021, J.B. Hunt and Waymo moved more than 862,000 pounds of freight with no accidents and 100% on-time pick-up and delivery rates. This will be Wayfair's first large-scale, hands-on experience using Level 4 autonomous vehicle technology to transport freight.