Many – maybe too many – powertrain technologies exist today for equipment users to spec on trucks, and the emergence of electrification, hydrogen and other budding solutions will only add more options to the mix.
At the Technology & Maintenance Council Annual Meeting and Expo in Orlando Tuesday during an S.11 study group presentation, a panel of freight and green technology experts discussed the coming reality for trucking as its emissions levels are further scrutinized.
Corning Incorporated's Director of Emerging Technologies and Regulations Dr. Ameya Joshi noted that freight vehicles account for about 4% of greenhouse gas (GHG) emissions globally, and long haul trucks account for about half of particulate matter and NOx emissions.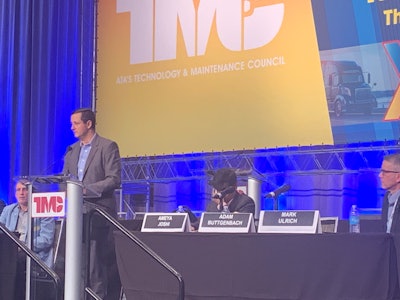 Environmental Protection Agency (EPA) and California Air Resources Board (CARB) regulations for model year 2027 will require an additional 90% reduction in NOx and practically mandates electrification, along with other considerations. In forthcoming regulations, EPA and CARB will require extended emissions warranties and an extended useful life of the emissions system.
Electrification isn't as simple as it sounds, especially in long haul, Joshi said, adding that a greater than 1 megawatt hour battery pack would be needed to power a truck for 500 miles: a power level on par with the usage of an average U.S. household in a month.
"There is no silver bullet," Joshi said. "We have to keep working on all technologies... if we are going to effectively decarbonize the transportation sector."
PepsiCo, with more than 80,000 units, is among the largest private fleets in the country – a transportation force that includes biodiesel, electric, natural gas and many others. Pepsi has a goal of net zero emissions by 2040. Prior to 2010, Adam Buttgenbach, PepsiCo director of fleet engineering and sustainability, said the company started looking at improving its efficiency, spec'ing things like low rolling resistance tires and gravitating to lighter-weight vehicles.
"As we look into the future, we think a lot of renewable fuels will play a role," he said.
PepsiCo has deployed battery electric vehicles, renewable natural gas and renewable biodiesel trucks in its middle mile operations and electric delivery vans, electric box trucks and electric tractors in its last mile business. Buttgenbach said PepsiCo seeks to power its vehicles with renewable sources wherever possible, adding that a battery truck that is charged from a carbon-intense source only pushes emissions upstream.
PepsiCo's Modesto, California, facility – one of the company's largest – has reduced its GHG emissions by more than 90% thanks to the heavy integration of solar and leaning into electric trucks, biodiesel, CNG and RNG, among other things.
Cummins seeks to hit zero emissions by 2050 through several means both short- and long-term because powertrain selection will come down to what works for a fleet, not necessarily what the fleet wants.
"We have to act now in order to meet our sustainability targets," said Mark Ulrich, Cummins' director of customer support. "It's not just about the powertrain; it's about the right powertrain for your company."
Robert Reich, executive vice president and chief administrative officer at Schneider (CCJ Top 250, No. 9), said shippers are applying pressure on carriers to reduce emissions, but he said his company doesn't start that conversation with equipment. Rather that discussion starts with network optimization, potential freight consolidation and evaluating mode selection.
"We're really committed to doubling our intermodal business," he said, adding that he sees intermodal having a major impact on Schneider's emissions goals of achieving a 7.5% reduction in reduced CO2 emission per mile, 60% reduction by 2035, and net zero emissions at company-owned facilities by 3035. "Charging needs to be onsite where the trucks are operating, so we think this is a great fit for our intermodal business."
Schneider will deploy 90 Freightliner eCascadia this year in its SoCal operations, making it the largest EV trucking fleet in the U.S. There were, however, challenges in dealing with the utility and power availability, Reich said, adding a lot of time into a project that Reich thought would already be complete, but likely won't wrap until April this year.
"Think about those utilities even before you start thinking about what your truck solution might be," he said, adding Schneider will have a hydrogen test truck this year. "I'm proud of where diesel is headed. I think natural gas is making a comeback. Bio-diesel, renewable diesel ... it's expensive, but it might be the quickest way to take care of a customer's desire to reduce emissions."
Reich said Schneider has traditionally had a fairly standard and universal truck spec, but emissions regulations and the company's own goals to slash its carbon footprint, is changing that.
"Three years from now, I think we've got all of this in our fleet," he said.
"A lot of options. Some are here now. Others are coming soon," North American Council for Freight Efficiency (NACFE) Executive Director Mike Roeth, warned.