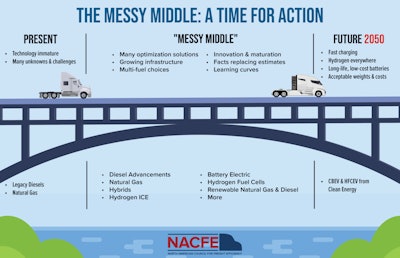 The North American Council for Freight Efficiency (NACFE) has long thought fleets would face, on their paths to decarbonization, a "messy middle" – a phrase NACFE coined in 2019 to describe a period of time with numerous available powertrain options, including advanced diesel, renewable fuels, natural gas, hydrogen, hybrids, battery electric power and hydrogen fuel cells, and no single solution for all duty cycles.
"Trucking is decarbonizing... [and] we're doing it in a number of different ways," said Mike Roeth, NACFE's executive director. "We just can't keep running diesel. It's just something we're going to have to move on from."
Sunday, at the Technology & Maintenance Council Annual Meeting and Expo in Orlando, NACFE released its latest thought leadership report – The Messy Middle: A Time For Action – which surmises that the forthcoming green-energy quandary isn't necessarily a bad thing, rather will be a time where fleets will want to take action, will have many options to consider, and will need to look beyond just the truck to the infrastructure needed to support it.
The key takeaway in the report, NACFE hopes, is that fleets recognize that they need now to begin wading into the messy middle in order to get ready for a zero-emissions future. The report also found that all stakeholders should support fleets in making the right adoption decisions, that decisions should include a realistic understanding of pipeline capabilities, and an even higher level of collaboration is essential.
Clean energy consultant Jeff Seger noted there has been a change in thought in a fleet's need to get loads delivered on time and at the lowest cost. It now includes getting it there on time, at the lowest cost and with the lowest environmental impact.
NACFE developed a best practice for decision-making to help fleets evaluate options and placed battery electric on square one. NACFE advises that fleets first start zero emission considerations with battery electric trucks, because if they meet the needs of the duty cycle, BEVs can be the simplest path forward and a single change for the fleet.
The next consideration might be hydrogen fuel cell vehicles – possibly a better solution for long haul, assuming technology matures and green hydrogen becomes more widely available.
"If you're going into this future, the battery electric truck is the simper of the two (between battery electric and hydrogen)," Roeth said.
Natural gas, hybrids, renewable fuels and hydrogen internal combustion engines are options in the messy middle that fleets might deploy if strategies to decarbonize cannot be supported in a timely manner by zero-emissions solutions. In some cases, NACFE said, it may make sense to stay with a diesel strategy while working to make the equipment and operations as efficient as possible, leading to a later decision to move to zero-emission vehicles.
"If that final piece is diesel, we suggest you be very aggressive with efficiency," Roeth said, adding that solutions like low rolling resistance tires and aerodynamics will be critical for fleets that can't get to zero emission.
Roeth stressed that fleets are unlikely to successfully traverse the messy middle alone and the need to engage with utilities, governmental agencies, charging equipment manufacturers, OEMs, and others to leverage all available knowledge. He encouraged fleets to hold tight to the specs that meet their needs versus simply seeking out a green solution.