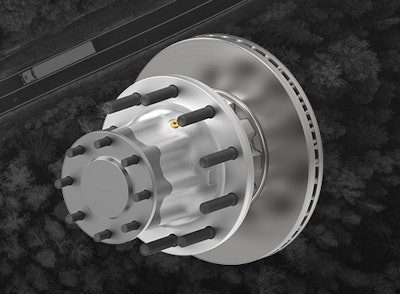 ConMet made several product announcements at the American Trucking Associations' Technology & Maintenance Council Annual Convention, in Orlando Sunday.
The next evolution of its PreSet Plus wheel hub, the PreSet Plus Efficiency Package, will be optimized with a proprietary low-drag seal and advanced surface-coated bearings. Beto Dantas, ConMet chief technology and innovation officer, said the package will further reduce resistance at the wheel end, improving fuel efficiency and reducing emissions.
The company will also soon release a flat rotor with a proprietary coating to improve corrosion resistance in high-heat brake rotor applications, reducing wear and tear for longer rotor life.
Building on its entrance into the electric vehicle market with its PreSet Plus eHub solution in 2020, ConMet also is developing an electronic wheel hub disconnect that enables 6×4 to 4×2 conversion using an electronic switch or automated by speed via software controls. This new technology helps to extend EV battery range when applied at highway speed and can also be used for easy transport of new tractors.
In the ConMet Digital group that includes Preset Plus SmartHub, SmartTrack asset management and SmartAir tire pressure management system, the company is releasing the ConMet Digital Driver App in March to give drivers a simplified view of the data needed to increase speed and accuracy of pre-trip inspections. It also provides real-time alerts to determine when to take action during a route and avoid downtime, and streamlines communication between the driver and the service team to increase uptime and efficiency.