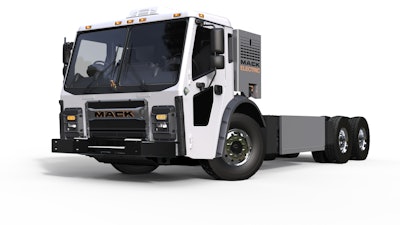 Mack Trucks and Mack Financial Services recently introduced an all-inclusive program designed to simplify commercial EV adoption.
Vehicle-as-a-Service (Vaas) helps customers better manage expenses associated with acquiring the Mack LR Electric battery electric vehicle. VaaS includes the vehicle chassis, the refuse body, applicable taxes and a comprehensive vehicle protection plan, the Mack Ultra Service Agreement, for the Mack LR Electric refuse model, Mack's first fully electric Class 8 vehicle.
Qualified customers also have the option to bundle a charger and associated installation costs into a single invoice, an all-inclusive offer unique in the industry. VaaS is offered as a five-year lease with single monthly payments and the option to renew.
 "The Mack Vehicle-as-a-Service program is designed to address any customer hesitations in adopting electromobility by offering zero upfront costs," said George Fotopoulos, Mack vice president of the e-mobility business unit. "Mack took this approach because we believe in BEV technology, we stand behind our electric products, and we want to accelerate industry adoption of this technology."
The recently introduced Mack Ultra Service Agreement includes all preventive and corrective maintenance, excluding accidental repairs, Mack GuardDog Connect uptime services, roadside assistance, battery monitoring and a battery performance guarantee.   
GuardDog Connect monitors battery health and performance and checks for fault codes and defects reported by the battery and electric components of the energy storage system.
When a critical fault code is detected, Mack GuardDog Connect contacts Mack OneCall agents at the Uptime Center in Greensboro, North Carolina. OneCall agents support Mack customers by coordinating repairs and service with the Mack dealer network during planned and unplanned service events.   
Mack Financial Services also offers a new integrated insurance service on a digital platform that's designed to provide an easier, more competitive and quicker insurance experience. The new service enables enhanced capabilities, allowing customers to access different coverages, make claims and handle other insurance-related needs online.