Daimler Truck North America (DTNA) on Monday said it will partner with NextEra Energy Resources and BlackRock Renewable Power, each having signed on to a joint venture to design, develop, install and operate a nationwide, high-performance charging network for medium- and heavy-duty battery electric and hydrogen fuel cell vehicles.
Lack of a publicly available, nationwide electric charging infrastructure for commercial trucks – especially those used for long-haul freight – is one of the tallest barriers for widespread deployment of electric trucks. The three companies plan to tackle that with approximately $650 million divided equally, and pooling resources to build a network of charging sites on critical freight routes along the east and west coasts and in Texas by 2026. The sites will leverage existing infrastructure and amenities while adding complementary greenfield sites to fulfill anticipated customer demand. The first phase is set to begin construction in 2023.
"This planned joint venture, and our collaboration with BlackRock and NextEra Energy Resources, will address the urgent need for a nationwide battery electric and hydrogen fuel charging infrastructure for commercial vehicles to reach shared climate goals," said John O'Leary, DTNA president and CEO. "Our joint investment will act as a catalyst to make a carbon-neutral trucking industry a reality. This project is a critical step toward developing a sustainable ZEV ecosystem across North America, and we look forward to including additional partners as it progresses. We are committed to providing access to this network not only for the DTNA vehicle brands, but also for any manufacturers using predominant industry charging standards and communication protocols."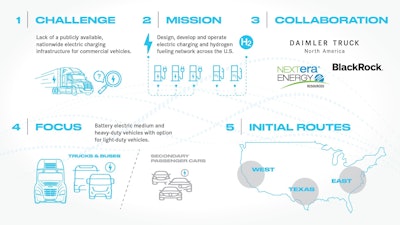 Battery electric medium- and heavy-duty vehicles will be the initial focus of the partnership, followed by hydrogen fueling stations for fuel cell trucks. The sites will also be available for light-duty vehicles.
NextEra Energy Resources is world's largest generator of renewable energy from the wind and sun and a significant investor in electric and charging infrastructure. BlackRock's Renewable Power group is one of the largest renewable power equity investment platforms in the world, with over $9.5 billion in total commitments and investments in over 350 wind and solar projects, in addition to electric vehicle charging infrastructure and battery energy storage systems, across 15 countries and 5 continents.
"The commercial transportation sector is a significant contributor to carbon emissions and we firmly believe that decarbonization of transportation will be a critical societal focus for the next decade," said David Giordano, global head of BlackRock's Renewable Power Group. "Having already made several investments in the EV charging infrastructure space around the globe, we also believe that investments in the sector are highly complementary to our renewable power generation investment strategy."
DTNA, in cooperation with the local utility company Portland General Electric (PGE), opened the first-of-its-kind public charging site for commercial vehicles in the U.S., and expects to start production of its battery electric Freightliner eCascadia and eM2 later this year.