Trucking news and briefs for Tuesday, Jan. 10, 2023:
Grocery store chain testing EVs in cold weather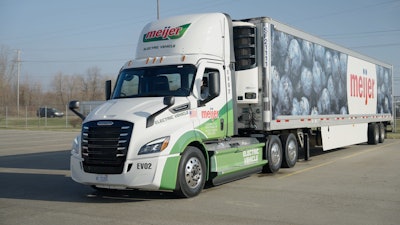 Michigan-based grocery store chain Meijer is deploying two battery-electric trucks into its fleet.
The Grand Rapids, Michigan-based retailer is also among the first fleets nationwide to track the performance of the Freightliner eCascadia electric trucks in a cold weather environment as part of a grant from the U.S. Department of Energy.
"Our company's earliest beginnings were marked by doing what's right while keeping an eye toward innovation," said Meijer President & CEO Rick Keyes. "That philosophy still guides us today and is exemplified by our company's commitment to lessening our carbon footprint. We're excited to continue our longstanding partnership with Freightliner to pave a sustainable future for the industry."
Meijer received the battery-electric trucks in December and celebrated their inaugural delivery on Dec. 15 with a more than 44,000-pound food donation to Gleaners Community Food Bank in Detroit alongside Gov. Gretchen Whitmer, and representatives from Meijer and Daimler Truck North America.
The two semis will operate out of the retailer's Lansing Distribution Center, which is now equipped with specific charging infrastructure. They will make multiple deliveries daily to Meijer supercenters within a 200-mile trip range of the distribution center.
Meijer became a test fleet for Freightliner in 2009 and was selected in 2019 to test the manufacturer's battery-electric trucks. The retailer's trucks were partially funded by a grant to DTNA from the U.S. Department of Energy's Vehicle Technologies Office geared toward the demonstration of battery-electric commercial trucks under diverse climate conditions. Meijer will continue reviewing data daily for temperature impact on mileage, charge times, battery life optimization and driver comfort.
"Through this partnership, we can help accelerate the industry's transformation to electrification by applying valuable insights from data collected and real-world applications in a cold climate environment and make a meaningful difference when it comes to reducing greenhouse gas emissions," said Mike Graham, Senior Vice President of Supply Chain and Manufacturing for Meijer. "We're pleased to work with Freightliner to further put the eCascadia tractors into real-world applications outside of southern California as we look for solutions to achieve zero emissions."
Cross-border truck freight up 13% year-over-year in October
The Department of Transportation's Bureau of Transportation Statistics reported last week that cross-border truck freight increased by nearly 13% from October 2021 to October 2022.
Of the $133.8 billion of freight moved between the U.S., Canada and Mexico, $83.3 billion was moved on trucks, which was up 12.9% from the prior year.
Freight between the U.S. and Canada totaled $65.4 billion, up 11.6% from October 2021, and freight between the U.S. and Mexico totaled $68.4 billion, up 16.2% from October 2021.
Between the U.S. and Canada, trucks moved $35.1 billion worth of freight in October, while trucks moved $48.2 billion of freight between the U.S. and Mexico.
The largest truck port in the nation in October was Laredo, Texas, which saw $21.5 billion in truck freight. Detroit was the second-largest port, with $10 billion in freight having moved through in October.
The top commodity moved by truck for U.S.-Mexico trade was electrical machinery, making up $11.1 billion, followed by computers/parts ($11 billion) and vehicles/parts ($6.6 billion).
Computers/parts was the top commodity moved by truck between the U.S. and Canada at $5.7 billion, followed by vehicles/parts ($4.7 billion) and electrical machinery ($2.4 billion).
Smith System acquires Driving Dynamics
Smith System Driver Improvement Institute, a subsidiary of Levine Leichtman Capital Partners, announced that it has acquired Driving Dynamics.
Based in Newark, Delaware, Driving Dynamics provides driver safety training services for commercial fleet clients across the U.S. Over its 30-year history, Driving Dynamics has developed innovative offerings of virtual and in-person classroom training, behind-the-wheel exercises, eLearning content, and driver risk management programs to improve driver safety and lower fleet crash rates.
"Driving Dynamics brings a wealth of talent and an exciting complement of driver safety training capabilities and curricula to Smith System," said Tony Douglas, CEO and President of Smith System. "Driving Dynamics builds on Smith System's prior acquisitions of OQSG and Driver's Alert, and further solidifies our market-leading position as one of the fastest-growing and most comprehensive providers of workplace safety training services."
Smith System is a provider of workplace safety training offerings for large commercial fleets.
CVSA Human Trafficking Awareness initiative ongoing this week
Monday was the first day of the Commercial Vehicle Safety Alliance's five-day annual awareness and outreach effort to educate truck drivers, motor carriers, law enforcement officers and the general public about the crime of human trafficking, the signs to look for and what to do if you suspect someone is being trafficked.
This week, CVSA law enforcement jurisdictions in the U.S. will track human trafficking awareness and outreach activities and events, and submit that data to the Alliance. CVSA will gather the information and report the results this summer.
In addition, in the months leading up to the awareness campaign, CVSA educated its membership and the general public on human trafficking through webinars, radio appearances and online resources. The Alliance also worked with Truckers Against Trafficking to distribute wallet cards and window decals, which are still available upon request.
CVSA selected this week for its 2023 Human Trafficking Awareness Initiative to align with U.S. National Human Trafficking Awareness Day, which is Jan. 11, and National Slavery and Human Trafficking Prevention Month, which is January.
According to the U.S. Department of Justice, human trafficking involves compelling or coercing a person to provide labor or services or engage in commercial sex acts. The coercion may be subtle or overt, physical or psychological. Victims of human trafficking can be anyone, regardless of race, color, national origin, disability, religion, age, gender, sexual orientation, gender identity, socioeconomic status, education level or citizenship status.
"CVSA's law enforcement and motor carrier communities are committed to bringing attention to human trafficking," said CVSA President Maj. Chris Nordloh with the Texas Department of Public Safety. "Working together, we will put an end to this crime."
If you suspect someone is in a human trafficking situation or you are the victim of human trafficking, call the U.S. National Human Trafficking Hotline at 888-373-7888 or text 233733. The hotline is open 24 hours a day, seven days a week. Support is provided in more than 200 languages and all calls are confidential and answered live by highly trained anti-trafficking hotline advocates.
As a North American organization, Canada and Mexico will also be participating in CVSA's 2023 Human Trafficking Awareness Initiative. In Canada, the initiative is scheduled for Feb. 20-24 and in Mexico, it will be March 13-17.