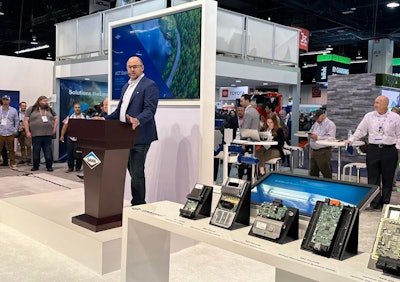 Angel Coker
Ohio-based drivetrain and e-propulsion systems manufacturer Dana will launch production of a family of e-transmissions for a variety of medium-duty electric vehicle applications in 2024 in Europe and 2025 in North America.
The company unveiled its Spicer Electrified Zero-6 e-transmission at ACT Expo in Anaheim, California, Tuesday.
Part of the Spicer Electrified e-powertrain offerings, the new e-transmission optimizes operating range and vehicle performance for applications ideally suited to a central drive e-propulsion system with a conventional axle and driveshaft layout. It accommodates a diverse range of medium-duty applications, such as straight trucks, walk-in vans, refuse trucks, utility trucks, platform trucks and more.
[Related: Test drive of Spicer's electric driveline]
"Dana Graziano's (an Italian-based manufacturer of gearboxes, drivelines and mechatronics components).e-transmission technologies are already driving some of the most notable and advanced high-performance vehicles in the world, including Lamborghini, McLaren and Ferrari, so why shouldn't we have these in the trucking industry," Ryan Laskey, senior vice president of Dana Commercial Vehicle Drive and Motion Systems, said during a press conference Tuesday at ACT Expo. "We are now bringing Dana's superior engineering and technical expertise in EV and hybrid transmissions to the commercial vehicle space, combining performance, efficiency and reliability."
The new e-transmissions have been engineered to provide the highest level of efficiency and performance with maximum startability, gradeability and road speed, Laskey said.
Key features
• Dana high-efficiency motor and integrated inverter system with silicon carbide technology and MOSFET power modules, which provides peak performance and simplified installation in the vehicle through the elimination of high-voltage phase cables.
• An electromechanical actuation system with patented Dana Graziano clutch design to maximize shift smoothness and efficiency.
• An optimized three-speed system with Ravigneaux gearing designed to seamlessly integrate Dana motor technology, offering maximum power density and productivity without compromise across a wide range of vehicles.
• Dana OpenECU platform, leveraged across all Dana e-propulsion technologies, to deliver next-generation control software, functional safety readiness up to ASIL C, and compliance with the latest vehicle cybersecurity engineering standard ISO/SAE 21434 and the UNR 155/156 regulations.
Accommodating a gross vehicle weight rating up to 59,500 pounds, the Zero-6 e-Transmission series will be available in two models: the eS4700t and the eS7900t, offering 4,700 and 7,900 Nm of output torque (3,466 and 5,846 lb.-ft), respectively. The Zero-6 currently holds six patents for advanced design, including a unique shifting method and arrangement, exclusive lubrication methods and a design for manufacturability.
Dana commercial vehicle e-propulsion technologies can be found on over 37,000 vehicles and have generated 2.8 billion customer miles driven.
Laskey said the company is accelerating its commitment to emission reductions of 75% by 2030 with plans to reach its goal of net zero by 2040.
"We're monitoring our sustainability performance across our supply chain and reducing our carbon footprint in our global facilities that are closer to our customers for shorter delivery distances," he said. "We are encouraged by the progress we've made not only in our company-wide decarbonization efforts but also the acceptance and performance of our clean power technologies and the markets that we serve."