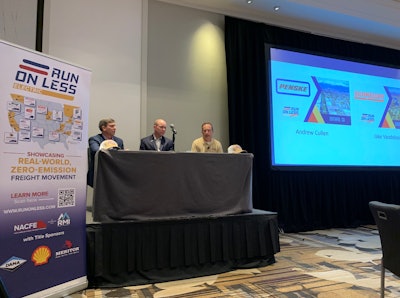 Tom Quimby
Wait…electric trucks really do exist outside California?
Yes, just ask Adam Buttgenbach, director of fleet engineering and sustainability at PepsiCo, who has been busy deploying electric trucks in Queens, New York.
PepsiCo is one of eight fleets participating in the North American Council for Freight Efficiency's (NACFE) 2023 Run on Less Electric Depot. Buttgenbach joined other sustainability executives from those fleets Wednesday at a NACFE presentation in Anaheim, California, to provide some feedback and insights into placing electric trucks within fleets long dominated by diesel.
When asked what he looked forward to the most concerning this year's Electric Depot, Buttgenbach was quick to answer with a response that evoked some chuckles from the audience in the Marriot conference room that this past week has been part of a record turnout at the nearby Advanced Clean Transportation Expo.
"So, a couple things…number one is that EVs do exist outside of California, believe it or not," said Buttgenback who represents the only EV fleet in this year's Electric Depot outside California. "But then also that we're ready to scale in certain applications. So really showing that we can go now from those initial pilot trucks that we showed two years ago in [NACFE's 2021 demonstration] to going up to 15 and then, hopefully for us, our largest 100% electrified site. And then also how that's a part of our broader strategy of deploying over 700 electric vehicles this year [across the PepsiCo fleet]."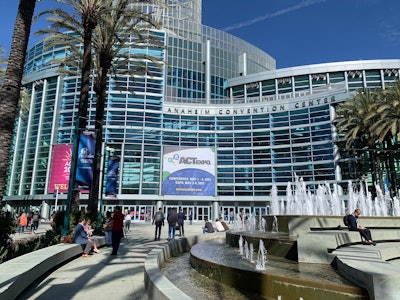 Mike Gallagher, director of maintenance and procurement at Performance Team in Los Angeles, who joined Buttgenbach on the panel, said he's most looking forward to new lessons in fleet electrification with this year's Electric Depot. However, he noted that the challenging learning curve to zero emissions is best served by a spirit of cooperation.
"We're excited to be part of this. I think we're all learning together. This ecosystem is everybody learning together. For us, it's how do we showcase what we've done, but also how do we see the other fleets and what they've done and really learn from that?
"I think this industry is unique. It can't be competitive. We're all learning together. We're all trying to do it together. So, for me, that's what I'm really trying to get out of this," Gallagher continued.
Drew Cullen, vice president of fuels and environmental affairs for Penske Truck Leasing, said he's looking forward to getting past the problems of electrification and onto solutions.
"I think everybody's pretty much sick of talking about all the challenges, right? And I think what you're going to see from here are solutions, and that's what we need," Cullen said. "We don't need to study the problems anymore. We need to get to solutions. And that's what this is all about: sharing what those solutions are, and much like the equipment, one size is not going to fit all.
"What's really great is you're going to see different variations of how organizations have chosen to solve the infrastructure problem," Cullen continued. "Whether it's doing it themselves or completely outsourcing it or parceling it up to how are they managing it, what are they doing with the operations and maintenance of the equipment. How is it performing, right? I mean, so these are all things that everybody really needs to see because they're solutions to all these problems that everybody keeps talking about."
Jake VandeLoo, vice president of equipment engineering at Schneider, said he's most looking forward to getting additional electric trucks operating at their warehouse site in nearby El Monte. "What I'm personally looking forward to the most is what we're going to learn from this site because right now we're working so much off of assumptions and expectations," VandeLoo said. "When we finally get the trucks in our hands and we start hauling the load, then we can start to refine. We can start to work to improve. We can work with our partners and I feel like we can really start to make progress here.
"It's almost like there's so much anticipation building that when we really cut the ribbon and cut the trucks loose, and we start hauling and we start getting the data back and we start understanding the driver performance and the driver training, and which tires are the best tires to put on, and how do we execute opportunity charging, and how do we build the rate modeling and how there's just so much that we think we know that we don't know for sure. It'll be nice to finally put pen on paper and say, 'Okay, now we have what we need to make informed decisions and to help our customers be more successful.'"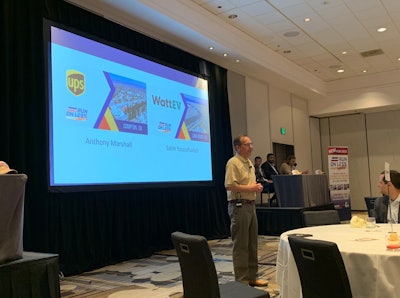 More legislative motivation for utilities please
As an electric truck as a service provider who also deploys charging infrastructure in addition to renting electric Class 8 trucks, WattEV CEO Salim Youssefzadeh is hopeful that utilities will step up efforts to provide power to truck chargers.
WattEV announced this week that they'll be opening an electric charging depot on May 15 at the Port of Long Beach to serve over 60 trucks daily.
"I think it collectively takes a lot of input for everybody to figure out the right solution both on the depot side as well as on the vehicle side," Youssefzadeh said. "We already have the ACT [Advanced Clean Transportation] and the ACF [Advanced Clean Fleet] rules that are forcing the OEMs to manufacture and the fleets to start using. There's no rule to force the utilities and that's a big bottleneck for everyone.
"If you look at the HVIP [Hybrid and Zero-emission Truck and Bus Voucher Incentive Project] numbers, a lot of people had placed orders for trucks that they couldn't take delivery on because the depots weren't ready," Youssefzadeh continued. "They didn't have a place to charge them and that's a huge issue. So having the ability to create depots where not only our own fleet can use them but other fleets that could come in and use them is crucial to electrifying the entire as a whole. So I think in general it's great that Run on Less is out there to work closely with everyone and figure out the solutions to start scaling up."
UPS applying nat gas lessons
Anthony Marshall, vice president of transportation maintenance and engineering at UPS, said he looks forward to sharing electrification lessons with smaller fleets who lack the resources of larger fleets like UPS.
"When we think about this, solutions are the biggest thing. So at UPS, when we rolled out natural gas, for example, we understood there's a big undertaking of what that looks like," Marshall said. "When we do things like this, we understand that as a large fleet, we're able to do things that smaller fleets can't do. So when people are looking for opportunity and figure out how they can scale things up, we take that very seriously and want to share the information with everyone else."
Marshall expects the company's experience in natural gas truck deployment will help them with their electric vehicle plans.
"When you look at EVs, for example, we're taking the same approach as we did with natural gas. We're going to scale it up," Marshall said. "We're going to learn from things. We're going to share what we learn so that way those smaller fleets that aren't able to play in the same sandbox currently right now, have opportunities to map out their success route for sustainability for their organization. We want to make sure we share all that with everyone and that everybody gets an opportunity if they do decide to go there, that they have an outline and a blueprint and some guidelines that can help them be successful."
Pepsi leaning on people power first
Amanda Devoe, fleet sustainability and technology director at Frito-Lay North America, told NACFE executive director Mike Roeth that she's excited not only about gleaning more data from their electric trucks but is also looking forward to the collaborative process needed to deploy electric trucks.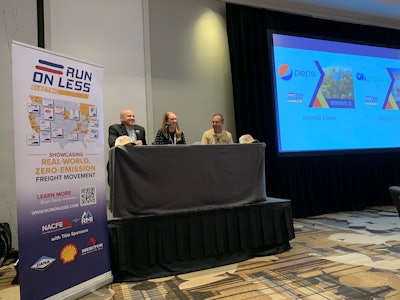 "Both Adam [Buttgenbach] and I are based out of Plano, Texas, and we go to these locations where we're introducing these depots and we tax the local teams with a large responsibility of being our Guinea pigs as we pilot and explore and learn," Devoe said. "And though we're highlighting two here [Sacramento and Queens] each one of them provides critical compounding experiences to support this multi-year evolution. I tell my team how we reserve the right to get smarter and Sacramento is a leading site where we intend to learn and get smarter to lead and move this forward in a responsible way. So major appreciation for the location and the team leading there."
When it comes to truck deployment Devoe said she looks forward to gleaning more data from their trucks as they continue to haul products that vary greatly in weight from chips to bottled and canned beverages.
We've been privileged to have a partnership with Tesla. We took receipt as a total PepsiCo team of our first Tesla Electric semi back in December. Some of you might have seen it generates a lot of attention and a lot of conversation so we're really excited to participate in [Electric Depot] and allow the industry to have access to the insights and the learnings that we are getting from experiencing these vehicles.
"And again, we're going to run them hard. We're really going to focus on this regional application, slip seated, fast charge, max payload, up to a 500-mile round trip for three weeks of the run," Devoe continued. "We really want to demonstrate the capability of our team, the capability of the Semi and the capability of an electric vehicle to compete with its ice counterpart."
Partnering for efficiency
Brady Matoian, CEO of OK Produce in Fresno, Calif., said he's looking forward to the open dialogue as well as possible partnerships during Electric Depot.
"Efficiency's not just about EVs. It's an overall look at your logistics and I think more partnerships will come. You've got chargers and we might need chargers or you might need chargers," Matoian said. "There's a lot that we'll learn from each other not only in sharing the news, but I think that there's room for legit partnerships because of all we're going through. If we're asking for help and ideas, we're talking the same language. In eight different places we've been having the same conversations with eight different trucking companies, utilities and everywhere else. And as we bring that together as a group, my hope is that we gain from this group of eight and more and go forward."