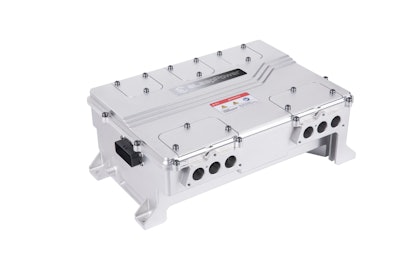 eLeapPower introduced an integrated inverter solution specifically for the Class 4-6 commercial vehicle market that takes separate onboard charger and inverter systems and combines them into a single unit, eliminating the need for separate onboard charging equipment and 400/800 volt converter.
In addition to eliminating components, the integrated technology is expected to save OEMs $2,000 per unit and reduce weight by almost 50 pounds and offers 17 liters of space savings.
eLeapPower, a Canadian engineering startup company specializing in charging systems intregation, began testing the project with Chinese-owned Chery in 2019 in the company's line of commercial vans. The project is now in the integration and validation phase, which is expected to be complete in early 2024. It also is in the development phase with a North American motor partner and commercial OEM. eLeapPower expects to go to market with its new solution in late 2025.
"We're still working on what that final design is going to look like from the outside, but we've been working with a couple different OEMs to make sure this product is specified according to the needs of the industry, what power level they want, what they want in the batteries, what the typical use cases are and how they want to package where they're going to place it on the vehicle," said Jonathan Dooley, eLeapPower's technical product manager.
The integrated inverter uses 800V architecture is compatible with 400V auxiliary components and doesn't require expensive semiconductors. The system enables low-cost charging directly from renewable power sources and DC microgrids and offers fully integrated, bidirectional charging for both AC and DC. It also reduces the total number of cables, connectors and other components to help lower cost, weight and complexity.
eLeapPower began product development for the commercial vehicle market citing lower barriers to entry, less competition in commercial applications, and fleet emphasis on total cost of ownership. eLeapPower believes the system will be scalable to the passenger car market in the future.
Wireless charging
eLeapPower also announced it is in development on wireless charging technology that integrates with the vehicle's plug-in charging system to lower wireless charging costs by roughly 30%. Once again, the company is targeting the North American Class 4-6 commercial vehicle market. "Last-mile delivery vehicles are a really good use case," said Dooley.
One limitation of plug-in electric vehicle charging at a depot for step van applications is trucks are often parked close together while loading, making it difficult to integrate plug-in charging from the side of the vehicle. eLeapPower's solution uses a charging pad installed in the floor that transfers power between coils when the truck is parked with a 90- to 250-mm air gap.
"This also opens the door for easier retrofit solutions versus the current state that requires significant integration work by expensive specialists," said Russell Pullan, eLeapPower CEO. "Fleet operators will reduce vehicle downtime because charging at their depots will be more accessible either as a retrofit or OEM installation."