Trucking news and briefs for Wednesday, Aug. 23, 2023:
Volvo unveils new 'Turnkey Solutions' EV program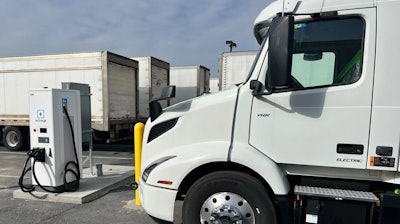 Volvo Trucks announced Aug. 22 it has launched its customer-focused Turnkey Solutions program, a consolidated fleet management process for procuring vendor services, parts and products for electric vehicle (EV) charging.
The program also offers outlook planning for incentives, installation and interfacing with utility companies to streamline services for electric vehicle infrastructure development. The Turnkey Solutions electromobility program has two full-service partners – InCharge Energy and Gilbarco Veeder-Root – and is available to all Volvo Trucks North America customers.
"Identifying sources for charging infrastructure can be an overwhelming task for fleet managers, so now all aspects of EV charging are covered through the Turnkey Solutions program," Peter Voorhoeve, president, Volvo Trucks North America. "We simplified the process for customers, allowing them to easily turn to our solution-oriented vendor partners who understand key aspects of the EV charging industry. This makes the electromobility transition easier for fleet managers, allowing them to focus on their daily business operations while a dedicated team solves their infrastructure installation and energization."
The Turnkey Solutions program manages all aspects of the process to develop charging infrastructure and covers charging hardware, software, permitting, installation, all the interaction with the utility companies, and maintaining charging equipment – every step of the process to get charging infrastructure from order to operation including support with accessing available incentives and writing grant proposals.
Infrastructure work sometimes starts early to cover lead times, so the program offers Volvo customers charging options to allow both to occur in tandem so the charging infrastructure is installed and ready when the trucks are delivered. When customers sign up for the Turnkey Solutions program, they are paired with a Volvo Trucks dealer who advises them on three pathways for their EV infrastructure development:
Designing the customers' infrastructure plans, presenting funding and financing opportunities, and identifying implementation partners
Providing guidance and support to the customer as they manage components of their company's own program
Combining the two approaches where the customer manages their own infrastructure development but the charging hardware is acquired through Volvo Trucks' Vendor Direct Shipping program
Both the Vendor Direct Shipping and the Turnkey Solution programs are options that qualified customers can bundle with financing or leasing solutions for electric trucks through Volvo Financial Services.
[Related: Call for increased regulations on utilities to power up chargers faster]
OOIDA pens letter to FMCSA urging action on broker transparency
While the Federal Motor Carrier Safety Administration signaled earlier this year that it will initiate a rulemaking that would alter its brokered freight transaction transparency regulations, the trade association leading the charge is growing impatient.
The Owner-Operator Independent Drivers Association first petitioned FMCSA to improve broker transparency in May 2020, requesting that brokers be required to provide transaction information automatically within 48 hours of the completion of contractual services and that brokers be prohibited from including any provision that requires a carrier to waive their rights to access the transaction records.
The Biden Administration's Spring 2023 Unified Regulatory Agenda projected that a notice of proposed rulemaking (NPRM) regarding Transparency in Property Carrier Broker Transactions would be published in June, but as of Aug. 22, no such notice has materialized.
"Unfortunately, our association has to report [to its members] that the NPRM is still pending even as broker concerns increasingly plague the industry," OOIDA said in an Aug. 17 letter to FMCSA Administrator Robin Hutcheson.
OOIDA reiterated a statement it made in a September 2022 letter to FMCSA, noting that though small-business truckers' concerns "may intensify during more challenging economic times," the frustration OOIDA hears from its members is constant.
OOIDA in its latest letter calls on FMCSA to publish the notice "and promote broker transparency as soon as possible."
"Updating these regulations will protect carriers from unlawful brokers and help protect the public by providing a marketplace in which each party behaves in a clear and transparent manner," OOIDA said. "Since the agency's rulemaking announcement in March, instances of rampant broker abuse and fraud persist. Motor carriers are victimized through unpaid claims, unpaid loads, double brokered loads, or load phishing schemes on a daily basis."
The group added that improving regulations and enforcement around broker transparency would reduce disputes between brokers and carriers and improve the economic health of the trucking industry as a whole. OOIDA also believes it would improve highway safety and driver retention "as small-business motor carriers who rely upon brokers will be spared unnecessary financial loss."
As recently reported, the Transportation Intermediaries Association representing brokers has vowed to fight any proposal that would change broker transparency regulations, with TIA CEO Anne Reinke calling such a change "rate intrusion," adding that it would drive rates down. Earlier this year, FMCSA denied TIA's own 2020 petition to remove the 49 CFR 371.3(c) transparency regulation entirely.
[Related: Rate transparency, fraud top broker group's list of concerns]
Priority Courier Experts acquired by private equity firm

Trident, a private equity firm founded in 2017 specializing in acquiring U.S.-based Small Businesses, announced today a strategic investment in Minnesota-based Priority Courier Experts.
Priority, founded in 1996, is an expedited local B2B delivery provider serving customers in virtually all industries, including building products, third-party logistics, healthcare, electrical equipment, food & beverage and automotive in the Minneapolis-St. Paul metropolitan area.
Priority's fleet includes both CDL commercial vehicles and parcel vehicles. According to FMCSA data, the company operates 187 trucks with 188 drivers.
Trident is partnering with Bluejay Capital, an operating partner with deep expertise in transportation and logistics businesses, on the acquisition.
Mark Cossack, formerly President at Priority, will serve as the company's new Chief Executive Officer. His expertise will allow him to leverage the company's existing culture of success to catalyze its next phase of development and expansion into new markets, Trident said. Cossack is an executive board member of the Minnesota Trucking Association and a board director of the Customized Logistics and Delivery Association.
Ted Burchell, formerly Priority's Executive Vice President, will now serve as the company's President. As part of his expanded role, Burchell will continue to oversee sales and customer service.
"We are thrilled to have Trident and Bluejay as partners in pursuing the next frontier of growth for Priority," said Cossack. "We will continue to build on our values and partnership with our employees, drivers and customers in our community and beyond."
Leveraging Bluejay's industry insights and growth expertise, Trident aims to further enhance Priority's local market position and expand its footprint to other cities to meet customer demand for increasingly expedited delivery service.