Battery-electric vehicles (BEVs) and other alternative fuel trucks are still relatively new to the transportation industry but are growing exponentially. In Q1 of this year, they were up 25% compared to the same period in 2022.
Some experts estimate these vehicles will account for up to 15% of the market by 2030. That is about 605,000 new electric Class 8 trucks on the road in under seven years.
What once seemed like a future novelty is now cruising on local and regional roads.
BEVs and other alternative fuel trucks are changing the way fleets operate, especially when it comes to maintenance. Avoiding the shock of electric trucks requires understanding the market, maintenance modifications, and how to manage many new complexities. Now is the perfect time to get plugged in.
Modernizing fleet maintenance
The new technology aboard electric and other alternative fuel trucks requires rewriting almost every maintenance and service procedure to ensure the equipment gets properly serviced. Basic maintenance for the drivetrain and controllers, for instance, is less mechanical and more software-focused. BEVs also involve the maintenance of new electric components such as batteries, motors, high-voltage wiring, E-axles, and Manual Service Disconnect (MSD).
With BEV adoption starting to gain speed, maintenance teams are learning as they go. Standard maintenance schedules such as routine oil changes and brake checks no longer apply. BEVs create different wear and tear on batteries and tires than ICEs, creating new maintenance needs. These requirements must be balanced with other body and chassis components that follow the same maintenance intervals as diesel trucks.
That is a lot for even the industry's best maintenance teams to learn to manage quickly. For that reason, more fleets are turning to predictive maintenance insights.
The influence of data on alternative maintenance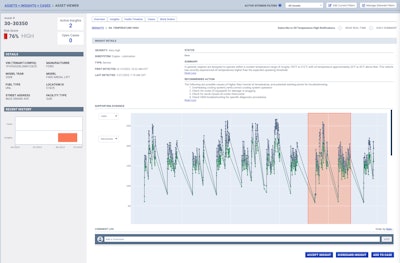 Predictive maintenance generates data-driven insights for improving vehicle uptime and avoiding costly reactive repairs. Using raw data collected through vehicle telematics, fleet maintenance teams can identify potential failures before they occur. The technology enables maintenance operations to proactively schedule repairs, reduce over-the-road risks, and prolong peak vehicle performance.
Identifying what part on which truck will fail (and when) is invaluable to fleets. Maintenance analytics are even more important when it comes to BEVs and alternative fuel trucks because of the high cost of the equipment, but for the following two reasons as well.
1. Diesel tech shortage
Truck manufacturers and maintenance analysts believe diesel mechanics can make the switch to servicing electric vehicles, but only if there are enough of them.
According to the 2022 Transportation Technician Supply and Demand Report, the trucking industry needs 177,000 new diesel technicians by 2026. Postsecondary diesel programs account for filling just 30% of the gap. With a significant shortage, getting current techs trained on alternative fuel vehicles will be challenging. Maintenance teams will need additional support as they begin to manage both BEVs and ICE trucks in shops.
Data analytics streamlines technician time by specifically identifying vehicle and engine failures days and weeks in advance. With predictive insights, mechanics can immediately address underlying problems. It reduces the BEV learning curve by helping technicians spot issues without wasting time manually diagnosing failures on unfamiliar vehicles.
2. Modern equipment management
Manufacturers have been perfecting diesel engines for 130 years. Viable electric trucks have only been around for the last 10. Maintenance teams have a lot of time to make up for when it comes to managing new electric and alternative fuel equipment.
Consider the battery in an electric vehicle; its life depends on how the truck operates. Charging the battery to 100% works for longer loads, but a battery at 80% is better for shorter runs. Get this wrong and a battery designed to last the life of the vehicle may need to be replaced in less than five years.
CNG trucks are also more prone to system and component failures for turbochargers, ignition, fuel, and charge air. Miss any of these issues and the cascading costs can reach $50,000 in repairs and towing expenses per breakdown.
Predictive maintenance aims to prevent these challenges. For electric trucks, the technology monitors battery life and electrical leakage. Maintenance teams can spot emerging equipment issues fixable through charging process changes before requiring a costly battery replacement.
Predictive algorithms can also help shop teams manage the different maintenance cycles required for ICEs and BEVs. Rather than manually tracking and routing by equipment type, these systems automatically monitor preventative maintenance timelines by truck. Fleets can manage service more efficiently with little to no downtime based on the individual needs of the equipment.
Achieving ROI
With $160,000 as the baseline for a diesel Class 8 truck, the Department of Energy's Vehicles Technologies office estimates the following purchase costs:
● Battery-electric heavy truck (+186%)
● Plug-in hybrid truck (+103%)
● Hydrogen fuel cell truck (+66%)
To offset these costs, a study of the top 25 U.S. metro areas found that electric charging is 37% cheaper than diesel to power heavy-duty trucks. The real prize is greenhouse gas reductions. A fleet of just 15 BEVs can avoid more than 4.4 million pounds of CO2 emissions over the next 25 years. As for maintenance, data indicates costs are 30%-50% lower than diesel vehicles.
The higher purchase price of BEVs and other alternative fuel trucks means achieving a good return on investment must come from fuel savings, maintenance costs, and environmental benefits. Fleets wanting to tap into the efficiency of BEVs need the power of data analytics and predictive maintenance on their side.