Whether it's all-electric or fuel cell Class 8 trucks, J.B. Hunt Transport, like other carriers steering towards green powertrains, doesn't want to get burned.
J.B. Hunt is currently testing an all-electric Freightliner eCascadia and by the end of 2022 they'll be taking on a pilot with Navistar to test International RH Series fuel cell trucks built with longtime fuel cell developers at General Motors.
Craig Harper, executive vice-president and chief operations officer at J.B. Hunt, said the company "couldn't be more excited about working with different alternative fuels, looking for a lower carbon footprint, lower pollutants on the NOx side."
It's just that this time around they're going to be a little more reserved about alternative powertrains.
"I was wrong early. I was excited about natural gas and we were really hoping that would play out to be a big answer for us and we saw that it didn't have that total cost of ownership that we needed and that's why we're going to be careful when we evaluate all of the battery-electric and fuel-cell electric," Harper said during a Plug and Play hydrogen fuel cell truck webinar hosted by CCJ Senior Editor Tom Quimby.
"When you look at that purchase price of the truck, when you look at the weight and range, when you look at the availability of the fuel supply, when you look at the uptime—you've got to take all of that into account," Harper said. "Sometimes when we get so excited about this new technology we fail to take all of that into consideration."
But Harper is leaning in and listening more carefully to what the experts have to say about emerging zero-emissions technologies. He's also listening to his drivers who've gotten behind the wheel of the eCascadia which is similar to a fuel cell truck except that it relies solely on batteries and not a fuel cell to provide power to electric motors.
"They love driving the truck. It's smooth. It's got the power," Harper said. "Still, you don't have that range that we are really looking for and we know it's going to improve."
The eCascadia has a range of 250 miles. With J.B. Hunt hauling an average payload of 22,000 to 26,000 pounds, Harper said range "really hasn't been an issue." However, heavier loads, he pointed out, could prove too challenging.
"That doesn't work though when you're hauling water, beer, soup or whatever," he said. "But there's a lot freight where that weight isn't an issue but still you don't want to carry around more weight than what you have to power the trucks so that's why we want to continue to see the battery efficiency improve. And then also, there's a lot of uses in our final mile and our home delivery where we can have a smaller truck and we see a lot of uses there. And so we're excited about both types, both the battery and the hydrogen."
Fuel cell math
Toyota North America and Hyzon Motors, both of whom joined Harper as panelists during the Plug and Play fuel cell equipment webinar, have been busy developing fuel cell powertrains for Class 8 trucks and, like Harper, are fully aware of the challenges that lie ahead.
Though fuel cell trucks have longer range (the International RH fuel cell maxes out at 500 miles, or double that of the eCascdia), weigh less because of smaller battery packs and have shorter refueling times (about 15 minutes versus a 90 minute charge to bring the eCascadia up to 80% capacity), there are serious concerns that have long plagued the technology from really taking off, namely economies of scale and the cost of hydrogen.
With its Hydrotec fuel cell division, General Motors has had plenty of practice generating electrochemical power. The auto icon turned heads in 1966 with its fuel cell-powered Electrovan. But it was more of an R&D showpiece. Market demand for fuel cells, outside of NASA and other fringe applications, was virtually nil at the time compared to the huge appetite for internal combustion engines which have long been a manufacturing staple for the auto industry.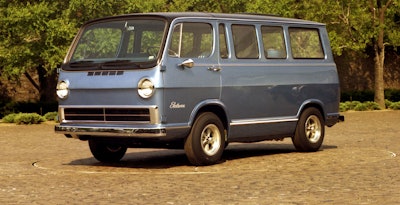 Such shifts in manufacturing can't be taken lightly. Retooling and building factories to churn out entirely new products require massive investment. Those decisions are being made to comply with emissions mandates and the growing push for zero emissions technologies amid what many policy makers, including U.S. President Joe Biden, call a climate crisis as demand for all-electric and fuel cell powertrains are forecast to grow.
Much of that growth is coming from major automakers. On Thursday, GM CEO Mary Barra announced that they'll stop producing internal combustion engines (ICE) by 2035. Still, there are plenty of battles ahead before prices for zero emissions powertrains reach cost parity with diesel and gasoline powertrains.
"We don't have the kind of scale that the traditional ICE vehicles have got and therefore it's hard to have the same kind of economies," said Hyzon CEO Craig Knight. "So naturally, we will need to rely a little bit of the scale effect to drive the real economies in this business."
James Kast, fuel cell business analyst at Toyota North America, agreed.
"The scale question is one we definitely need to address as an industry," said Kast. "We're just getting into how we bring fuel cells from the demonstration phase, where they're at now, onto the commercial market, which obviously we're starting to see around the world."
Toyota has been working alongside Kenworth to produce and test fuel cell T680s in Southern California. Real-world fleet experience gathered through the demo has helped create greater market understanding in terms of how fuel cells can best compete against diesel. First up, Kast said, is the importance of going beyond the total cost of ownership and considering the overall return on investment.
"It comes down to breaking it down to the key components," Kast said. "And I think first the truck has to make the same revenue that an existing diesel truck does today. So when you think of payload capacity you really have something that's right around that diesel parity with something like a fuel cell that's maybe a very big challenge for battery technologies today.
"When you're thinking between zero emissions styles of these you still need to be able to carry the payload and meet the needs of these operators which of course impacts their bottom line directly," Kast continued. "And also think of the uptime of the vehicle and again being able to refuel in, again, kind of that same parity timeline to diesel which we can see with hydrogen and fuel cells enable them to make all that same revenue as well at the end of the day."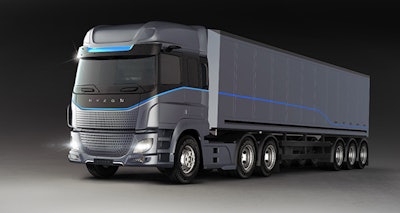 Knight said fuel cells can rise up and quickly compete with diesel.
"What's really interesting is that with the greater efficiency of running trucks on hydrogen instead of diesel you can get to really compelling total cost of ownership models because your driven mile can be cheaper really quickly," Knight said. "Because the amount of driven miles you get out of one kilogram of hydrogen is equivalent to about five to eight liters of diesel depending on what your vehicle is and what you're doing with it, what your duty cycle is."
Hydrogen pumps are scarce with only 46 stations currently listed in the U.S. according to the U.S. Department of Energy. Plus, as Harper pointed out, the cost of hydrogen is a big concern.
"You're looking at a cost right now anywhere between the $12 and $14 per kilogram versus $3 to $4 a gallon for diesel," Harper said. "We've got to get that cost in line."
While government incentives can help the fuel cell industry to grow, Harper, Knight and Kast all agree that it's only a temporary fix. Zero emission technologies will have to stand on their own, and when it comes to fuel cells Harper believes that the high cost of hydrogen is a good place to start.
"We all want to do what's right for the environment," Harper said. "We want to have the lowest carbon footprint we can have but we've got to find an answer that's sustainable for the environment but is sustainable for the corporations.
"You can have all the best wishes, the best desires out there but if you're not around to stay in business you can't execute them," Harper continued. "So, we've got to continue to be very cost competitive in a highly fragmented industry so we need a lot of money going into R&D to continue to get that price down on the cost of the fuel."