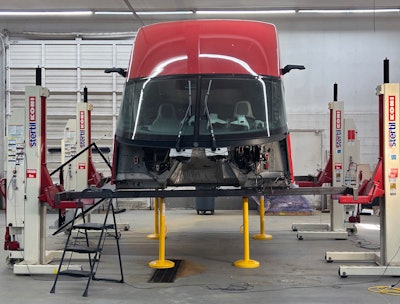 Starship, Shell's concept truck currently in its third generation, is one of those things that when you see it, you know exactly what it is (or what it's not).
The carbon fiber bullet nose tractor-trailer, indiscreetly wrapped in bright orange, red, yellow and white, has served as a technology demonstrator since 2018 on two cross-country treks and is about to strike out on its third.
A Navistar International LT chassis outfitted with features like a cluster of solar panels and Stoneridge's MirrorEye Camera Monitoring System just to name a few, Starship 3.0 leverages improvements from generations prior, including low friction, low rolling resistance tires, lightweight materials and cab and trailer aerodynamic design that includes a completely redesigned trailer gap fairing. The interior of the truck has been updated through the years to make it more comfortable for the driver team on the road – an important element considering the truck has twice set out on cross-country trips (once in 2018 and again in 2021) and will travel later this month from Los Angeles to Vancouver, B.C., and Los Angeles to Atlanta – roughly 3,400 miles.
Shell announced earlier this year that its Starship 3.0 would feature Cummins' new X15N natural gas engine. It replaces a Cummins diesel. Shell Renewable Natural Gas (RNG) will supply fuel along with Love's-owned Trilium.
Starship 3.0 is equipped with 120 diesel gallon equivalent of natural gas, enough for roughly 600 miles between refuels.
Powered by a 2020 Cummins X15 400 EX Efficiency Series engine paired up with a 12-speed Eaton Endurant transmission, the second generation Starship saw a nearly 21% gain in fuel economy at 10.8 mpg compared to Starship 1.0's 8.94 mpg. Those figures are against a national average of roughly 6.5 mpg for common on-highway tractors.
The natural gas-fired engine will make similar power as its diesel counterpart: 400 hp/1850 lb.-ft., according to Puneet Jhawar, general manager, Cummins Global Spark Ignited and Fuel Delivery Business. Yet it will give up some fuel economy as CNG doesn't get as many miles out of each gallon equivalent. The engine, itself 500 pounds lighter than a comparable diesel, is capable of up to 500 hp.
Ryan Manthiri, Engineering Manager for the Starship Program for Shell Global Solutions, noted that with the upcoming run, the team had an almost singular focus: emissions reduction. Previous diesel-fueled runs have been exercises in overall freight ton efficiency. However, he said the root of the entire exercise hasn't changed at all. "Showcase the art of what's possible with what's currently available," he said.
Freight-ton efficiency, the rating that considers the energy or fuel required to move cargo based on weight, jumped for Starship 2.0 to 254 ton-miles per gallon compared to 178 ton-miles per gallon for the original Starship. Average freight ton efficiency for North American trucks is about 72 ton-miles per gallon, 71% lower than Starship 2.0.
Pfafftown, N.C.-based SPEVCO has been a co-collaborator on Starship for the two most recent iterations, and Craig Tharpe, director of engineering and design, said about 50% of the truck has changed or been upgraded over that time.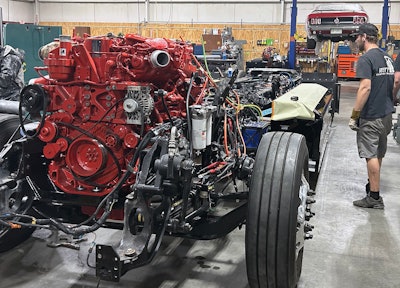 "From the radiator back to the differential all got replaced (this generation). The drive shaft had to be replaced because (the engine is) shorter and we moved it back ... different gear ratios (from 2.64 to 2.85)," he said, noting the rear axle is a global axle from Meritor, which was acquired last year by Cummins. "We replaced the front axle with a heavier axle. Of course, went from an exhaust aftertreatment to a more catalytic converter ... and the fuel tanks. The tanks are about four times bigger than what was on it, carrying a little less fuel."
Helping put it all together is Matt Greene, owner of Reaper Custom Fabrication in King, N.C., who is also in his second round with Starship. While this isn't his team's first time working with the heavily customized concept tractor (or heavily customized vehicle in general), Greene noted there's been a lot of lessons learned "on the fly" given that much of the design and engineering is one-off and specific to this tractor and its natural gas engine.
"It's a challenge, having to make some of the pieces or have them made and then get them to fit," he said, adding his shop routinely does custom work for NASCAR teams and a wide base of customers. "But it's been fun. Definitely a learning experience."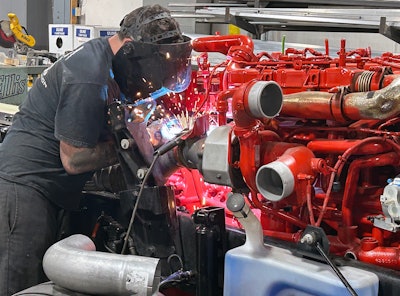 The heart of the truck – Cummins' X15N – is one of 15 Alpha series models currently operating in the U.S. While it's not quite a production-ready model, Jhawar said it's close. It already meets EPA 2024 requirements and Jhawar said Cummins is excited to get its big bore natural gas moving down the assembly line.
"How close the power and toque is to a diesel counterpart, it's amazing," he said. "From a driver experience and driveability, it's very very close to where a diesel is. It's getting really good power and torque that we've not seen before from natural gas engines."
The natural gas engine may take center stage, but Starship as a whole is the featured act, and Manthiri said the 3.0 model still seeks to set freight efficiency benchmarks and highlight the importance of aerodynamics.
"We will also be demonstrating the (natural gas) infrastructure on both of these legs," he added. On the run along the West Coast, Starship will be fueled with renewable natural gas recycled from dairy cow waste. As it starts east, the team will use renewable natural gas recycled from other means, including landfills. Fill time is about 15 minutes or less, Jhawar said – a time comparable to diesel with a similar mileage range.